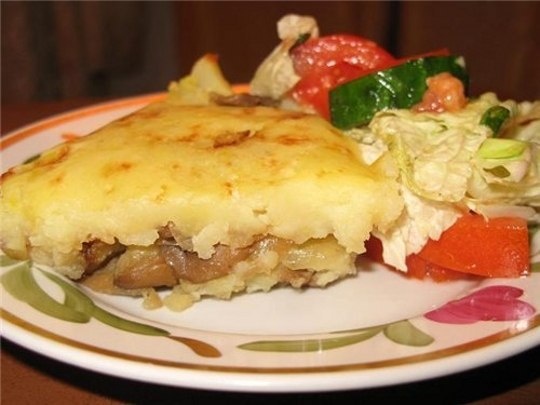 Potatoes 1, 5 kg
Option 1 filling:
A mixture of vegetables (frozen or fresh) 1 pack
Mushrooms frozen (or fresh) 1 pack
Carrot 1 pc.
Onion 1 piece.
Garlic, herbs  
Option 2 toppings:
Zucchini 1 kg
carrot 1 pcs., large
onion 2 pieces.
1 bunch dill
2 cloves garlic
Salt, pepper
Vegetable oil
Cooking recipe:
Boil the potatoes, while adding a bit of grated carrots,
potatoes to acquired appetizing golden color.
Drain half of the water in which potatoes are cooked, and the rest of the mash, quite thick, add a little flour, for a bunch.
Filling 1:
In a frying pan fry the onions, carrots, mushrooms, vegetables, herbs, garlic, vegetable oil (for those not used in the post oil, can be put out with the addition of water).
Salt and pepper to taste.
Filling 2:
Fry the onions and carrots.
Separately extinguish zucchini, add finely chopped dill and garlic.
Mix the onion, carrot and zucchini, salt and pepper to taste.
Filling is ready.
Baking dish greased with oil and put half puree evenly.
Next, put the stuffing.
Then the rest of the potatoes, smooth
Put in the oven for 15-20 minutes over medium heat until golden brown.