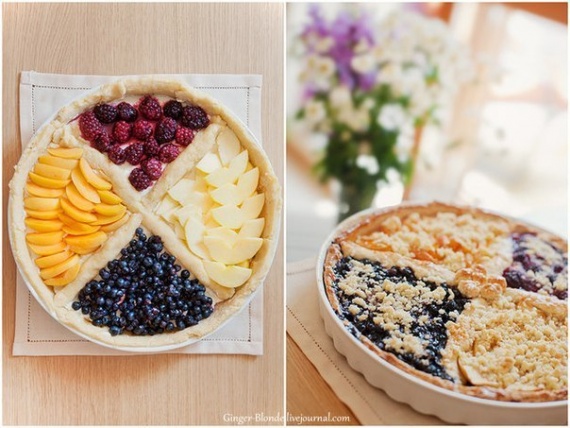 Ingredients (Form 29 cm):
Dough:
300 g flour
120 g of oil
100 grams of sugar
1 egg
2 tablespoons milk
1/4 tsp lemon peel
pinch of salt  
Filling:
250g soft cheese
1 egg
1 tbsp sugar
berries, fruits at the discretion
Crumb:
40 g flour
30 grams of sugar
30 g of oil
1. Mix the flour with sugar, salt, lemon peel, add the egg and milk.
2.Nozhom chop the butter and knead the dough. The form of grease and sprinkle with flour.
3. Roll out the dough to the size of the form, make bumpers. Piece of dough left on the partition. Beat the egg with a fork. Stir in 2/3 of the cheese, there also add a spoonful of sugar. The resulting mass lay on the dough.
4. Make the dough from the remnants of walls. 1/3 eggs use to being covered with edges and partitions. At a quarter to put each separate type of berries / fruit.
5. Sprinkle crumbs. Bake at 190 degrees 35 minutes. Cool on a lattice, without removing from the mold.