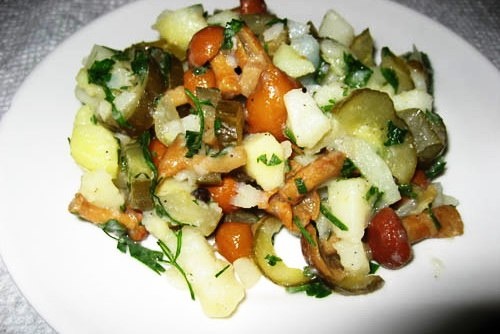 Ingredients:
Potatoes - 5 - 6 pcs.
marinated mushrooms (preferably honey) - 1 bank
pickles - 1 bank
red onion medium size - 1 piece  
Sauce:
lemon juice - 1/2 tsp.
vegetable oil - 1 tbsp. Spoon
fluid from honey agaric - 1/2 Art. spoon
Boil the potatoes in their skins until cooked, cool without getting into cold water.
Cucumbers should be cut into slices (at an increased rate of fruit should be cut polukruzhochkami).
Peel the potatoes, cut into small cubes, add sliced ​​cucumbers, mushrooms without liquid, mix well.
Onion peel and cut into very thin rings. Sprinkle with lemon juice and let stand for 10 minutes.
Mix all the ingredients, season with butter, add 1/2 Art. tablespoons liquid honey agarics on.
PS If liquid from mushrooms merged bad or very cucumber water, the liquid of honey agarics can not be added to the gas station.