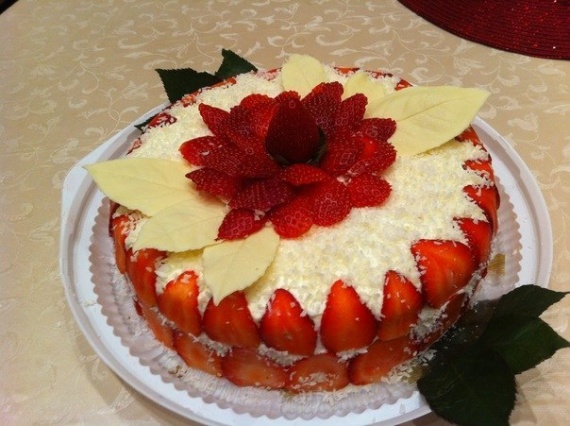 Ingredients:
Shortcakes:
2 eggs
1 cup sugar
1/2 banks thickened. milk
1 cup sour cream
2 tbsp. spoon of cocoa powder
1 tbsp. flour
1 tbsp. spoon of vinegar
1 tea. baking soda
Diameter of the mold - 20cm  
Cream:
500 ml cream 35-33%
3 tablespoons sugar
1 packet of vanilla. sugar
3 bananas
To decorate: strawberry, coconut
Beat the eggs with the sugar with a mixer until creamy texture, add condensed milk, sour cream and then whisk again until smooth. Next, add the cocoa, flour and whisk to mix. After, vinegar and baking soda to extinguish stir in the resulting mass. Put in the form of baking paper, evenly distribute the weight and bake donuts at 180 g 20-25 min. After it has cooled, remove the paper and cut donuts longitudinally into three equal parts.
Whip the cream until creamy, gradually vsyp sugar. Finely chop the bananas. Each donuts smeared with cream, then laid a layer of bananas, then again the cream - & gt; crumpet - & gt; Cream - & gt; Bananas - & gt; Cream - & gt; last dumpling, which is smeared with cream, trim the sides and also lubricate the remaining cream. Sprinkle with coconut first side, and then the top of the cake. Garnish with strawberries!