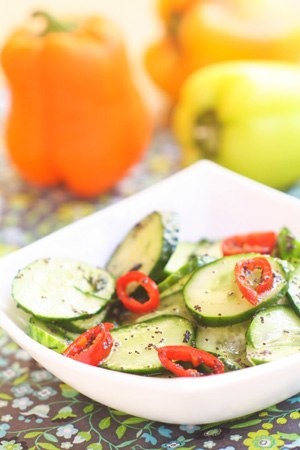 Salad for lovers of spicy, spicy and sweet-sour. Salad is delicious, unusual and interesting.
Ingredients:
500 g of cucumber
2 tbsp. l. poppy
50 ml of vegetable oil
1 - 2 pods of chili
2 tbsp. l. sugar
50 ml wine vinegar
couple sprigs of cilantro
salt and pepper - to taste  
My cucumbers and cut diagonally on mugs, thickness 0, 5 cm.
Thinly sliced ​​chili, cilantro minced. In a salad bowl, mix the cucumber, chili, cilantro, dressed with salt, sugar and pepper.
Gently stir the salad hands, as if rubbing salt and sugar in cucumber. Pour the vinegar, oil and give the salad stand 10 - 15 minutes.
Sprinkle with poppy seeds and serve.