To feed the family a hearty dinner, and all must have a box of pasta, half a kilo of minced meat and aromatic sauce for a delicious pasta. But to really surprise the household,
"Website"
offers to prepare a
nest of pasta in the oven
. Tasty, juicy and very elegant!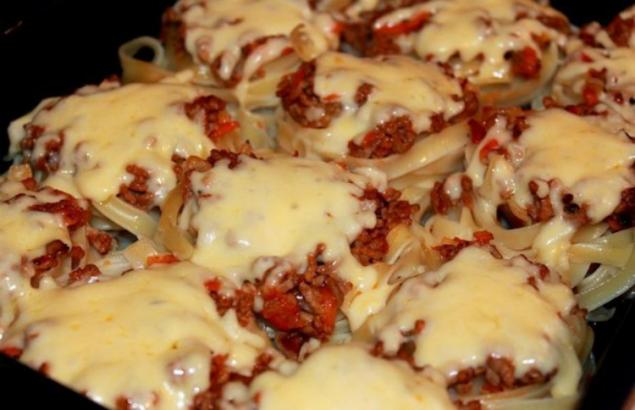 Nests of pasta with paramoeba nests in the cooking process has not collapsed, pasta must be made of exclusively durum wheat, and cooking them for a long time no need for pre-heat treatment is enough for 1-1,5 minutes in boiling water.
Ingredients
12 nests of pasta (capellini)
2 bulbs
1 large carrot
700 g minced meat
250 g of hard cheese
salt and pepper to taste
fresh or dried Basil
2 tbsp tomato paste
2 cloves of garlic
1 tbsp. hot broth or water
Cooking
In minced meat add one finely-chopped onion. Salt, pepper to taste, add chopped fresh Basil or a handful of dried and thoroughly mix.
Finely slice the second onion, carrot RUB. Fry the vegetables in heated pan with the addition of a small amount of vegetable oil. Add chopped garlic, salt, spices to taste and tomato paste. Put the vegetables under a lid for another 5 minutes. The resulting sauce put in a baking dish.




In a saucepan, boil water and after boiling, gently put in one layer of the nest for 1 minute. Get a slotted spoon and being careful not to damage the form, put it on a vegetable cushion. The same manipulations do with the remaining nests.




Start nest stuffing, pour 1 tbsp. of hot broth or water (the liquid should cover 2/3 of the nest, if not — share). Send the dish to be baked at a temperature of 180-200 °C for 20 minutes. Then the form get, sprinkle nests grated cheese and return to oven for another 5-7 minutes.




Juicy yummy under a cheese crust... I Love pasta and everything connected with it! Tell your friends about this wonderful way to cook pasta, I'm sure they will be satisfied.
Now everyone can publish articles
Try this first! To WRITE an ARTICLE the Author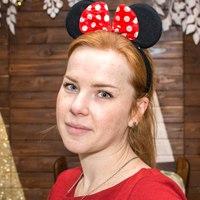 Loves to photograph the beauty of nature, enjoys handmade. Son Vanya had taught the mother to cope with any household tasks effortlessly: Marina knows how to get the most stubborn stains and to clean the house in minutes. Interested in the most acute, various life issues, never remain aloof from what actually matters! Favorite book Marina — "gone with the wind" by M. Mitchell.