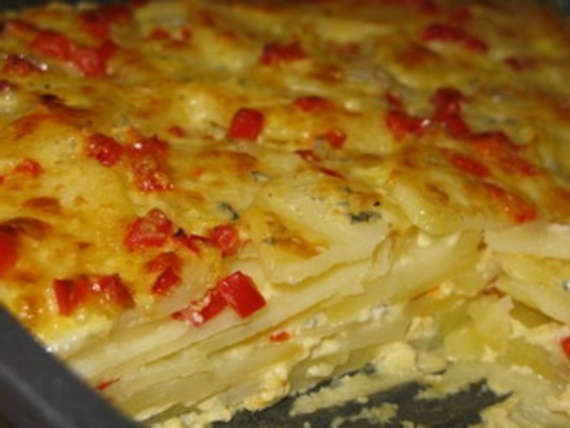 Ingredients:
1 kg of potatoes
1 egg
1 cup milk
200 grams of cheese
1 clove garlic
50g butter
0, 3 tsp nutmeg
black pepper to taste
2 tsp seasoning for potatoes, but you can put what you want or do without seasoning.  
Select large, not damaged potatoes approximately the same size, thoroughly wash, peel and cut into slices 2 mm thick. Cheese grate.
Three-quarters of the cheese mix in a bowl with milk and egg. Add nutmeg, freshly ground black pepper and seasoning. Mix thoroughly, gently whisking.
Garlic peeled, cut in half lengthwise. Form, which will be baked potatoes, how to rub the garlic, then grease with butter.
Preheat oven to 200C. Potatoes are put in the form of a circle so that each circle a little sign on the other (easier to spread from the middle to form the edges). Pour potato cheese mixture. Sprinkle with remaining cheese and place pieces of butter. Put the form in the oven and bake for 45 minutes.
Serve hot, sprinkled with finely chopped green onions, fried onion rings and fried strips of bacon.