Crooked house located in Sopot, on the street heroes of Monte Cassino. Pedestrian street, popularly known as monciak, is popular not only among tourists but also among locals in Poland, because it offers fabulous views of the city and its old houses. House project developed by the famous Polish architect Jan Martin Spencer, which is also widely known in Poland their illustrations for children's books, and Pen Dahlberg Swedish painter living in Sopot.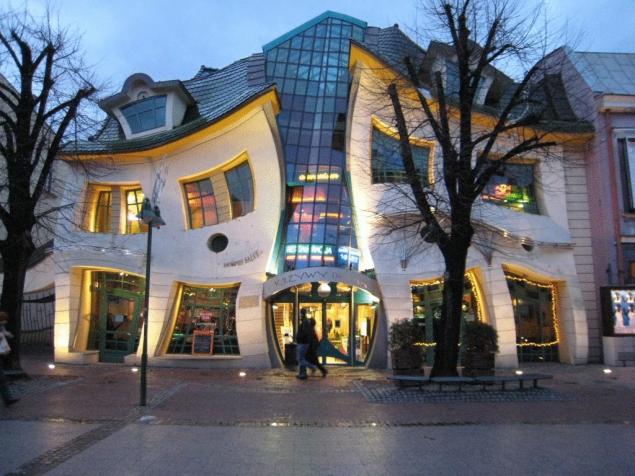 In a crooked house has no right angles. Walls, Windows and doors bend as if you look at it through a distorting lens. That is why the house looks very unreal and fantastic. Originality he still adds an unusual scaly roof made of iron sheets with enamel plates-inserts. In crooked house, which is a shopping complex, the curve made only a facade. Conceived so extraordinary, it was with the aim of attracting visitors. The biggest Polish and international companies are opening their offices here. On the lower floor of the building there are shopping centers with cafes and restaurants. And the second floor is occupied by the offices of companies representing various industries.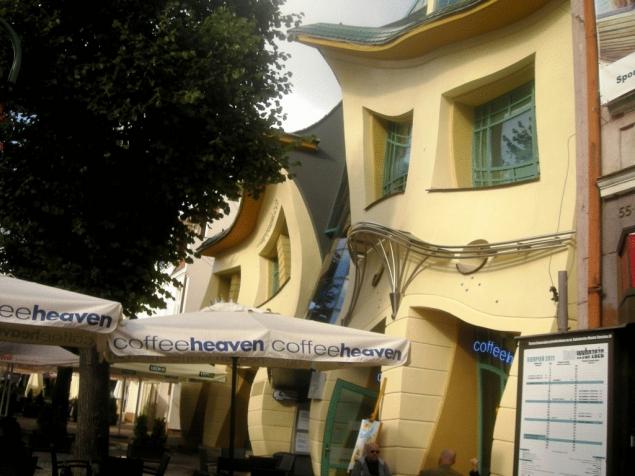 Previously, it was a small public garden in which there is a cozy music cafe "Kawiaret". However, in January 2003 a house on the site of the cafe began to build the "crooked House", and by the end of the year the new building was already finished.Despite the asymmetrical design of the building, the building fits perfectly into the architectural requirements of town planning, levels of floors and the height of the roof do not differ from the neighboring buildings. Huge impression colorful glass entrance, stone wall decor and window Sandstone. The roof of the original house is also unusual. It is covered with sheet iron shade of green with panels of enamelled plates.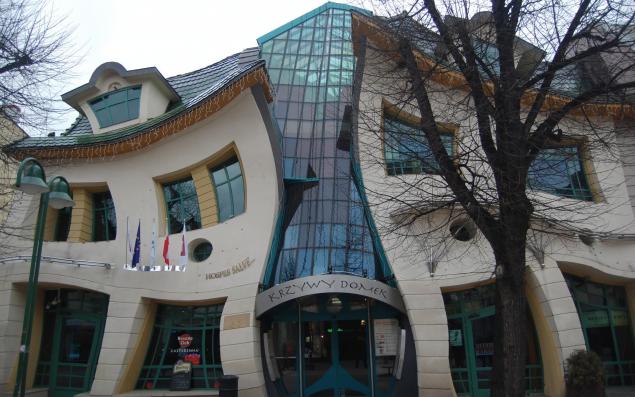 All this creates the effect of the curved back of a dragon, covered with scales. From floor to floor is accessed with the Elevator or a wide staircase, which in itself is also a work of art. It is said that the architect lived in this house. Who knows, maybe he lives there to this day.
Source: /users/117