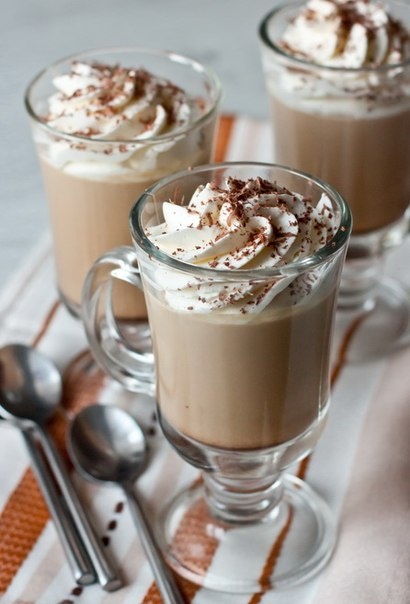 Ingredients for 6 servings:
Jelly:
 - 2 tablespoons gelatin
 - 400 ml cream 9-12% fat
 - 300 ml strong coffee
 - 50-70 grams of sugar (here focus on your taste)
 - 2 tablespoons coffee liqueur  
To decorate:
 - 200 ml whipping cream (30% fat)
 - 70 grams of sugar
 - Grated chocolate
Gelatin was soaked in 100 ml of water. Give swell.
We put on a moderate heat and stirring constantly bring to a dissolution. In no case do not give a boil!
Add the hot coffee, sugar and stir until sugar is dissolved.
Add the cream and liqueur, stir.
Poured into ice-cream bowls in portions.
Put in refrigerator to complete solidification. It may take 2 to 4 hours.
To decorate, beat cold cream with sugar. We spread over the jelly confectionery using a syringe or spoon. Sprinkle with grated chocolate.