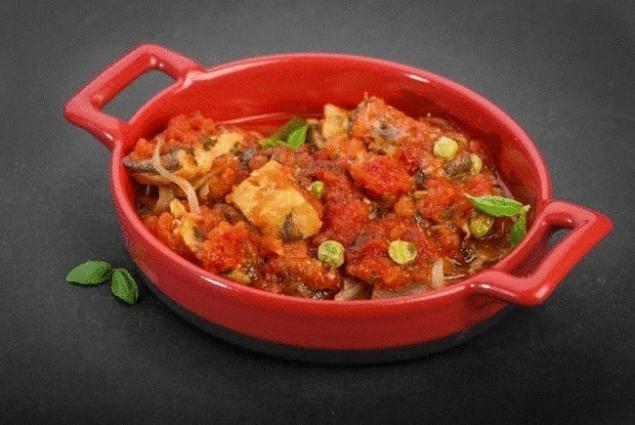 Slightly sweet flavor of tomato marinade with spicy flavor of Basil is the perfect company juicy white fish and green peas gives the dish a unique texture and freshness.
Can be served hot with mashed potatoes or boiled rice, or cold as a great snack.
RECIPE FISH MARINADENeed:
6 large tomatoes or 400 g of cherry tomatoes
some leaves of green Basil
1 tsp tomato paste
0,5 tsp vinegar – optional
1 medium onion
2 cloves of garlic
olive oil
500 g white fish fillet
a few sprigs of parsley
0.5 of Cup of frozen or fresh green peas
salt, sugar and pepper – to taste.
How to cook:
1. Tomatoes blanch, peel and seed
2. Grind the tomatoes in a blender along with the Basil. To shift the mass into the pan, bring to boil, reduce the heat to minimum and cook for 10 minutes, stirring occasionally. Add the tomato paste and stir. At the end add salt and pepper and add the sugar. A sweet shade should prevail. Optionally, you can add the vinegar.
3. Onion cut into half rings.Crush garlic and coarsely chop.
4. Preheat the frying pan with the olive oil and sauté the onions over low heat 10 minutes. Per minute until cooked add the garlic.
5. Fillet fish how to wash, dry with paper towels and cut into small pieces.
6. At the bottom of a baking dish put the onion, garlic, top lay the pieces of fish. Season with salt and pepper. Sprinkle with chopped parsley. Pour the marinade, again pepper. Put green peas.
7. Preheat the oven to 200°C and bake for 30 minutes .
Source: domashniy.ru/