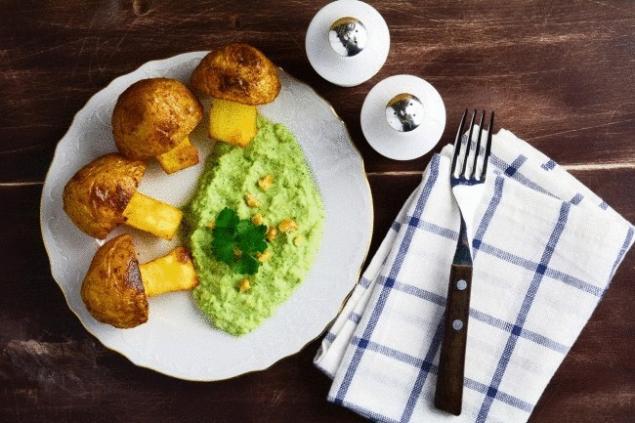 You love potatoes, but never eat, because he immediately delayed everywhere? If your favorite potato combined with the right ingredients, it will help to lose weight, while maintaining and multiplying your youth and beauty.
Baked potato with cottage cheese and cherry tomatoes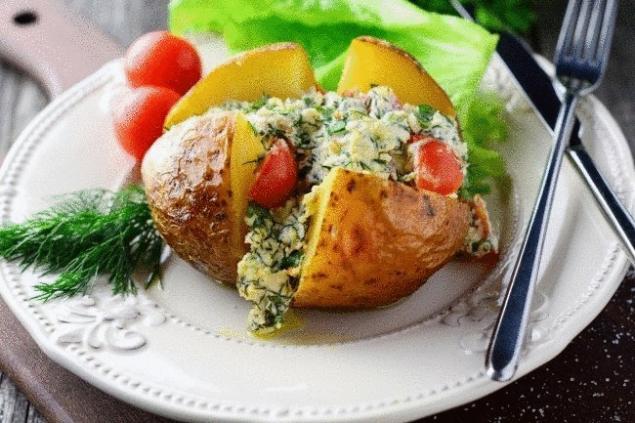 Potato baked with the skin, retains maximum nutrients and vitamins, including vitamins C, e, phosphorus and easily digestible protein. For a full diet dinner it is necessary to add a delicious stuffing with a whole set of amino acids, healthy fats and minerals. If you mix cottage cheese, herbs, garlic and olive oil, then immediately you will be on the way of attaining a healthy and beautiful body.
A RECIPE FOR BAKED POTATOES WITH COTTAGE CHEESE AND CHERRY TOMATOES
Need:
(for 2 servings)
2 large potatoes
Filling:
200 g soft cheese 9%
2 cloves of garlic
a small bunch of dill
5-6 cherry tomatoes
2 tbsp olive oil
salt, pepper – to taste
How to cook:
1. Washed and drained potatoes RUB with olive oil, make a deep cross incision on top.
Tightly wrap in foil and put in heated to 220°C oven for 40-50 minutes until tender. The oven do not power off!
2. For the filling, finely chop the dill, garlic, cherry tomatoes cut into halves. Mix with cheese, salt and pepper until smooth.
3. Hot potatoes open to form a deep hole in the center.
4. Put the cottage cheese in the potatoes and put in the oven for another 10 minutes.
Appears pleasant garlic flavor.
5. Ready potatoes pour 1 tbsp of olive oil.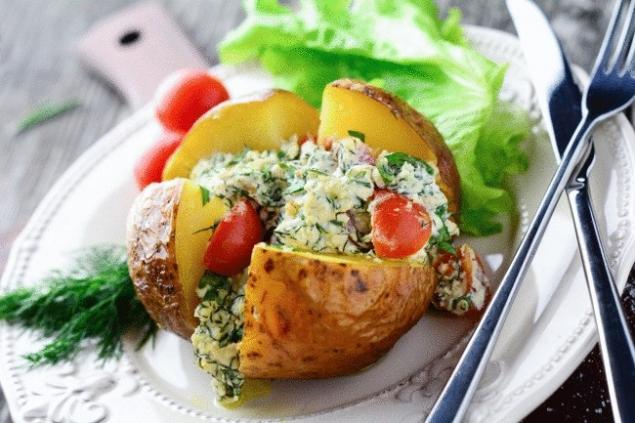 Immediately serve.  
Potato pie without flour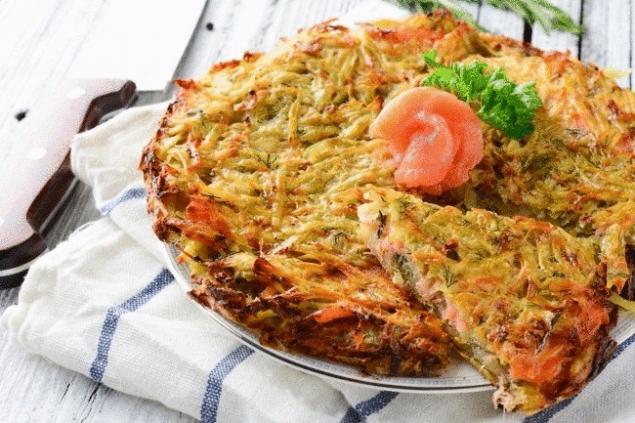 Juicy filling of salmon and enriches the organism with polyunsaturated fatty acids omega-3 and omega-6, normalizing the level of cholesterol in the blood and regulating blood pressure. Cooked this way, pie is easily absorbed without harm to the body. Moreover, it is rich in vitamins A and D, responsible for the health and beauty of skin and hair.
RECIPE SWEET POTATO PIE WITHOUT FLOUR
Need:
400 g of potatoes
1 small white onion
1 protein
100-150 grams of salted salmon or trout
a few sprigs of dill
olive oil
salt, pepper – to taste
How to cook:
1. Heat the oven to 210°C.
2. The potatoes and onion, grate on a coarse grater and a good squeeze.
3. Add finely chopped dill, salt, pepper and protein.
4. Mix thoroughly and drain any excess liquid.
5. Spread half the potato mixture into covered with baking paper and greased with olive oil a round detachable shape with a diameter of 20-22 see Pat.
6. On top lay the sliced thin slices of fish.
7. Cover with the remaining potato mixture.
Brush with olive oil using a brush and place in the oven for 30-40 minutes until Golden brown.
8. Serve hot.
Potato mushrooms with broccoli puree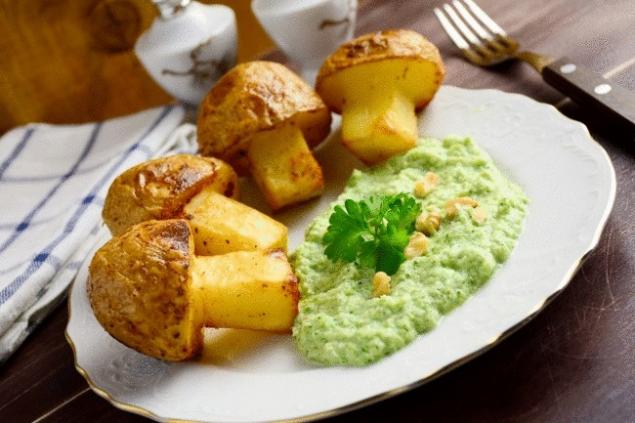 Crispy potato mushrooms on a green glade ultra useful broccoli puree. It's full of bright colors, trace elements and vitamins A, B and C dish very simple to prepare and will make a wonderful light supper for all who seek to find harmony and beauty.
RECIPE OF POTATO MUSHROOMS WITH BROCCOLI PUREE
Need:
8-10 small potatoes
2 tbsp olive oil
1 tsp mix herbs (thyme, rosemary, garlic, thyme)
1 tsp sweet paprika
salt, black pepper – to taste
300 g of frozen broccoli
50 g of cheese
1 tbsp olive oil
30 g walnuts
salt, black pepper – to taste
How to cook:
1. The oven is heated to 220°C.
2. Cut mushrooms potato.
3. To coat the mushrooms with olive oil and RUB with spices.
4. Put on with foil baking sheet and place in oven for 40-50 minutes.
5. Broccoli pour boiling water and cover. Leave on for 3-5 minutes.
6. Drain the water, leaving little for mashing. Blend the broccoli, adding cheese and olive oil. If necessary, add liquid to achieve desired consistency.
Add salt and pepper, given that cheese is already salty.
7. Puree sprinkled with chopped walnuts.
Serve with hot potato "mushrooms"  
Scrambled eggs in potato cups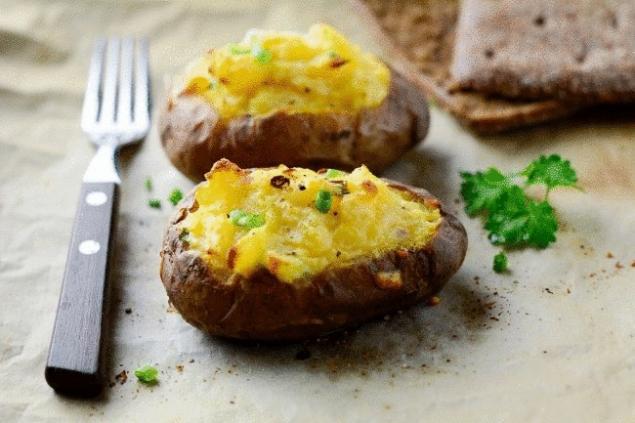 RECIPE FOR SCRAMBLED EGGS IN POTATO CUPS
Need:
(for 2 servings)
2 large potatoes
1 egg
1 tbsp yogurt
50 grams of grated cheese
2 pen green onions
salt, freshly ground black pepper, chili pepper flakes – to taste
How to cook:
1. The washed and dried potatoes with olive oil and put in heated to 220°C oven for 40-50 minutes until fully cooked. The rind should be well podpisa. The oven do not power off!
2. Hot potatoes cut off the top and spoon out the flesh.
3. Mix the egg, yoghurt, portion of grated cheese, chopped green onion, spices and the pulp of the potatoes until smooth.
4. Dump this mixture into the potatoes, sprinkle the remaining grated cheese and place in oven for 10-15 minutes.
Serve immediately!  
Spicy potato patties with salmon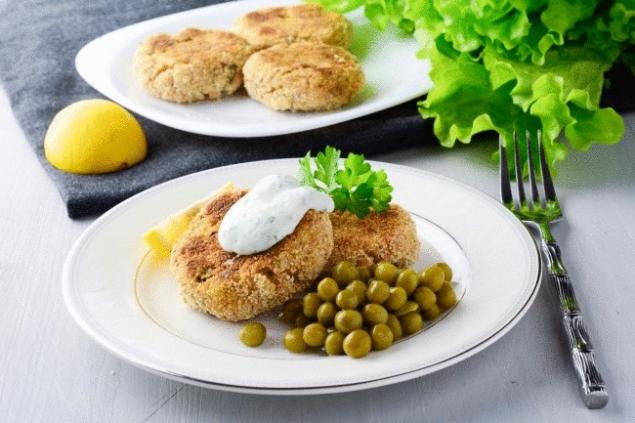 RECIPE OF SPICY POTATO PATTIES WITH SALMON
Need:
2 medium boiled potatoes
200 g of canned pink salmon
0,5 tbsp. breadcrumbs
1 pickled or salted cucumber
1 egg
1-2 cloves of garlic
1-2 tsp of grainy mustard
1 tbsp lemon juice
a few feathers of green onions
salt, pepper – to taste
How to cook:
1. The oven is heated to 200°C.
2. In a large bowl, mix mashed in mashed potatoes, fish, finely sliced cucumber, onion and garlic, mustard, lemon juice, 3-4 tbsp of breadcrumbs, salt and pepper.
3. Add the egg and mix until smooth. Should get a dense meat.
4. To form patties and roll in breadcrumbs.
5. The pan or form for baking lay parchment, brush with olive oil and put it on his burgers.
6. Bake for 15-20 minutes until Golden brown, turning once.
7. Serve hot with green peas, yogurt sauce, lettuce.
Source: domashniy.ru/