You were trying to be proactive and not get anything in return? Always ask yourself, what are you doing wrong? But the answer may lie on the surface: he just doesn't like you. As if it's cruel and sad sounds.
So, how to understand that the man is not going to build with you serious relations, so as not to waste your precious time in vain?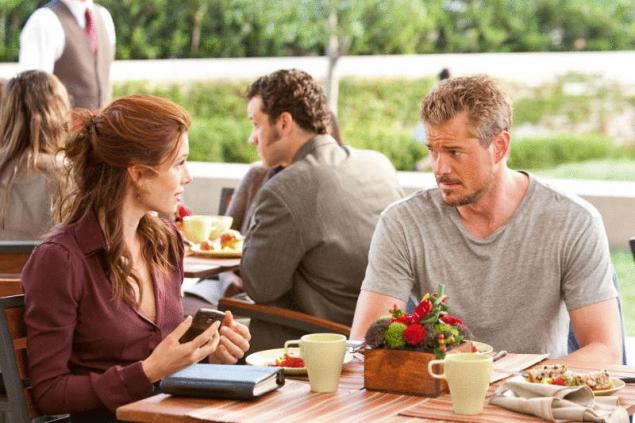 frame from the movie Garry Marshall © "Valentine's Day"
He never holds your hand on people
You only make out in secluded places and never hold hands. He doesn't want to let people know that you are meeting, and in the company of his friends and acquaintances he represents you solely as a friend.
He is freed only late in the evening or at night
Even if a person has a busy schedule, he would never postpone a date with his other half for later. If he calls you and invites you to meet only at night, it just means that you were his second choice when all other plans failed and he refused.
He said that a serious relationship is not his strong point
If the man claims that he is not interested in a serious relationship and that with you he just has free time, it means that it is. Do not try to find in his words a hidden meaning and do not even hope that he'll change his mind. Either he's not interested in you, or he is really a confirmed bachelor. Run from this man as soon as possible.
He never agrees with you about meetings in advance
You asked him to join you at the party, which will be held next week, and he can't give you a clear answer? It's simple. He's not willing to make promises, because you for him is not a priority. He wants to feel free.
He never introduces you to his close friends and family
If a man is doing everything possible to his relatives did not know about your existence, or says nothing about his parents, then rest assured, he definitely does not consider you "the one". It is usually a man in love is proud of his woman and wants the world to know how beautiful she is.
He purposefully hides from you personal correspondence
Everyone has the right to inviolability of private life. But if the man you meet and immediately closes the laptop as soon as you enter the room, or takes your phone with you when going to the bathroom, you have to think about.
He never invites you to his
You've never been to his house? This is another alarm bell. So usually men try to keep women at a safe distance, emphasizing its independence. If he still invites you to his home, but opposed to you he left your things, it is also not good.
He constantly tells the same stories and forgets the important things for you
Many men are forgetful, and men who aren't interested in a relationship, incredibly forgetful. Your boyfriend forgot to congratulate you on your birthday? It's very simple: he hardly considers you his girlfriend.
He's not returning my calls and not responding to you within 24 hours
You always write and call him first, and he did not even bother to answer a call or write a text in response? Obviously he doesn't value you. It really is a man in love will not wait for your call and will always call you first to ask you on a date or hear you voice.
P. S. And remember, only by changing their consumption — together we change the world! ©
Join us in Facebook , Vkontakte, Odnoklassniki
Source: 5sfer.com