Everything in life begins with questions.
The question is like the needle of a compass pointing to your target.
If you have a question, then, is a dissatisfaction with something and desire to change, that is, to achieve something.
With issues starts with awareness of the current situation, then the formulation of the problem, the choice of decisions, actions, and finally reaching a goal.
There are questions that come specifically from your life situation.
And there is what is called eternal questions to ask yourself with constant regularity.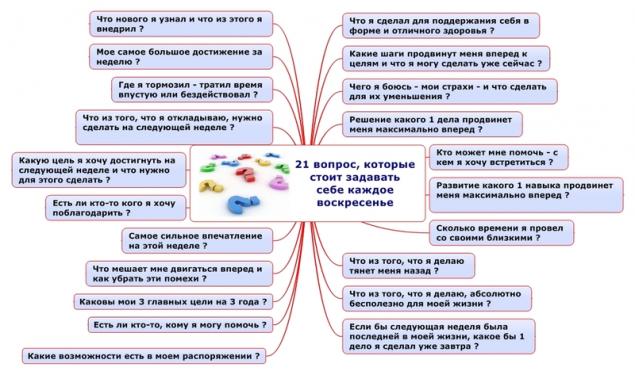 They fit everyone. And the answers to them will help a lot to improve and solve in your life.
If they are honest in the answers you act.
So I ask you 21 questions that should ask yourself every Sunday.
The ONLY CAVEAT – it is better to ask yourself with a fresh mind. That is Saturday a good rest from everyday work. And on Sunday have to introspect.
1 — What did I learn and what I implemented ?
The secret of success is simple – do one thing every day one step forward. And in a year you will reach the goal or will her 365 steps closer.
And the new information helps to go faster, easier and more efficient.
2 — My biggest achievement for the week ?
When you look back and fix your achievements, you raise their self-esteem and confidence. Completed trials make you stronger. But this emphasis makes the effect even more !
If achievements were not, then it's time to ask yourself – Why ?
After all, You either evolve or degrade.
3 — Where I braked — wasted time, or idle ?
Everybody is doing it. Even millionaires. But successful are those who in time notice, and cease to slow down. This question will help in a timely manner to remove the brake and start to act !
4 — What of the fact that I put it off, you need to do next week ?
All the time. Some things can wait and others can lead to large losses if they will not do. These things are almost every week.
5 - What is the goal I want to accomplish next week and what needs to be done ?
This will allow you to look at the whole situation and highlight the priorities for next actions. When you have a goal, your actions acquire a higher level of awareness.
6 — is There someone whom I want to thank ?
Surely, someone helped you – a kind word, advice or just support. Express your gratitude – this may be the first step to a great and fruitful cooperation.
7 — the strongest impression this week ?
Our life consists of what is remembered. If the strong experiences there, so a week has passed in vain. And you might as well not have lived at all. Because very soon a routine will be erased from memory.
8 — What is stopping me to move forward and how to remove these obstacles ?
Bad environment, bad habits, negative experiences, lack of knowledge, chronic ailments – who or what is pulling you along, not allowing them to operate at maximum efficiency ?
9 — What are my 3 main goals for 3 years ?
Analysis of long-term goals each week helps you to compare your progress. Or to understand that you are not moving at all or moving the wrong way...
10 — is There someone I can help ?
Helping another human is the best way to become acquainted and build rapport. Who knows – in the future this person can help you.
11 — What possibilities I have at my disposal ?
New knowledge, new people, new events — the opportunities are always there. And they come for your goals. Define your goals specifically and you will begin to see opportunities to achieve them.
12 — What did I do to keep myself in shape and good health ?
When the body is filled with energy, then everything is much easier. But on this full time need to work. And stopping leads to a decrease in energy. This question will help you to always be in shape.
13 — What steps will propel me forward towards the goals and what can I do now ?
The point of this question is simple – select 2-3 things you can do right now. And then next Sunday — on the basis of experience and new knowledge you will see the following steps to the goal.
14 — What I fear — my fears — and what to do to mitigate them ?
All people are afraid of something. This question will help you to meet the fears face to face. When you know what you're afraid of, something to overcome this fear at times easier.
15 — the decision of the 1 business will propel me forward ?
You can simulate intense activity, shifting the papers and making meaningless calls. And you can do some one thing and immediately move forward a few steps. Define it and do it.
16 — Someone could help me — I want to meet ?
The best way out of the stalemate is to find a mentor – someone who is already passed. Find such person and ask for his advice.
17 — the Development of what 1 skill will propel me forward ?
Always have the knowledge, the implementation of which will help you to do something faster, better, cheaper... When answering this question helps compare yourself with more successful person in your field – what is it and I don't have ?
18 — How much time I've spent with your loved ones ?
We all live not only for themselves but also people close to us. But we often forget about it. But there is nothing easier to sit, to play, to communicate with them at least an hour a day.
19 of the things that I do is pulling me back ?
If you are stalled and don't know what to do, then a very good solution may be the technique — Make a list of what not to do
20 — What I do is completely useless for my life ?
Perhaps we should stop to do something and it's better to spend the time on vacation.
21 — If the next week was the last in my life, what 1 thing did I do tomorrow ?
The answer to this question helps to set your main priorities in life.
If you are going every week to honestly answer these questions you will begin to see new possibilities and perspectives.
In your life will increase awareness and focus.
And eventually life will move wherever you want !
And in order that this process took place for you as comfortable as possible, print this mind map
21 the question that should ask yourself every Sunday
Source: release-me.ru