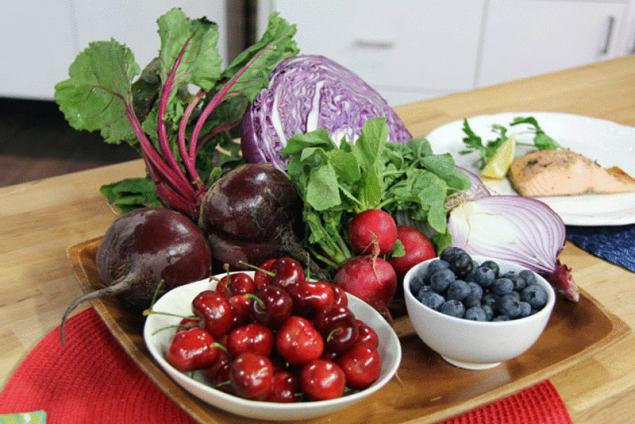 We offer you to look at the other side to the familiar products: fruits, vegetables, herbs, rhizomes, which can be used as an alternative to traditional medicine for pain in the joints.
Ginger
Ginger-can be called the world's most popular natural cure for joint pain. Such multifaceted action does not have even a chemically synthesized anti-rheumatic drugs. It contains hundreds of different pharmacologically active components. They include beta-carotene, caffeic acid, curcumin, as well as many natural plant salicylates (not less than 4,5 mg per 100 g raw roots).
To feel the effect of this powerful natural medicine, it is recommended that daily use of about 4 grams of ginger. It is about two thin slices of fresh or candied ginger or two teaspoons of grated fresh ginger. However, if you have problems with the gastrointestinal tract, this method of treatment is contraindicated for you, you will have to be limited to packs of crushed ginger and rubbing sore joints with ginger oil, which is very easy to make yourself. This will need to grate the fresh ginger root and fill it with vegetable oil. Before applying you need to have your elixir has rested a few weeks in a dark place.
Fruits and berries
Fruits and berries, thanks to their antioxidants and vitamins also help reduce inflammation and relieve pain in the joints.
Blueberry
contains high level of anthocyanin and phytonutrient that help our body to produce collagen. It's very simple: collagen is a fibrillar protein forming the basis of connective tissues of the body and providing its strength and elasticity. Thus, adding to your daily diet Cup of fresh or frozen blueberries, you significantly improve the condition of their tendons, bones, cartilage, dermis, etc.
Strawberries
can significantly lower levels of C-reactive protein (CRP) in your blood. CRP is a plasma protein, which belongs to the group of acute phase proteins, the concentration of which increases with inflammation.
Cherry
contains large amounts of such antioxidants as anthocyanins. They not only provide the berry red, but turn it into an effective anti-inflammatory agent. With regular use of cherries the level of inflammation significantly reduced, removed, pain and swelling. By the way, the cherry pie is able to compete to fill your body with anthocyanins to equal a serving of blueberries!
Apples—
an antioxidant that also contributes to lowering the level of C-reactive protein. Remember that the nutrients apples contain in their peel, so you do not need to clean them.
Vegetables
Vegetables in the fight for healthy joints do not yield fruits and berries.
Rhubarb
is a powerful source of calcium, which is vital for our health and, in particular, for the strength of our bones. Moreover, parboiled rhubarb saturate the body more calcium than raw.
Cauliflower
will be a great help for those who suffer from joint pain. So, the vitamin C, of which the cauliflower is 2 times more than in citrus fruits, is an important element to relieve inflammation. Vitamin B5 helps to improve joint mobility and reduce pain. And indeed, vitamin-mineral complex that is full of cauliflower, capable of exerting not only anti-inflammatory effect, but also a beneficial effect on the entire body. So, it contains a record for vegetables amount of protein and amino acids such as tryptophan, arginine and lysine.
Olive and avocado oil
Scientists have shown that 3½ tablespoons of olive oil corresponds to 200 mg of such a serious pain medication like ibuprofen. And avocado oil relieves pain in the joints due to the high content of anti-inflammatory vitamin E and omega-3 polyunsaturated fatty acids, which protect cells from oxidation.
Cinnamon and honey
Honey will be a real helper for those suffering from arthritis. To relieve pain in the joints need to mix one tablespoon of Apple cider vinegar, honey and warm water. Taking the resulting composition several times a day without pills to ease the pain in the joints.
In turn, the cinnamon, combined with honey, can relieve pain in the joints even in rheumatoid arthritis. As evidenced by the many scientific studies that cinnamon slows the activity of osteoclasts (cells that destroy bone) and therefore reduces the level of bone damage.
In both cases, the honey must be used without heat treatment. Otherwise, it loses its healing properties — vitamins, minerals and enzymes.
Source: fitfixed.com