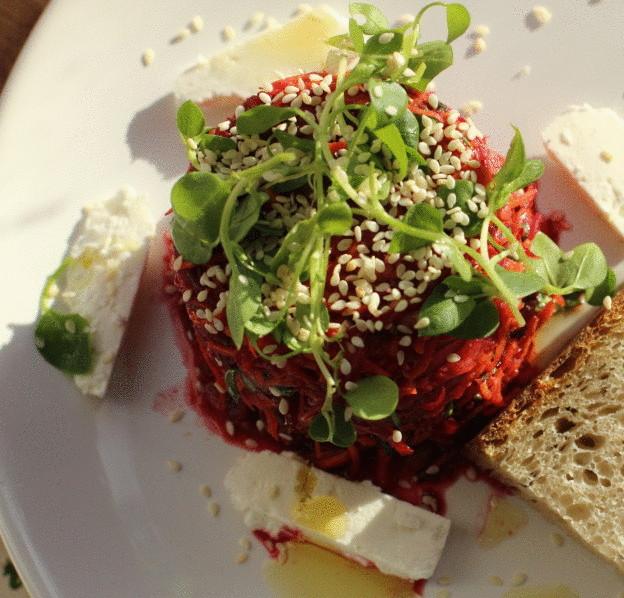 As it happens when you read a lot on the topic of the illness of some, then inevitably find themselves in it (the disease) symptoms. With immersion in the subject of healthy eating a similar situation. Suddenly see clearly that all illness from food and to dissuade in the near future is useless — even to those closest to others who proudly call themselves "doctor of science" and firmly believe that this makes them experts in all matters.
In General, the idea of a "fix" — to cure yourself ("...and I will heal"...), as well as the immediate surrounding, especially keen on ham, bacon, etc. on the list of all living in the body and emerging diseases. And then, of course, fame, respect and honor — without it, there is nothing to take. The plan in this regard of serious — to sign up for a year and a half of study on the subject — so that we are only at the beginning of a long-lasting history.
The cure, of course, proper nutrition. It is also clear that we must begin with the active introduction of more vegetables. What else in the winter is not fat not vegetables?
In General, fat of course has not been canceled, but salads like the long winter days and evenings before the fascination with the subject of healthy eating — so that all interests coincided, moreover, this salad in the summer and eating is not shameful.
So, declare a marathon salad — will try over the next couple of weeks in periods of rapid mode of cooking and sharing salad recipes.
Do you have any recipes for winter salads? I will be very grateful for sharing your experience — you can even cook and tell here about the most successful?
Today's was taken about twenty minutes of this euphoria. Not deceived, I feel that this recipe is a real gem salad "junky"...
The sun (through a window) is blinding, and you involuntarily close... And it seems that temperature is not a minus, but twenty-plus, and with every bite of beet-carrot-avocado miracle, Friday morning is vital getting a glass of wine all the worries fade into the background.
The main thing in this process is not to carry a fork past the mouth, so eyes open all I have. So you can see the corner of my eye that this salad work of art in the form of beautiful towers of regular geometric shape... And eyes start to eat together with mouth. And at this moment have to ring the phone...
To begin with, that's so romantic to clean and RUB the beets and carrots, in thin half-rings cut onions.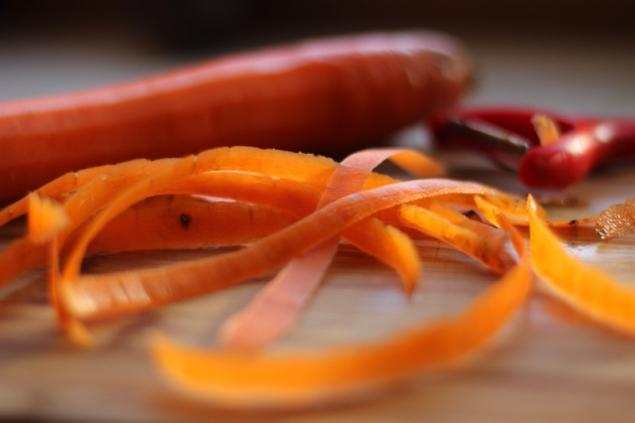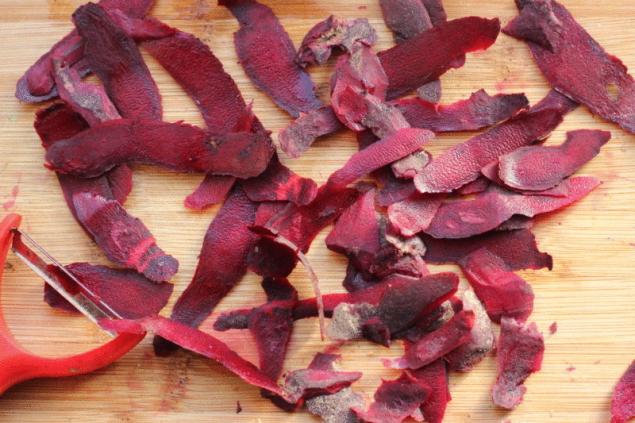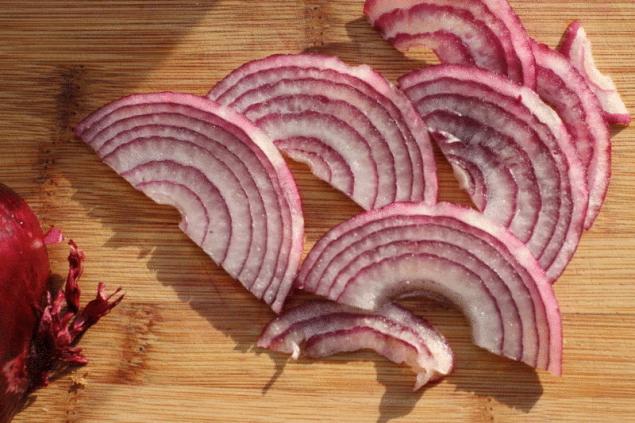 Avocado cut in half, remove the seeds and a tablespoon scrape the pulp into a separate bowl. Also add the lime juice, oil, salt, pepper and herbs. Flexing avocado with a fork, mix well.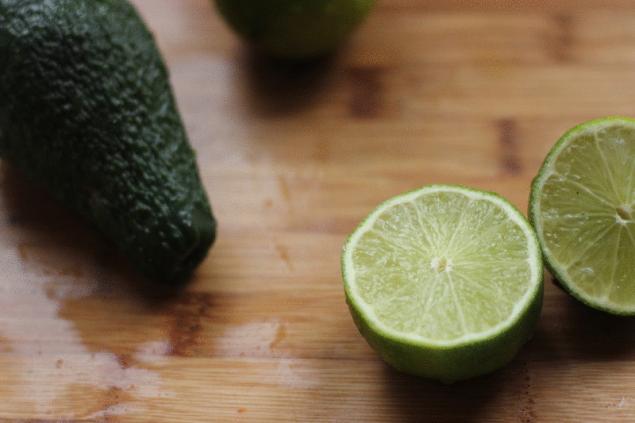 Mix morukov and beets with avocado mixture. To try the salad and the taste, add lime juice, salt, pepper, olive oil.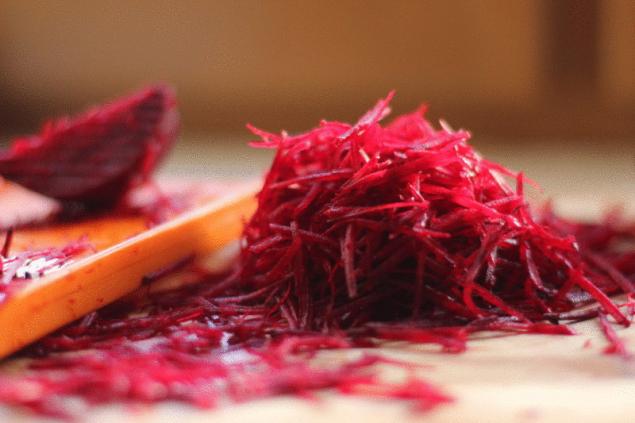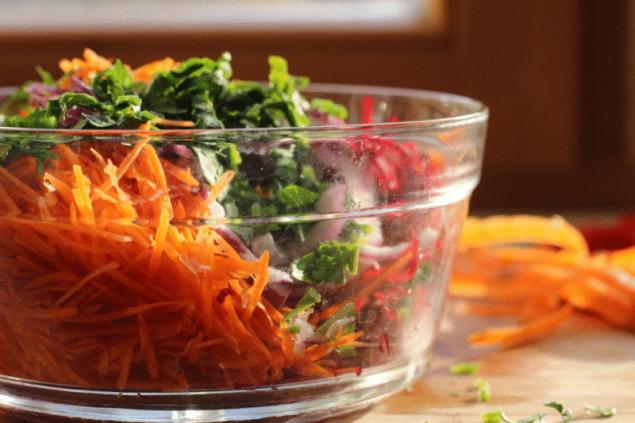 Now the most important thing. Without "tower" serving the beauty of this salad is reduced dramatically. So, sculpt kulichiki salad — just be sure. And what fun!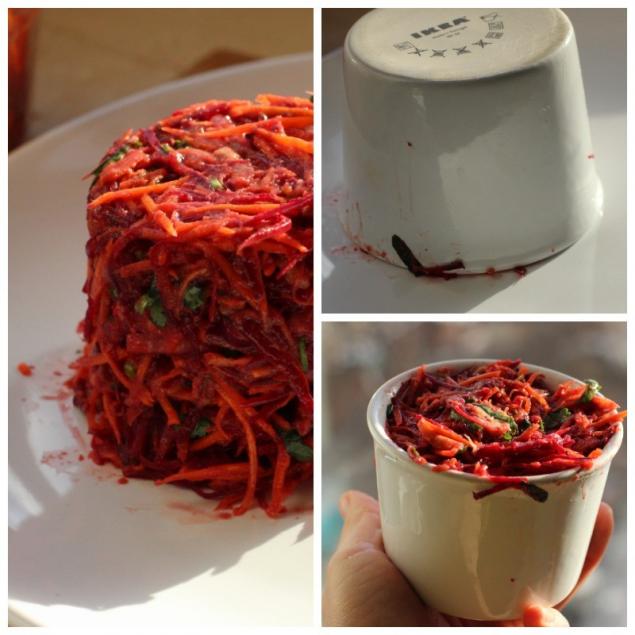 To put on the side or on top of cheese and herbs, sprinkle with nuts or seeds — and to resist immediate absorption becomes more difficult.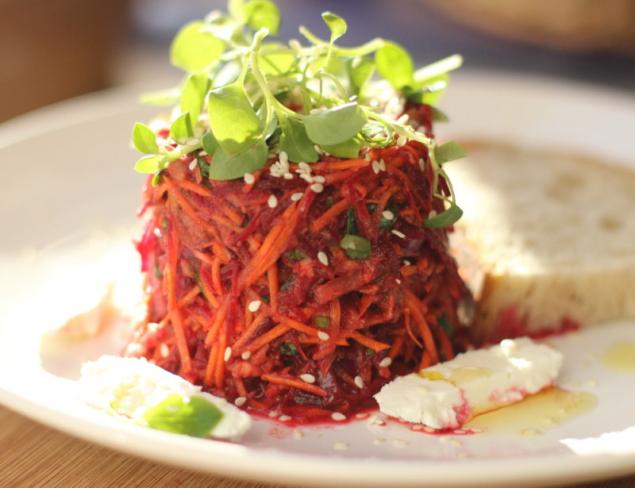 The smaller can be used as molds stand for eggs — and they will be happy!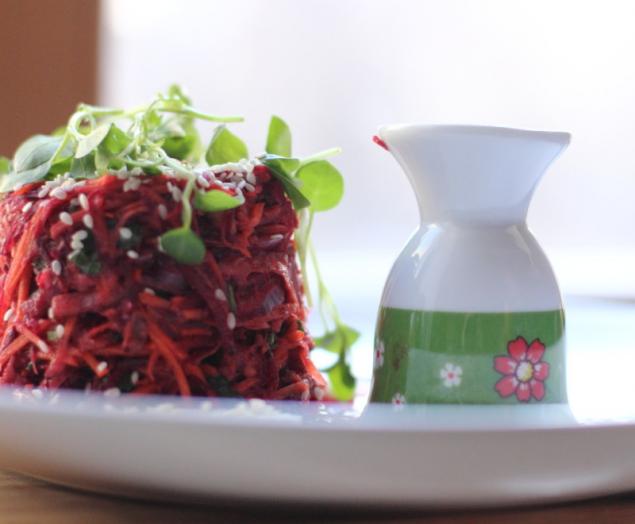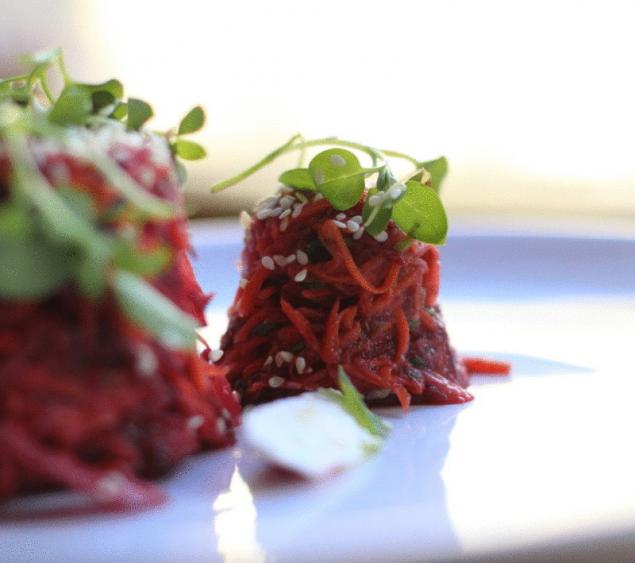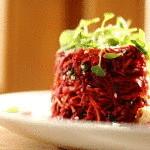 "Vegetable tower" or "laudatory ode to beets and Markoski" Full of vitamins a crisp bright winter salad of beets and carrots with avocado dressing. Ingredients Salad greens type salad raw beetroot 3 medium size 2 small raw carrots 1/4 medium red onion 1-2 avocados Small bunch cilantro or parsley 1-2 tablespoons olive oil Juice of 1 lime or lemon (start with half and then add to taste) 100-150 grams of cheese or soft cheese (I prefer sheep's feta cheese or young goat cheese) a Handful of sesame seeds or other seeds/ nuts optional Salt and pepper to taste Instructions Peel and RUB the beets and carrots. Avocado cut in half, remove the seeds and a tablespoon scrape the pulp into a separate bowl. Also add the lime juice, oil, salt, pepper and herbs. Flexing avocado with a fork, mix well. Mix morukov and beets with avocado mixture. To try the salad and the taste, add lime juice, salt, pepper, olive oil. For serving Tightly put the salad in the socket/bowl of small size — such that it was placed the amount that you are willing to eat at one time. Flip onto a plate and tap as if you sculpt kulichiki of sand. To put on the side or on top of cheese and herbs, sprinkle with nuts or seeds. Repeat the procedure once or twice. If in your family there are small members, they can be built smaller turret, for example in the form of eggs. I'm sure your concern will be appreciated! Notes the salad is best immediately — or within a couple hours lime dressing thoroughly promariner salad, and all vegetables, let the juice out. To optimize the process, you can prepare the beets and carrots in advance and mix with avocado mixture at the last moment, immediately before use. published
Source: buckwheatandspinach.com/2014/01/