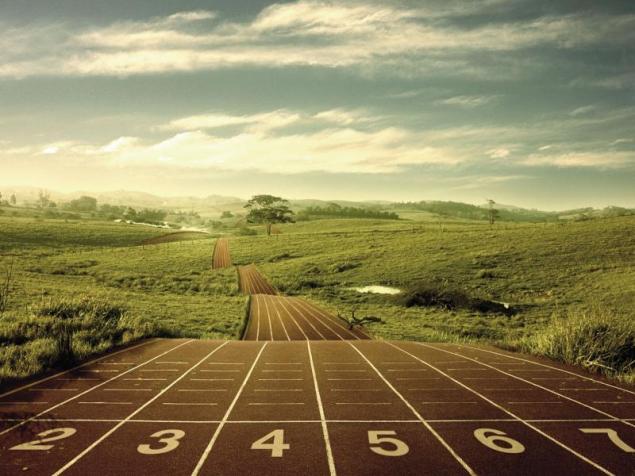 A year ago it occurred to me that this statement is covered by laziness. Yes, I often do not have enough money, and I sometimes dream of a better tomorrow will come when the "right time"... But I suddenly tired to depend on money, I started looking for an exit, and found a "free" solution — how to do what you enjoy.
Run money requires. The good — the entrance to the forest or to the stadium — free! For those who need company and assistance of the coach, there's a bunch of free apps! Here, just for instance: Nike+, miCoach,My ASICS, Endomondo, RunKeeper. Hiking on the route home-work saves money on travel (not to mention the benefits of motion). When the weather got colder, I did not bother buying winter running clothes, and moved their workout to the entrance: 30 minutes up and down from the ground floor to the ninth and back — a great load. By the way, this idea I saw on instagram :). My veltema this summer: took a great rental, but even better — ask for it from friends who have it gathering dust. Thanks Andrew I turned the pedals the whole of August. For which many thanks to him!
By the way, Yes! Use friends! In a nice and good sense, of course! Please contact them for help and help themselves. It is a kind of mutually beneficial cooperation. Recently I asked friends cross country skiing.
If you want to attend an event, find like-minded people. In a meeting free admission if you come not alone but with friends. Recently I wanted to learn in a course on first aid. This study Perm is 1-2 times a year and costs 5000 rubles. Various ways (mostly through social networks), I gathered a group of about ten people — and got as a bonus the opportunity to study for free. I also managed to apply and got in the twenty of the people who attended the master class in cooking coffee in a Turk from Red Cup. I'm happy and with new knowledge, and new friends!
To learn the language, too, can practically nothing. Most importantly, do not be afraid to make mistakes and not pay attention to others, and strove to show my faults and point out errors (I'm very grateful them for that!). Last year I found out about the promotion on the website, Lingualia and buy a year's access for 1000. The day of my training was worth about three rubles. This year the same pass was given to me as a regular customer already for 800 rubles! Every day I open this app and learn (or repeat) the words in every spare moment (in a queue, in transport...) friends Recently introduced me to an English speaking foreigner who lives in Perm and ready to chat for free. Now we meet once a week, and I love the fact that they understand and speak. I translated your computer in English mode. Sign your posts in English. In General, created an environment that supports and motivates to apply the language.
Don't be afraid to talk about what you do and what you are passionate about. The universe hears and sends us the right people and events! On Sundays I go to watch movies in English language club at the library. Gorky. After watching the film we are discussing it. This club is also free!
Gifts I do with my hands. Of course, if you want and have the time. If not — spend the money If we are talking about gifts for me, I have no problem telling friends what I really need — it saves them from inventing stuff to give me, and me — useless things.
Do not waste your money — save your energy for your motivation! This improves mood, increases self-confidence. published
Author: Anna Nikitina
Source: interesno.co/myself/fdf9536e93a8