How to prepare for the winter strawberries, raspberries or currants, knows every woman. But to make jam from exotic fruits or even vegetables are solved not all.
But this is a very simple, tasty and original. So we decided to pick up for you no ordinary recipes. Try it and amaze!  
1. Jam of onion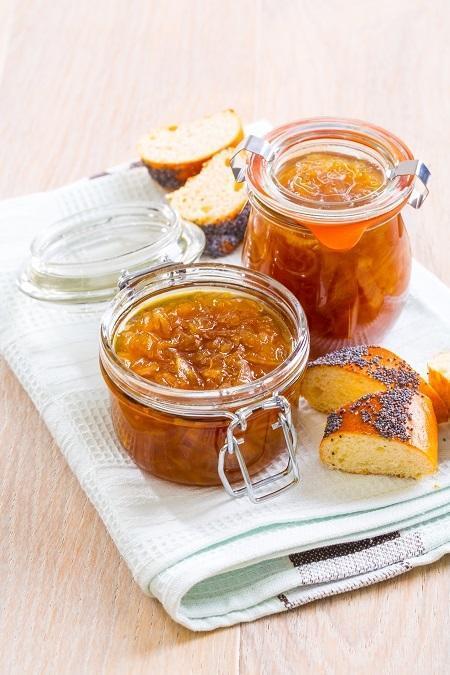 You will need:
7 bulbs of medium size
600 g granulated sugar
2 tablespoons white wine 5% vinegar
2 tbsp vegetable oil
Preparation: Onion cut into half rings and fry in vegetable oil until Golden brown. Stir in the sugar, pour 100 ml of water and heat on low heat while stirring until the sugar is dissolved. Cook on low about 30 min. Pour in the wine and vinegar, cook for another 10 min. Let cool and lay on the banks.
2. Jam from carrots with cherries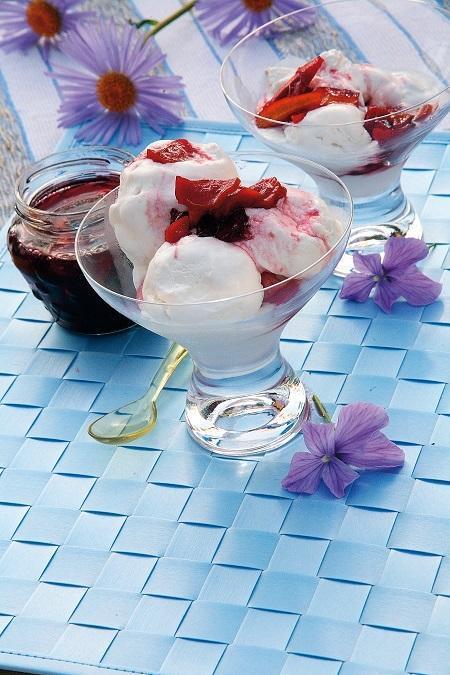 You will need:
1 kg cherries
1.3 kg sugar
Preparation: Cherry wash, drain in a colander, let the water drain out. Remove the seeds, add 700 g of sugar. To merge juice, to add to it a further 600 g of sugar and boil the syrup. Scrape the carrots. Carrot and lemon slice. In the syrup, put the cherries, carrots and lemon. Bring to boil, remove the foam and cool. The next 3 day jam bring to boil, remove the foam and 2-3 min to turn off. Then pour into sterilized jars and roll up.
3. Jam melon and raspberry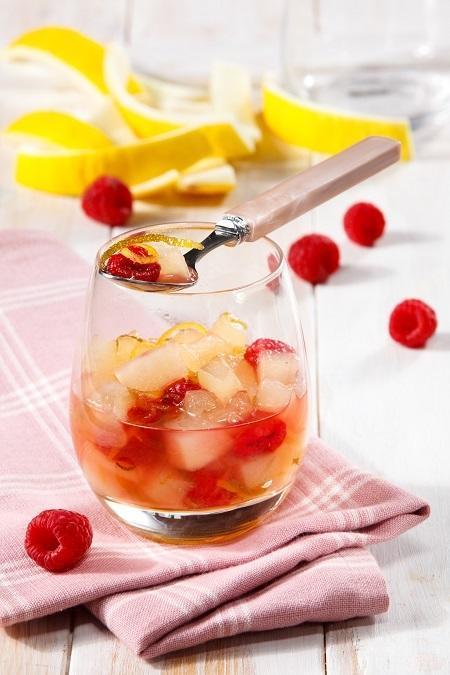 You will need: For 4 persons
1 lime
1 melon (1.2 kg)
400 g raspberries
1 kg granulated sugar
200 ml of water
Cooking: Lemon and lime wash thoroughly and dry well. With a sharp knife, remove the peel, juice press. Zest pour 200 g of sugar and pour the lemon juice and lime juice. Leave for 1 hour. Melon wash, dry, halve, remove seeds. Cut into slices and cut off rind. Cut the flesh into cubes of medium size. Sort through the raspberries, wash and dry on a paper towel. The zest with sugar, put in a pan, add the remaining sugar, pour 200 ml of water and bring to a boil. Put the melon and cook for 5 minutes, Add the raspberries, simmer for 5 minutes, periodically removing foam. Remove from heat and let cool. Return to heat and cook over low heat until the sample on a thick thread. Allow it to cool. Jam put in sterilized jars and close the lids.
4. Jam from watermelon peels with vanilla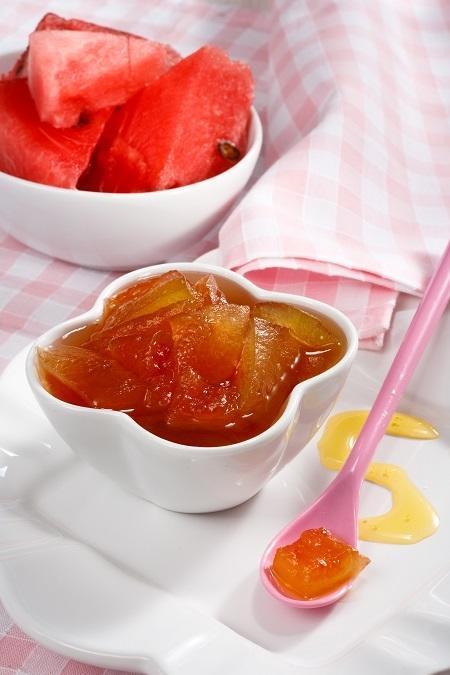 You will need:
1 kg watermelon rind
1.2 kg granulated sugar
1 tsp. soda
1 pinch of vanillin
Preparation: crust completely cut off the solid green part. The flesh is cut into pieces (diamonds, squares, strips) of a size of 3 cm and pierce with a fork in several places. The soda is dissolved in 250 ml of hot water and mixed with 1.25 ml of cold water. Put the pieces of crusts, cover and leave for 4 hours Then drain in a colander and rinse thoroughly. 600 g of sugar, pour 750 ml of water and cook for 10 min. to Put peel and boil 15 min. Remove from heat and leave for 12 hours Then add remaining sugar and boil 3 hours, Add vanilla, cook 3 mins Ready jam pour into prepared banks and close tightly. 5. Jam of kiwi and lemon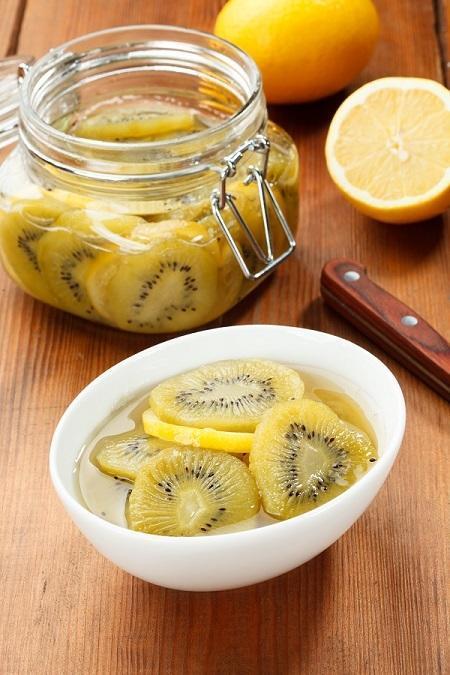 You will need:
900 g sugar
500 ml Apple juice
Preparation: Lemon wash brush and cut into thin slices. Put in a saucepan together with 100 g sugar and 100 ml of water. Cook on low heat for 10 min. Kiwi peel, cut into slices and put in a saucepan together with lemon. Add Apple juice and remaining sugar. Bring to a boil. Pour into a ceramic bowl and leave at room temperature overnight. The next day to return the jam to the pan, again bring to boil and simmer 20 min, stirring occasionally. Pour into sterilized jars, allow to cool. Then close and put in storage in a dark cool place.
6. Carrot jam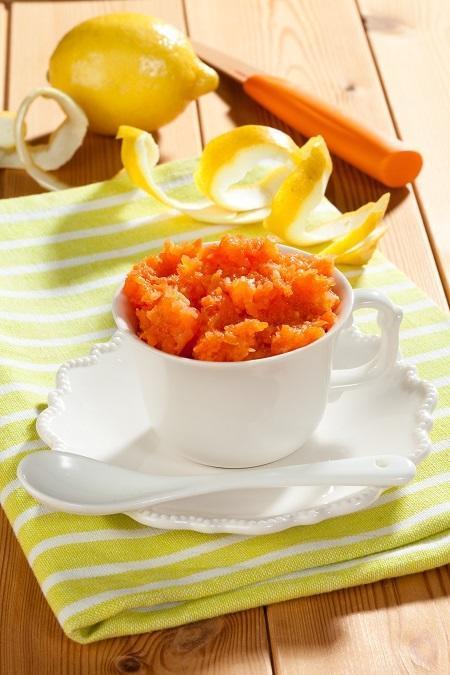 You will need:
1 kg of carrots
1 kg of lemons
2 kg of sugar
1 sachet of vanilla sugar
Preparation: Carrots wash and clean. Lemons to clean away the peel. Carrots and lemons to scroll through a meat grinder. Choose lemon seeds. Carrot-lemon weight to shift in a saucepan, add sugar, boil, removing the foam, about 1 hour. Put into clean jars. Store in the refrigerator.
7. Jam zucchini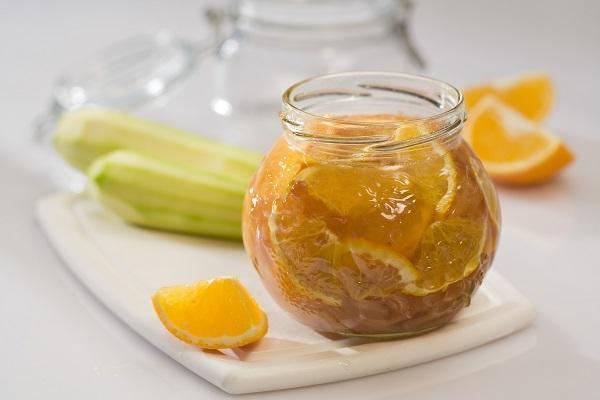 You will need: a 3-liter banks
1.5 kg zucchini
3 oranges
1 lemon
1.5 kg granulated sugar
Preparation: wash the Courgettes, dry with a paper towel and thinly peel the skin off with a sharp knife. Each fruit cut in half, remove the seeds, cut the flesh into small cubes. Oranges and lemon thoroughly wash and dry on paper towel. Peel the rind, cut the fruit into thin circles first, while removing the stones, and then each of them cut into quarters. To prepare the syrup, sugar, pour 250 ml of water, stirring, bring to the boil and cook for 10 minutes, boiling the resulting syrup place the sliced zucchini and simmer for 5 minutes after re-boil. Then add the sliced oranges and lemon, bring to the boil and cook over low heat for 40-45 minutes. ready to define a drop released on a cold saucer: if she does not run, the jam is ready. When the jam is completely cooled, pour it into clean, dry jars and close the lids of conventional, paving circles from the tracing paper. Store in a cool dark place.
8. Pumpkin jam with lemon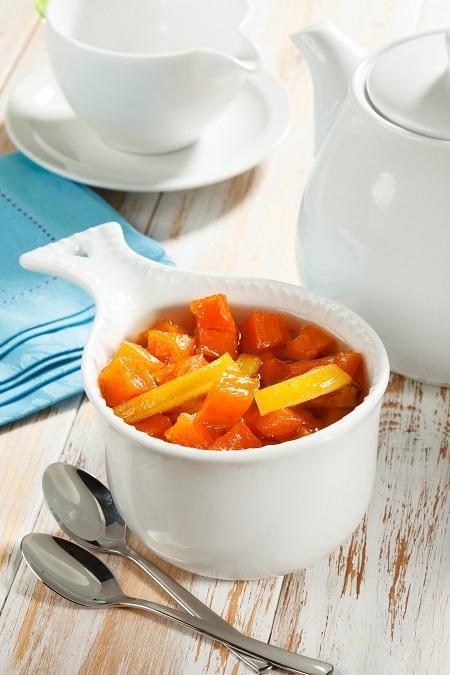 You will need:
3 lemons
1 kg of pumpkin pulp
1 kg of sugar
2 clove Bud
Preparation: pumpkin Flesh cut into equal cubes, fill with sugar and leave for 3 h. Lemons wash, scald, cut with the peel, to pick bones. Pumpkin combine with sugar, put on high heat and bring to a boil. Fire to reduce, put cloves and cook 30 min. Of the finished jam to remove cloves. Jam to put in sterilized jars, close with lids. Cool. Store in a cool place.
9. Jam orange peel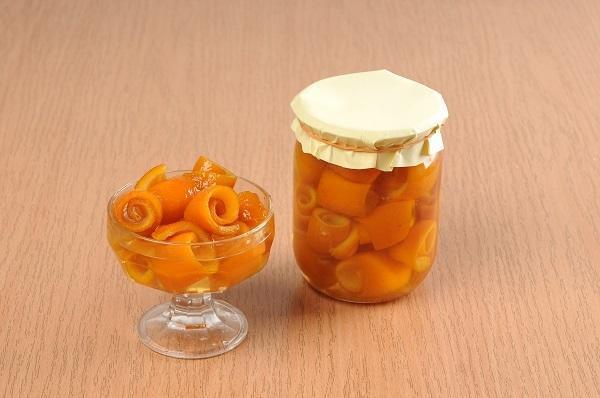 You will need: a jar 0.5 l
75 ml lemon juice
10 g ginger root
For the syrup:
Preparation: Oranges wash, pour over boiling water and cut lengthwise into 4 pieces. Then each part cut another in half. To remove the pulp and the peel from each slice cut in half again. If orange peel is thin, each strip to roll into a tight roll and spread on the thread, like beads. Put "beads" in a deep bowl and cover with water so that it covers the peel. Leave for 3 days, changing water regularly (about 4-5 times a day), went to the bitterness. If oranges have thick skin, it must first be soaked, then each strips with a knife to remove the white part from the inside of the peel and then strip rolled into a spiral. After soaking the spirals from the peel to boil 3-4 times for 15-20 minutes, each time pouring water. After each provarivanija "beads" pour cold water. In a wide saucepan, cook the syrup of water and sugar, to give it prepared "beads", bring to a boil and cook on low heat 20-30 min. Let cool. Add in a saucepan the zest of finely chopped ginger root, bring to a boil, pour in the lemon juice and cook for 20-30 minutes Then remove jam from heat, cool. Remove from the jam "busy" and remove the thread. Pour the jam into clean, dry jar, cover and store in the fridge.
10. Design of heat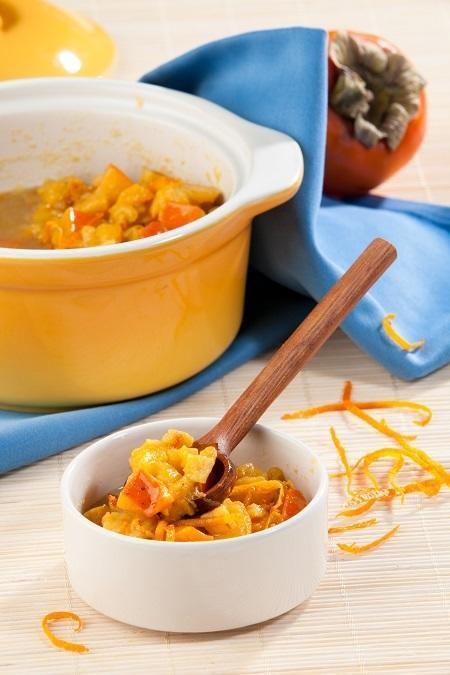 You will need:
4 cups diced persimmon
3 cups sugar
juice of 2 oranges
grated zest of 1 orange
4 tbsp vodka
Cooking Apples, sugar, juice and zest to combine and cook over medium heat, stirring frequently, about 20 min. Remove from heat and allow to cool completely. Again put on the stove, persimmons lightly mash with a wooden ladle, pour in vodka and cook for another 10 minutes after boiling on low heat. Pour into sterilized jars. Store in the refrigerator. published
P. S. And remember, only by changing their consumption — together we change the world! ©  
Source: www.7dach.ru