Those who at least once tried homemade Mayo or homemade peanut butter, I will tell you that it is much tastier than what we buy in stores. Another benefit of homemade food — you are completely confident in their composition.
We offer you 14 recipes. Mayonnaise, ketchup, flavored salt, tahini paste, mixed spices and many other Goodies you can make yourself.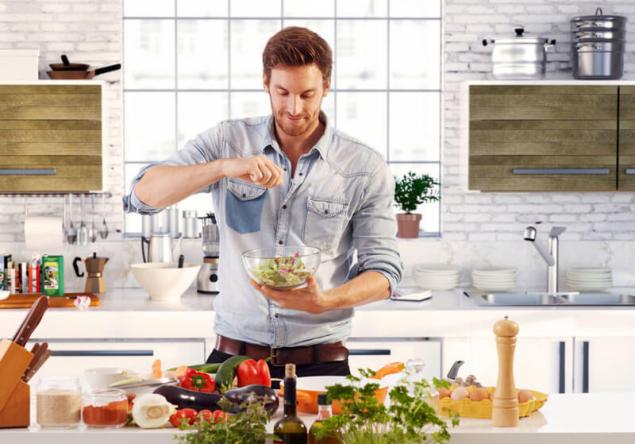 Homemade mayonnaiseIngredients
2 egg yolks;
1 teaspoon lemon juice or vinegar;
1/2 teaspoon of salt;
1/2 teaspoon dry mustard (optional);
1 Cup sunflower, olive or any other vegetable oil.
Cooking
Put in a bowl blender the egg yolks, lemon juice, salt and mustard and whisk blender several times to break the yolks.
Then start to gradually add 1/2 Cup oil, blending the mass after each addition. Then start adding the remaining 1 tablespoon. Before adding the next batch of oil, make sure that the mixture is completely homogeneous. Gradually, the mayonnaise will start to become thick and acquire a lighter shade.
Then you can add the remaining half of the oil. The more oil the more thick get your mayonnaise. If it gets too thick, add a little water. Add 1 teaspoon until the mayonnaise reaches the desired consistency. 
Homemade ketchupIngredients
1 tablespoon of olive oil;
3 crushed garlic cloves;
1/2 chopped yellow onion;
1.8 kg ripe tomatoes, cut and peeled and seeds;
1/2 Cup Apple cider vinegar (or white or red wine vinegar);
2 teaspoons of salt;
1 + 1/2 teaspoons ground black pepper;
1/4 teaspoon ground allspice;
1/4 tsp ground Cayenne pepper;
1/4 teaspoon ground ginger;
1/2 Cup dark brown sugar;
1 tablespoon of honey.
The preparation
is Heated in a pan with a thick bottom olive oil and passiruete onions for approximately three minutes or until, until it becomes translucent. Then add the garlic and passiruete the mixture for another minute. Add tomatoes, vinegar, salt, all the spices, ginger and simmer for 20 minutes: at the end of the tomatoes should easily fall apart if you squeeze them with a spoon.
Remove the pan from heat and pariruet the mixture with a blender: you can do it with parts, so as not to leave large pieces. Then add the sugar and honey and is sent back to the fire. Ketchup simmer for another 20-30 minutes. Taste it and add those spices, which, in your opinion, is not enough. For example, if you like the taste of Mediterranean cuisine, can add a mixture of Italian or Provencal herbs.
Ready ketchup wipe through a sieve to obtain a homogeneous mass, pour it into jars, cool and put in refrigerator. The shelf life of this homemade ketchup — up to two weeks. 
Paste harissa
Harissa (Arabic. هَرِيسَة arissa; also Orissa) — spicy paste-like sauce with red chili peppers (dried or sometimes dried) and garlic with the coriander, cumin, salt and olive oil. Seasoning is used mainly in the dishes of the Tunisian cuisine and cuisine of other Maghreb countries, and also prevalent in the Israeli and European dishes. For each of the cuisines has its own recipe of harissa. Tunis — the most acute, as it contains more chili peppers.  
Ingredients
120 grams of dried chili (blend of dried and fresh peppers);
1 teaspoon cumin seeds;
1 teaspoon coriander seeds;
3-4 cloves of garlic;
1 teaspoon (or to taste) salt;
2-3 tablespoons of olive oil;
options: fresh lemon juice, fresh or dried mint, fresh cilantro, sun-dried tomatoes, tomato paste, Cayenne pepper.
Preparation
Lay out the dried peppers in a bowl and pour them with boiling water. Cover and leave to stand for 30 minutes. While the peppers are infused, dried their spices on a dry frying pan literally within one minute. Then grind them into powder.
Drained the water from the peppers, remove them from the peel, cleaned of seeds and mix with garlic, salt and ground spices in the bowl of a food processor. Whisk the mixture, gradually adding the olive oil in there. Don't forget to stop the food processor or blender and mix for pasta. Whisk again until then, until the paste will not become the desired consistency. In the process to add additional options if you wish.
The finished paste is spread on the banks and poured on top a small amount of olive oil, which will need to fill up every time before you send the harissa in the fridge.  
Homemade crackersIngredients
3 cups flour (you can mix standard and whole wheat);
2 teaspoons of sugar;
2 teaspoons of salt;
4 tablespoons of olive oil;
1 Cup of water;
options: 1 tablespoon sesame seeds, 1 tablespoon fennel seeds, 1 tablespoon poppy seeds, 1 teaspoon of sea salt.
Preparation
preheat the oven to 230 degrees. Line a baking sheet with baking paper. Mix in a bowl the flour, salt and sugar and mix well. Then add oil and water and knead the dough. If the walls and at the bottom of the bowl is left dry flour, interfere it in the dough, adding 1 teaspoon of water.
Divide the dough into two parts. Sprinkle a Board or table with flour and with your hands form the dough into a rectangle. Roll the dough into a rectangle thickness of about 3 mm. If the dough starts to tear, cover it with a towel and leave to soak for about five minutes, then begin roll out to desired thickness.
Then grease the top of dough with water, mix in a bowl the seeds and sprinkled on their surface. Share with a knife or pizza wheel to the surface of the big rectangle into small rectangles and transfer them to the baking sheet using a wide knife or spatula.
Send crackers to bake for 12-15 minutes. Constantly keep an eye on them, as some of the more subtle parts will be grilled faster and have to remove them from the oven as cooking.
Hold the crackers in a sealed container without access to sunlight for two to three days.  
GranolaIngredients
3 cups rolled oats (oatmeal, not quick cooking);
2 + 1/2 cups nuts and seeds of your choice;
1 + 1/2 teaspoons of the salt;
1/4 teaspoon of cinnamon;
1/2 teaspoon cardamom;
1/2 Cup oil, for example olive;
1/2 Cup + 1 tablespoon liquid honey, sugar or maple syrup;
3/4 teaspoon vanilla;
3/4 Cup chopped dried fruit.
Preparation
preheat the oven to 190 degrees. In a bowl mix the oat flakes with seeds and raw nuts. Then add the spices and again mix well. Then add vegetable oil and honey or syrups.
Alter the mixture and spread on a baking tray lined with baking paper. Leveled and put it in the oven. Stir the mixture every 15 minutes and be careful so that the granola does not burn. While she cooked (about 40 minutes), cut into small pieces dried fruits and roasted nuts.
Take out from the oven ready-made granola and add the nuts and dried fruits. Again all mix well, cool and put in containers where it can be stored for 7-10 days. For longer term storage, put containers in the fridge.  
Flavored saltIngredients
Common salt and spices in a ratio of 1 teaspoon of spices to 1/4 Cup of salt. Spices: dried herbs, chilli, dried citrus peel, tea, dry garlic, onion or tomatoes. All the ingredients should be dry and chopped or cut into very small pieces!
Prigotovleniya in the oven or microwave, if necessary, those additional ingredients which should serve as flavorings to your salt. Then izmelchitel them further, if necessary, and start to mix. Start with 1 teaspoon flavorings and 1/4 Cup salt. Mix them carefully with your hands, mix in a mortar or grind in a coffee grinder or food processor. Taste and add a little more flavor or salt depending on desired taste.  
The Egyptian spice mixture dukka
Dukka, an Egyptian snack which is served in bowls to main dishes and is often used instead of salt. It is perfect for bean and lentil soup, sprinkled over kebabs and vegetables, and bred with olive oil and dip there pellets and fresh vegetables.
Ingredients
1 Cup nuts (hazelnuts, almonds, pistachios, cashews, pine nuts, macadamia);
1/2 Cup of sesame seeds;
1/2 Cup of coriander seeds;
1/4 Cup cumin seeds;
1 teaspoon of sea salt;
freshly ground black pepper.
Preparation
Add all ingredients in a food processor and grind until a uniform crumbly mixture.  
Powder chiliIngredients
2 tablespoons crushed chili peppers;
1 tablespoon ground cumin;
1 tablespoon dried oregano;
1/2 teaspoon Cayenne pepper;
optional: 2 teaspoons coriander, 1 tablespoon ground garlic.
Preparation
Mix all ingredients in a small jar, tightly close the lid and shake well so the mixture became homogeneous.  
A mixture of 5 spicesIngredients
2 stars of anise;
2 teaspoons of Sichuan pepper and common pepper;
1 teaspoon cloves;
1 teaspoon dill;
1 teaspoon coriander seeds (optional);
1 cinnamon stick, broken into several parts.
Cooking
Dried all spices, except cinnamon sticks, in a dry frying pan until well dried condition and grind them together with the cinnamon in a coffee grinder or food processor into a powder. Store in a tightly closed jar.  
Marinara sauceIngredients
1 tablespoon of olive oil;
1 small yellow onion, finely chopped;
2-3 crushed garlic cloves;
1 jar of tomatoes in own juice (800 ml);
1 Bay leaf;
1/4 teaspoon of salt;
fresh thyme, Basil, oregano or other herbs;
Preparation
Heat olive oil in a pan and add the onion. Passiruete it for 5-7 minutes until soft and translucent and then add garlic. Passiruete another 30 seconds.
Add to the onions and garlic, tomatoes with juice, all mix well and crush with a spoon. Then add the sauce, Bay leaf and fresh thyme or oregano. If you decide to use Basil, you must add it to the end.
Bring the sauce to a boil, lower heat and simmer another 30 minutes. At the end remove the Bay leaf and add fresh Basil. While preparing sauce, cook pasta, with which it is served.
The remains of the sauce can be stored in the refrigerator or freeze. In this form it can be stored three months! You can also use fresh tomatoes, but then they will need to peel, remove seeds and simmer longer for 20-30 minutes.  
Quick pizza sauceIngredients
small jar of sliced or whole tomatoes (450 ml);
2 chopped garlic cloves;
1 teaspoon balsamic vinegar;
1-2 tablespoons of olive oil;
a few leaves of fresh Basil (optional);
salt and freshly ground black pepper to taste.
Preparation
Put all the ingredients in a food processor and process thoroughly until smooth. Store in refrigerator or freeze. This can be done in small bags, divide the sauce into portions.  
Homemade tomato pastaIngredients
4 + 1/2 kg tomatoes;
2 tablespoons olive oil;
2 teaspoons sea salt;
1/2 teaspoon citric acid.
Preparation
preheat the oven to 190 degrees. Cut the tomatoes into four parts. Preheat the pan with olive oil and send the tomatoes. Simmer until until the peels begin to separate easily from the pulp.
Pass the softened tomatoes through a special mill or sieve to separate the skins and seeds. Add tomato pulp, salt and citric acid, mix well, spread on a baking tray lined with baking paper, and put in the preheated oven. Since tomatoes might be too much for one pan, you can add them as parts of the mass will be.
Bake in the oven for 3-4 hours to a paste. The finished product is put in jars and refrigerate or can.  
Homemade chicken brothIngredients
bones and carcass with some meat from one roasted chicken;
2 bulbs;
3-4 stalks of celery;
1-2 carrots;
2 Bay leaves;
4-5 sprigs of fresh thyme;
6-8 stems parsley;
optional: whole garlic cloves, dill, green part of leek, black pepper.
Preparation
Cut the chicken carcass into several smaller pieces, spread the bones into a saucepan, pour water so that it covers the contents at 2.5 cm, bring to a boil, reduce heat and simmer for 2-6 hours, constantly removing the foam.
Clean the vegetables and cut them into large pieces, add in the broth and, if necessary, add more water. Boil the broth for another 1-2 hours.
Then tasting it, add salt and filtered, separating the liquid from the bones and vegetables.
Cool the broth, pour it into small banks and sent in the freezer.  
Homemade vegetable brothIngredients
1-2 bulbs;
2-3 carrots;
3-4 stalks of celery;
4-5 sprigs of fresh thyme;
1 Bay leaf;
1 small bunch of parsley;
1 teaspoon of black pepper;
optional: leeks (especially the green parts), fennel, tomatoes, mushrooms, parsnips.
Preparation
Thoroughly wash the vegetables, so as not necessarily to clean them (only onions). Cut into large pieces, and put it in a pan and pour warm water. Water should be enough so that you can safely stir the vegetables. The less fluids, the more concentrated will the broth.
Bring the broth to a boil, reduce heat and simmer for another hour. Then strain it through a sieve, allow to cool, then poured into containers and put in the freezer. published
P. S. And remember, only by changing their consumption - together we change the world! ©
Join us in Facebook , Vkontakte, Odnoklassniki
Source: lifehacker.ru/2015/07/12/14-diy-pantry-staples/