In fact, the post had been prepared in April 2014, I could not publish it then. Is the second in the expected series. You can look
first
. On this subject, write me spodviglo desire to make a little bit of clarity in the presentation of certain chemical aspects of our being. Using the fact that the chemistry - the science is not too popular among the masses, we sometimes give advertisers and media such gems that I have not enough words to describe the emotions. So try a little dispel the fog, well, so it was interesting and relevant for our conditions. Recently met a similar publication in translation, too, about the salt. Serious and well done, though slightly out of our reality.
So - about salt


So in Africa and sell it. The thickness of the pieces is probably determined by the thickness of the formation. Weak layers. Em>

To salt or not to salt. And why is the salt may be better off without it? Salt substitute? Valuable minerals and salt with pink - why goat accordion? Advertising posts - a good way to cook the noodles on the ears. B>

So, we will continue our games. Today's start, to the best of abilities and, to clarify a number of questions kitchen, because chemistry - it is not only boring lines in the textbook. Chemistry surrounds us and even cooked within us, it is also new materials and technologies that surround us. Yes, the chip can not do without chemical and ultrapure uniform crystal silicon or other semiconductors.

Questions that have and how to cook it, which contains poisonous - a favorite theme of Internet publications. If you read all this, and yet, God forbid, all this believe in mind exactly balls of rollers will drop. We will try to slowly, to understand today's topic.

Salt and salt, that it take ... Aha! Food supplement this your salt. Poisonous. The lethal dose for the average person 200 grams. Salt distort the taste of the products that we begin to eat them in quantities large enough. About tasteless food without salt - make sure I am not afraid. Excess salt increases blood pressure and acidity, it is generally harmful, as excess food in general. Just trouble. It seems true. But it's not 100% the truth, even in the black, has a little bit of white, and vice versa. A seemingly natural product, and even ancient - basically, we eat the salt of the ancient marine sediments, so that modern technology and radiation contamination (modern, man-made), there can not be. Somehow they forget to talk about advertising. Why advertise it - the cheapest product.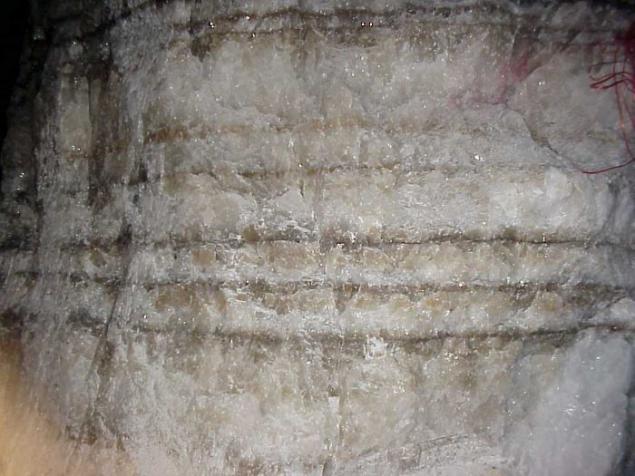 salt formation. Visible layers are deposited in ancient times salt em>

rock salt is - is an ancient layer of crushed dried up the sea, it caught the ancient grains, and there are impurities of natural sea salts, potassium, calcium, magnesium. It is these impurities and have a beneficial effect on the rigidity of pickled cucumbers.

Evaporated or Extra salt is salt, purified by recrystallization, and from impurities and from grains.