Tangerine jam is not only a wonderful dessert, but also a great sauce for meat and poultry. Best to cook it in winter when the fruit is sweet and juicy. But harvesting such jams are possible in the summer – increased the amount of sugar fix sour taste summer fruits.
To cook this unusual jam in two ways: from whole fruits or slices. In the first case, you will need one kilogram of oranges and granulated sugar and lemon juice to taste.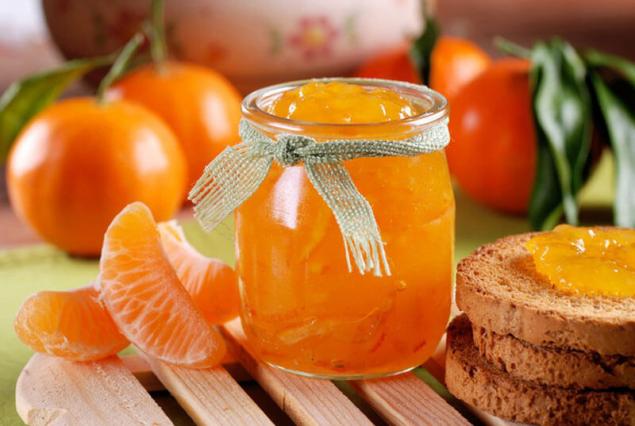 HOW TO COOK JAM
1. Select ripe fruit without defects, it is desirable the small size.
2. Put them in a container of boiling water for 10 minutes. Then transfer into another container with cold water, in which the mandarins must lie at least eight hours. During this time the water must be several times to change it.
3. In a liter of water will dissolve a kilogram of sugar.
4. On medium heat cook the syrup.
5. Remove the mandarins from the water, pierce each fruit with a knitting needle in the center, not touching the slices, and place in a bowl with syrup brought to a boil. Cooking the fruit should not be. Just need a minute to hold them on fire, and then immediately the capacity to remove from the heat and leave the mandarins to soak the syrup.
6. After 6-8 hours, check the bowl of syrup on a small fire. If at this point the syrup will remain insufficient, should be fed into the workpiece a glass of water with dissolved a Cup of sugar. At this stage of cooking you can add in jam juice or zest of one lemon, grated on a fine grater.
To prepare tangerine jam is and of the individual slices. Unlike the first embodiment, this dessert has a more spicy taste, because in the process of cooking add spices.  
What you need:
1 kg of mandarins
1 large orange
1 kg of sugar
1 tbsp. water
2 tsp ground ginger
1 sachet of vanillin.
How to make jam:
1. Peel the tangerines, peeled and separate into individual slices. Exactly the same should be done with orange.
2. Place the fruit in a common container and pour a glass of water.
3. After 8 hours put the workpiece on slow flame and add the ginger.
4. After boiling, the mixture should boil half an hour, constantly stirring.
5. Add the jam, vanilla and sugar. Cook for another half hour.
6. Pour into pre-sterilized and dry banks and roll up metal covers. published
P. S. And remember, only by changing their consumption — together we change the world! © Join us at Facebook , Vkontakte, Odnoklassniki
Source: domashniy.ru/