Deformation of the first toe is usually associated with a genetic predisposition or with frequent wearing uncomfortable shoes. Among the natural remedies to treat illness you can highlight the use of essence of lavender — it will help to reduce pain.
"Bump" or "bone" on the big toe occurs due to the deformation of the joints of the big toe; this disease can be triggered by genetic predisposition or frequent wearing of uncomfortable shoes.
Often the "bones" appear after the age of 30, and almost always they affect both legs. They are accompanied by such symptoms as the appearance of the bumps, inflammation and redness of the skin, pain when walking, thickening of the skin around the inflamed area and so on.
If you notice these symptoms, it is best to consult a doctor-Podiatry, so he appointed a suitable treatment. In some cases, you may need surgical intervention.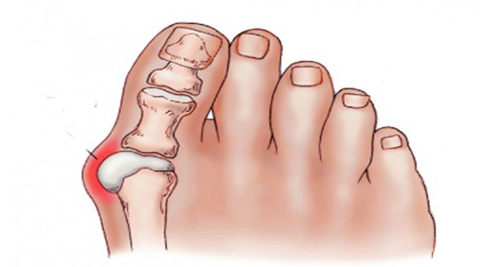 It is possible not only to resort to medical treatment, but also to make use of home remedies that will help keep the disease under control, reduce pain and prevent re-appearance of "bumps".
In this article we will tell you about the most effective home remedies to control this illness.
Lavender
Lavender oil is widely used for the treatment of deformity, as it can soothe pain and reduce inflammation in the area affected by the disease.
You will need to mix the dry lavender flowers, mix them with olive or almond oil, warm this mixture in a water bath and finally filtered to obtain the lavender oil.
The resulting liquid should be poured into a sealed glass bottle and apply to "bump" each evening with a light massage.  
Magnesium sulfate
to get rid of unpleasant pain and inflammation, which causes a "bump", it is possible to resort to such popular means as a salt bath for the feet. In a vessel of warm water add two tablespoons of magnesium sulfate and hold the feet in water for 20 minutes.
Ruta
Ruta has many useful qualities that will help to get rid of pain and inflammation characteristic of diseases such as arthritis and arthrosis. To ease the pain caused by the "bump", we recommend you to make a warm footbath with the root. Rute give a little brew, and then hold the feet in the bath for 15 minutes.
Calendula oil
calendula Sprouts contain oil which is used for manufacturing home remedies for joint pain. Calendula oil you can buy, but you can prepare yourself. For this you will need the leaves of the plant which need to be soaked in brandy for 5 minutes.
After that, the tool should be applied with a light massage on the disturbing foot area.
Means based on the Laurel
Bay leaf has many properties that help to deal with the deformity, not only outside but inside as well. This tool must be used within two months, despite the fact that the results will be visible after 10 days of use.
First you need to prepare a decoction of Bay leaf and leave it in the thermos overnight. The next morning strain it and drink in small SIPS throughout the day. Try it for three days and then take a week's break.
You can also chop 5 Bay leaves and soak them in 96% alcohol. The mixture needs to steep for weeks, then it can be put on the disturbing area, pre-papariv feet in warm water.
Every night apply it on the feet with light massage, then wear socks so that the result was more effective.
Remedy with iodine
Extremely popular tool to deal with "the lump" — a mixture of iodine and aspirin. It needs to be applied directly on a "bump" to stop its growth and relieve pain in the joints.
Here's another way to take advantage of the useful qualities of the iodine mix in equal proportions of iodine and lemon juice and apply on the problematic area and massage.
How to cope with "lump": advice
Watch your weight, try not to gain extra pounds
Increase your intake of vitamins A, C as well as vitamin D and calcium to strengthen bones.
It is important to use comfortable shoes with a wide nose and soft materials. Too tight shoes or high-heeled shoes can exacerbate the problem
If the "bump" calls discomfort, it is best to wear open shoes in which you feel comfortable. published
P. S. And remember, only by changing their consumption — together we change the world! © Join us at Facebook , Vkontakte, Odnoklassniki   
Source: steptohealth.ru/