Modern design trends make home life more harmonious and comfortable, allowing you to go beyond traditional classical style. When it comes to kitchen interior, here in the first place is practicality and functionality. New interior kitchens allows you to depart from all sorts of templates, making the room bright colors and unexpected stylistic decisions.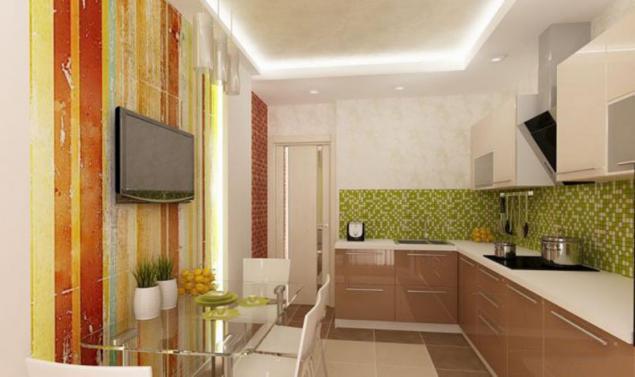 The current style in this part of the house is clean lines, minimalism, simplicity and creative solutions to decor.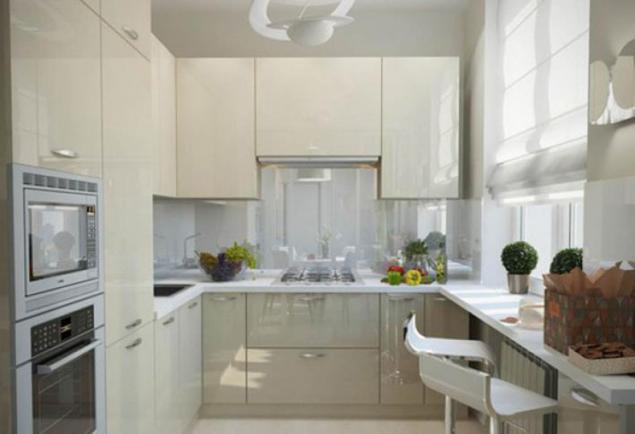 Photo modern kitchen design in bright colors. In 2015, this design is often used for small spaces.
Main features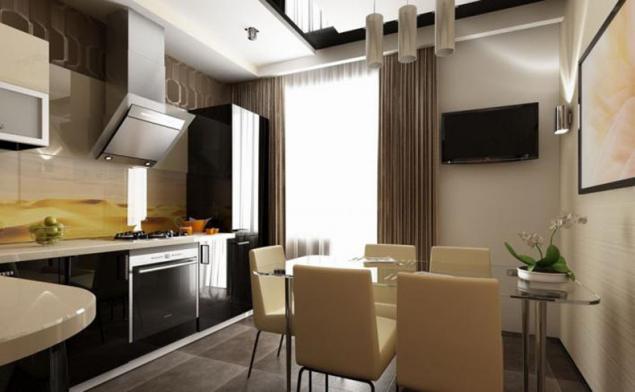 The arrangement of the kitchen, allows the use of convenient and practical furniture, wide surface and spacious working areas. Utensils are set in a monochromatic theme, without bright and motley coloring. The room itself eliminates extra parts or pieces of furniture, and every thing has its place. In this kitchen you can always find a necessary tool or to access certain appliances.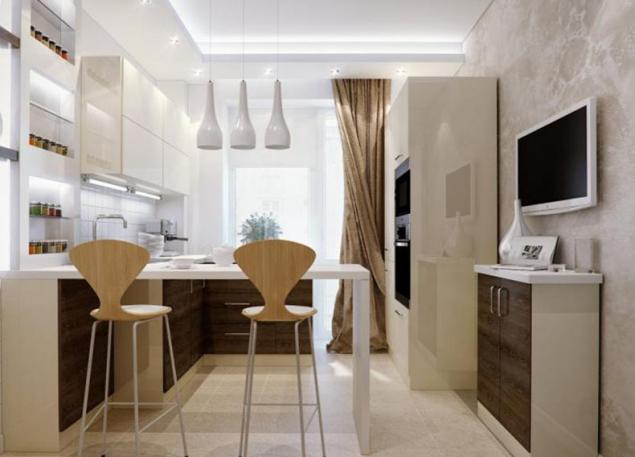 The photo interior design in fashionable shades of cappuccino.
Most often it is integrated in the furniture modules for practicality. This technique is easy to use and always optimises the cooking process. All the working points are calculated in advance, the performance of which there is a worktop with all the necessary tools waiting in the wings.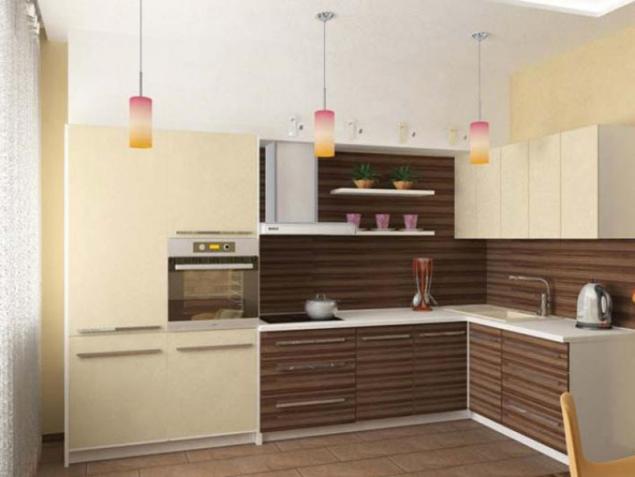 In the photo fashion trend 2015 – the Zebrano color on the facades of the drawers.
Modern dishes suggest a connection with other rooms to maximize space. It may be a kitchen-Studio, which captures a part of the living room and has a zonal division.
Colors and finish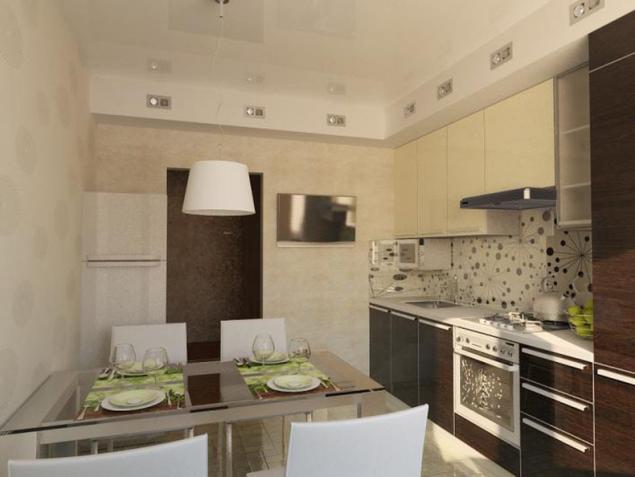 Kitchen modern design can combine almost any material that will be useful or just like the owner of the premises. However, it is worth remembering that pretentiousness is not appropriate, it is replaced by practicality and simplicity.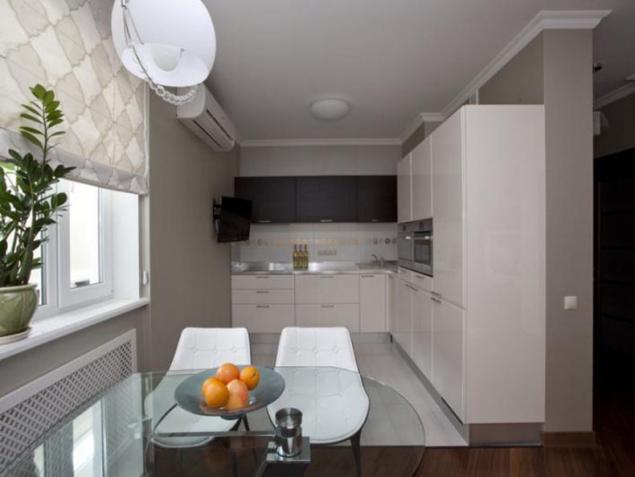 As for the colors, then it is best to select one accent and around it to beat all the subsequent composition and tone. Very often the main color stands green, blue, orange, yellow, all subsequent elements must be in harmony with him and into the framework of the same stylistics.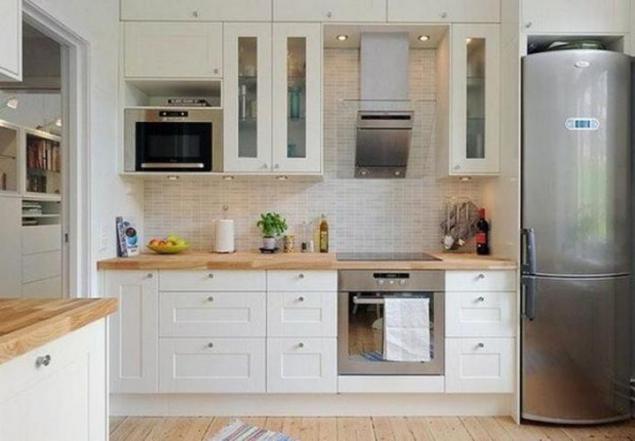 Often Supplement are beige, black or white motifs. The main color can be in the form of catchy parts, door modules, fridge, vase, tableware, curtains or textiles. There is a great importance and light, which in this place should be bright and is expressed in a large number of light bulbs and lighting in working areas.
Furniture and construction work zone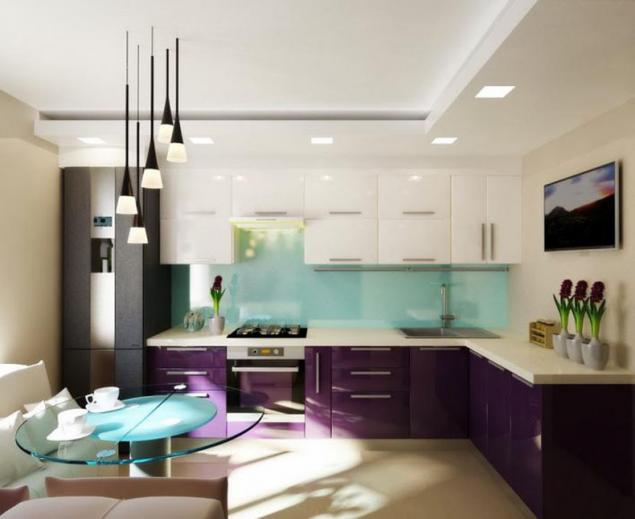 Glossy facades, glass surfaces and concise lines all characteristic features of high-tech style.
The interior of the kitchen is hard to imagine without comfortable and practical arrangements that were less known or available. Now the furniture can perform several functions and appliances operated by voice or touch commands.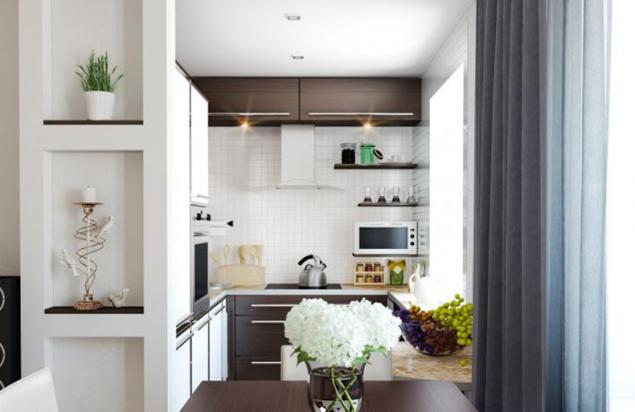 The inner part of the working wardrobes can hide a lot more things than had previously been thought. Now exit the panel, wire basket, shelves, carousel will help the hostess hassle-free to remove all cooking utensils from surfaces and make room for a comfortable pastime.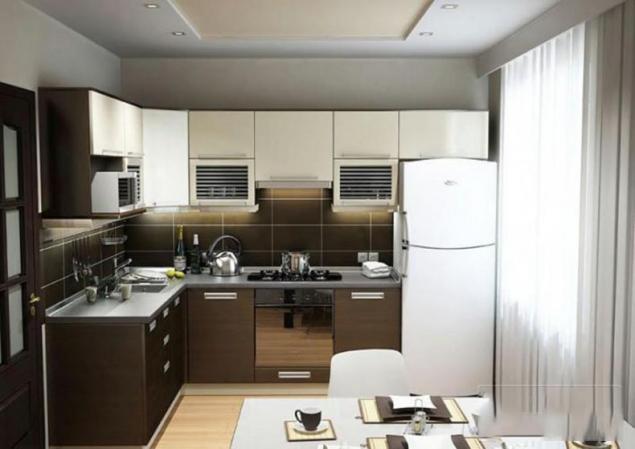 New interior in this room does not provide its bulky square corner kitchen sofas, or blockage of all surfaces and appliances. Kitchen design in modern style aimed at ease, individuality, convenience. In this room everyone can feel comfortable and quiet, doing not only cooking or eating food, but also spent time with benefit for themselves.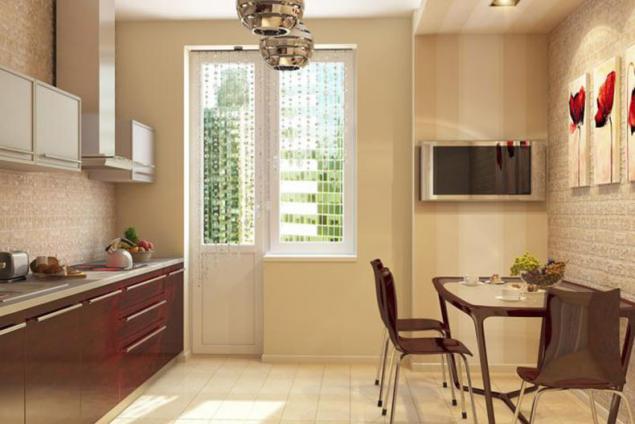 Kitchen new sample makes this place a comfortable place for privacy, relaxation or work. It's bound to get a lot of light, comfortable chairs, wide spacious table or bar for a coffee break. All of which can overwhelm this place, will be instantly eradicated or succumb to modernization.
Textiles and accessories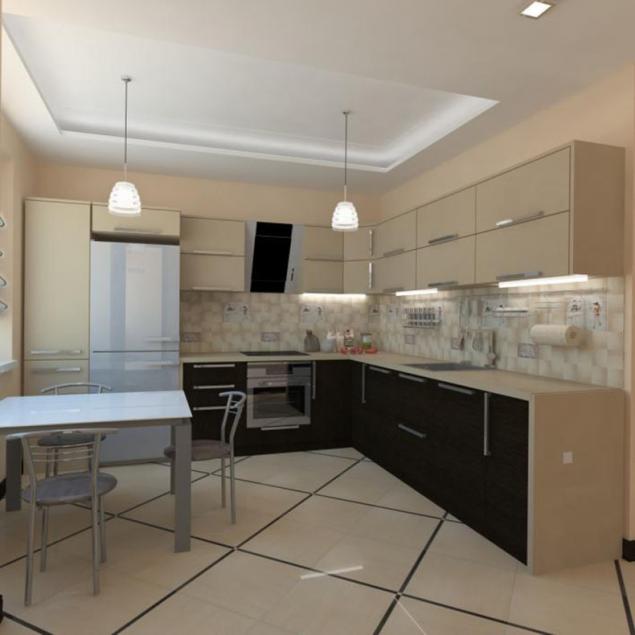 New kitchen complete unity of his style with the help of various accessories and textile. Appropriate and stylish look embroidered tablecloths, napkins or curtains with a simple pattern or ornament. Most often they are bright and eye-catching appearance, becoming a major focus in the kitchen. The textiles in this room needs to have a high quality and easy to use. Accessories in the kitchen should be enough, they need to flaunt and not hide behind the facade doors.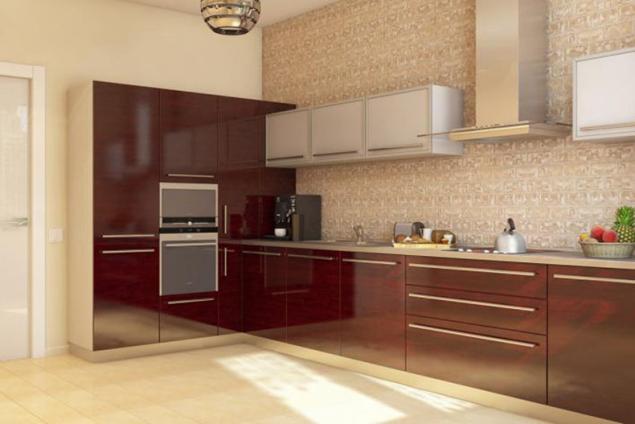 It can be a container for spices, silver or copper utensils, wicker baskets or decorative vases. A good addition in any kitchen will be fresh flowers and fresh fruit on the wide working surfaces.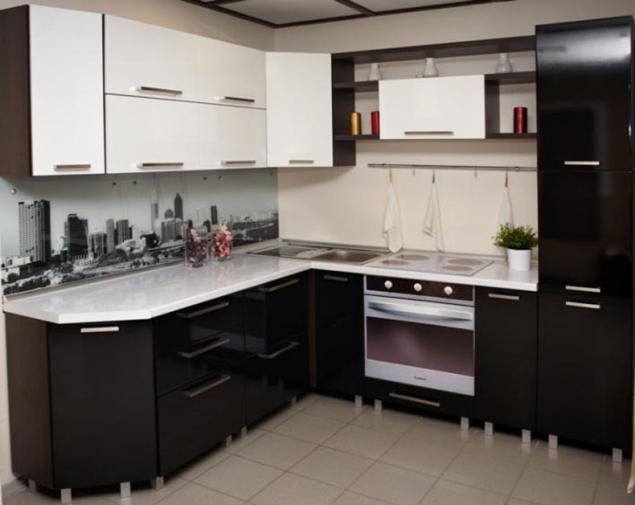 Contrasting black and white combination is often used in modern interiors.
Cuisine of a new generation – it's practicality, harmony and comfort. Their work areas are comfortable and convenient for cooking the most complex dishes, and the space will be a great place for spiritual companies and family dinner conversations. However, the design of the kitchen in a modern style, still remains within the framework of the classical concept of zoning and filling kitchen interiors. published
P. S. And remember, only by changing their consumption — together we change the world! ©
Join us in Facebook , Vkontakte, Odnoklassniki
Source: vashakuhnya.com/stili/sovremennyy