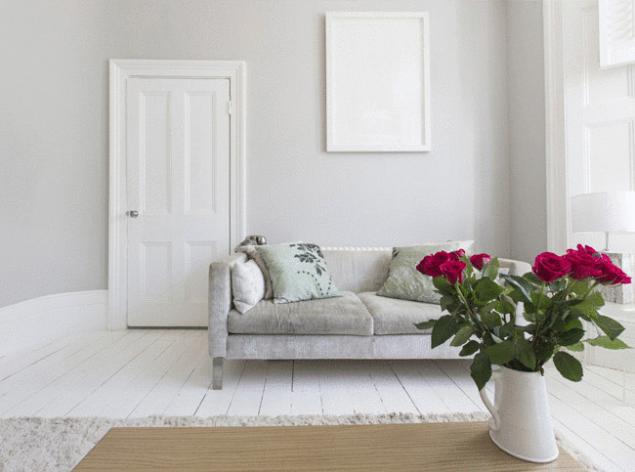 With the arrival of the new year we are all trying to change something: hair style, habits, work, the interior of the apartment. We offer nine trendy styles in interior fashion, which will help to create the mood and comfort for the whole year.
To update the interior of your home or apartment can be simply and inexpensively, the main thing competently to set a themed challenge. You can contact the experts and together with them to develop a renovation plan of your house, and you can see the magazines on interior design to choose for yourself what you like best, add your imagination and create the home of your dreams!
It is now fashionable to do something with their hands it is fashionable to create and do an "upgrade" of old things. Simply put, in fashion – individuality.
1. White total look
We are accustomed to the fact that in the interior of the most commonly used warm shades of beige, sand, cream. Yes, these natural colours create a sense of coziness and comfort. But all this is trite, and no longer fashionable. Modern designers suggest to drop the platitudes and try the white style.
The white color in the interior is beautiful. It is great for living room, study, bedroom and children's room. If you do not like white, you can try his shades such as ivory, the color of the bleached fabric.
From furniture and accessories most of the interior fit furniture from a natural tree (for those who like the style of Provence), as well as furniture, textile black, green or red colors.
If you make this color the main focus, it should not be less than 60% in the interior. Then it will be perceived as a stylish white interior.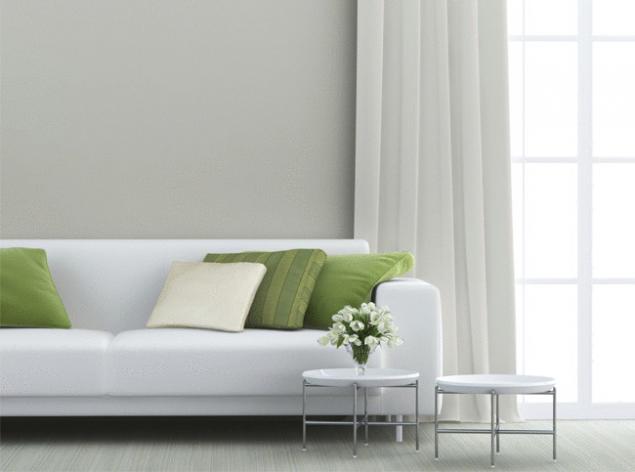 White style in the interior. Photo: thinkstockphotos.com
2. Modern style
This interior style is more suitable for creative people and for those who appreciate clean lines, sharp items and gold hues.
The main trick of this style. Smooth, fluid, zigzag, curved. It seems that they flow from one line to another. So before to arrange the apartment in modern style, it is necessary to understand precisely, that's what you want and what you don't get bored of all this luxury for a few days.
For the modern style characteristic dark color scheme with the addition of gold. In addition, the interior is not covered much, it is best to use floor lamps, floor lamps, wall lamps. If you choose Wallpaper, then look towards the large ornate ornaments, the small figure is useless. And yet, for this style using only natural materials: natural stone of all kinds, dark wood, forging metal, with a complex pattern, fur, leather, and a lot of glass, particularly stained glass Windows.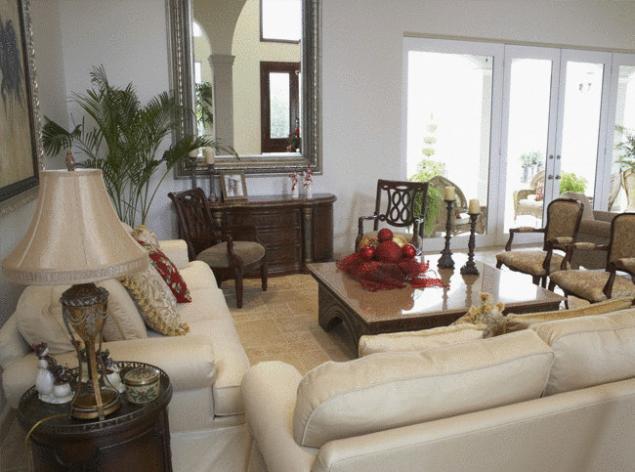 The art Nouveau style in the interior. Photo: thinkstockphotos.com
3. Transparent furniture in the interior
It's a real hit in interior fashion – transparent furniture made of acrylic glass or Plexiglas. Today hardly anyone uses this style, and meanwhile it has existed for over 10 years. If you look closely, you will see that the choice in stores transparent furniture is huge. This chairs, armchairs, tables, small cabinets, drawers, furniture feet, and more. And don't be afraid to combine ultra-modern transparent furniture with a classic interior design.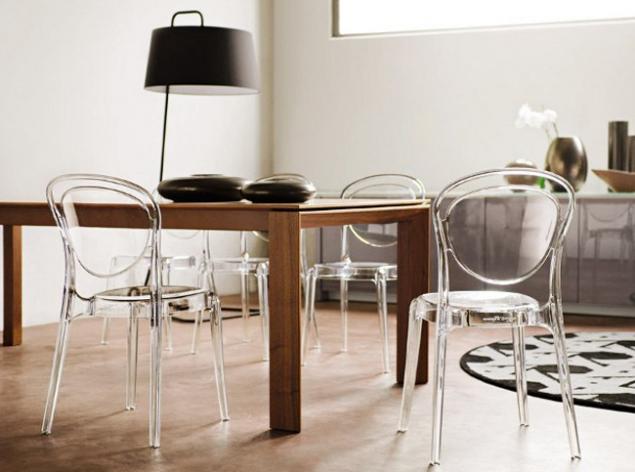 Transparent style in the interior. Photo: thinkstockphotos.com
4. Graffiti
If you want to create a unique design with details – writing on the walls what you need! It is fashionable, modern and unique! The stores sold whole sets of letters of different shapes, colors, fonts and different languages. You can make any phrase or word, it can be a quote from a favorite movie, or the first line of a favorite poem or uplifting phrase beloved writer, in a word, anything!
By the way, lately it is very fashionable to paint the walls or facades of kitchen furniture slate paint, so it was able every day to write a different phrase. This style will especially suit the taste of young couples.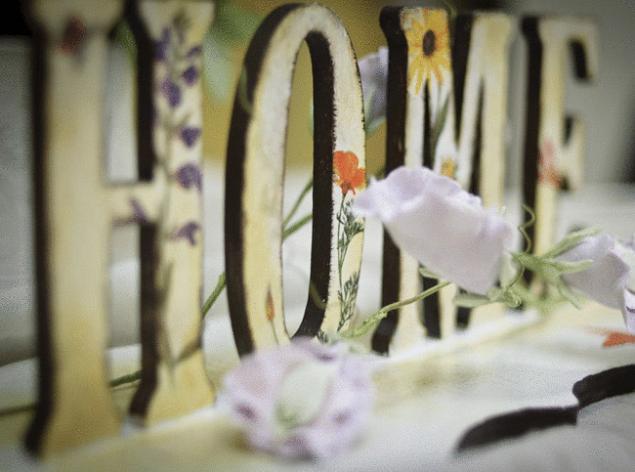 In the fashion of the various inscriptions on the walls. Photo: thinkstockphotos.com
5. Eco-style
Eco-style is to use only natural materials, only natural colors and in creating a harmonious, eye-pleasing interior space. Of course, to respect natural 100% is not easy. But at least 80% of the components in this style just have to be natural. In appearance, the style, the eco has nothing to do with the country style, is more modern style with no Hobbies people's paraphernalia. It is not intended to clutter the space with lots of furniture and accessories, it is rather discreet and free – as nature itself.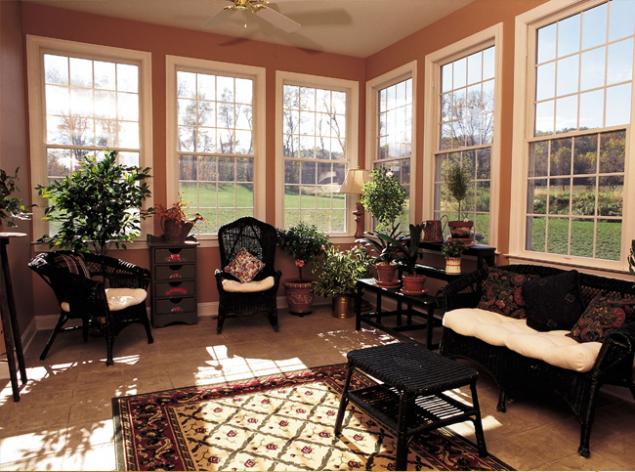 Eco-style is a modern trend in interior fashion. Photo: thinkstockphotos.com
6. English style
It is a style of refined elegance, which is characterized by a combination of aristocracy, elegance and restraint. The main feature – the mandatory use of forms of ancient architecture and some colonial notes – Oriental interiors. The English style should create the impression of the interior, which is at least 100 years, his motto – a family and national tradition.
For the interior use of expensive finishing materials, mainly from natural wood species: walnut, bog oak, mahogany.
Among the textiles, use the drawings in the cell, it can be blankets on the seats, cushions or carpet. You will not need to update the interior, you can get beautiful and cheap accessories.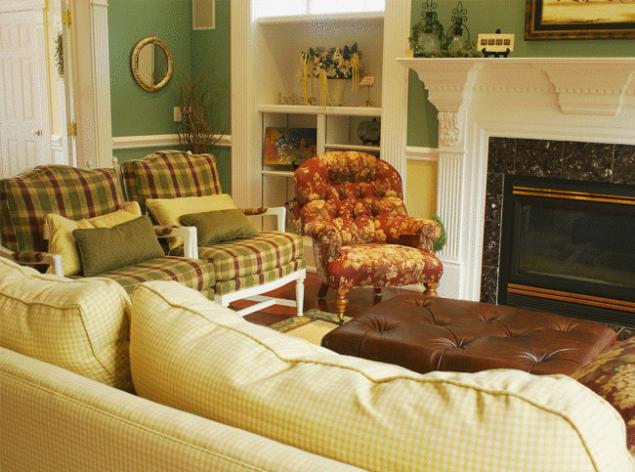 English style in the interior. Photo: thinkstockphotos.com
7. Fancy style
The interior in the style of fantasy suitable for those who have life passes at a high tempo, and it is the perfect solution for a child's room. After all, the most important thing is to display the fabulous scenery, and strict limits to this style does not exist. The only rule that interior, old styled. You can recreate a wooden house, decorate the room with curtains on a bright flower, to put a low the pots, the best violets, or wild flowers.
For little girls you can create a Princess room, thereby to decorate the interior in a soft pink color, put a white bed and hang the carved mirror. For the boys can be placed everywhere banks and test tubes, turning the space into the house of the sorcerer. In short, everything depends on your imagination!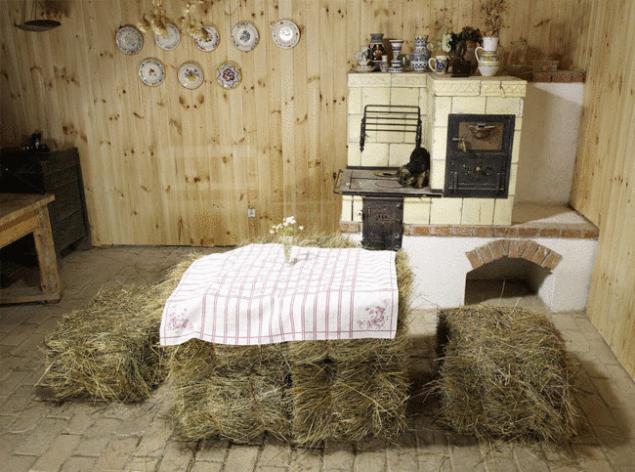 The fantasy will appeal to both adults and children. Photo: thinkstockphotos.com
8. Alpine chic
Want to make your apartment during the winter was similar to a fabulous house somewhere in aspen? Then try Alpine style. It is characterized candles, warm soft blankets, luxurious animal skins (faux fur), cushions in earthy tones. As well as dishware, textile accessories for table, furniture, curtains and decorative panels. This style does not need to completely repaint the walls, is sufficient to pay maximum attention to the accessories.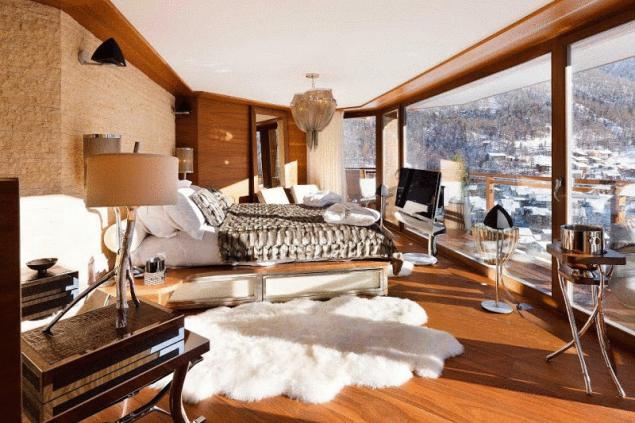 9. Oriental style
First of all, this style declares the basic Eastern philosophy, consisting in the search of inner harmony. In the Eastern interior, all created to ensure that people can experience pleasant and leisurely spending their time. Therefore, there must be a low sofa with lots of throw pillows. By the way, each pillow can be completely different to another, they are decorated with beads, pearls, embroidery. Can be made of silk, velvet, satin. If you choose this style, without the carpet you can not do is the main design element. Buy bright carpets, preferably red-maroon shades.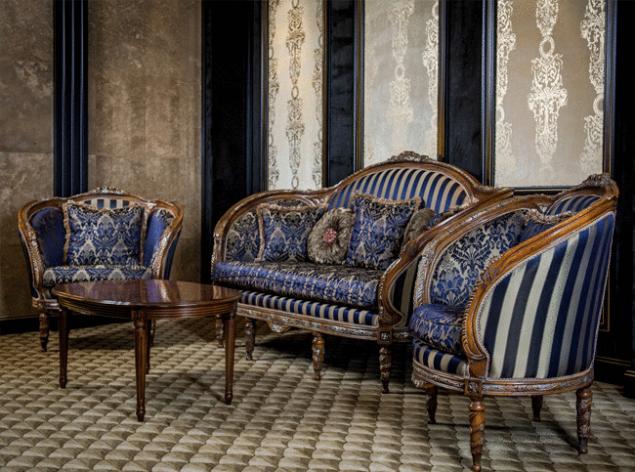 Oriental style does not lose its popularity. Photo: thinkstockphotos.com
Even if you are not planning to renovate your home, change the accessories, buy new pillows, hang frames with pictures, paint the walls, and you will see how your apartment will sparkle with new, nice colors.
Source: domashniy.ru/