We present to Your attention 9 recipes marinade for fish.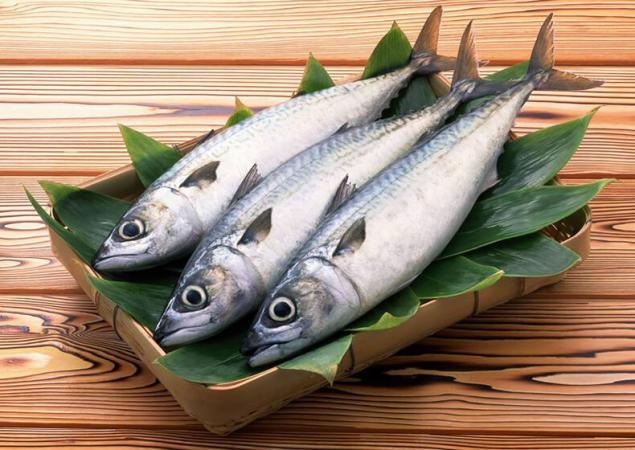 1. DELICIOUS SALTED FISH FOR 2 HOURS
Fish cooked in this way, you can eat in 2 hours. But even tastier it will be, if you can stand a little in the fridge and soaked with oil. But she's very good. This time I salted the herring and mackerel together. You take the fish to your taste.
Ingredients:
2 fish
onion to taste (it can more, very tasty)
water of room temperature 400 ml
salt 2 tablespoons without slides
sunflower oil (you can smell, who like) 200 ml
Bay leaf 3 pieces
cloves 3 pieces
pepper peas 10 pieces
coriander peas 1 teaspoon
the table vinegar 6% -9% (or Apple) 2 tbsp
How to cook:
1. The fish is cleaned from the innards, rinse with cold water. Remove the skin and carefully separated from the ridge fillet. Cut into pieces.
2. In the water dissolve the salt. The fish place them in a bowl and cover with water with salt. Leave for 2 hours at room temperature.
3. Mix oil with vinegar. Chop the onion half-rings.
4. Drain the brine from fish, rinse with running water.
5. Put in a bowl (the Bank), alternating with onion and spices, pour the oil.
The fish is ready, but after a few hours it will be tastier)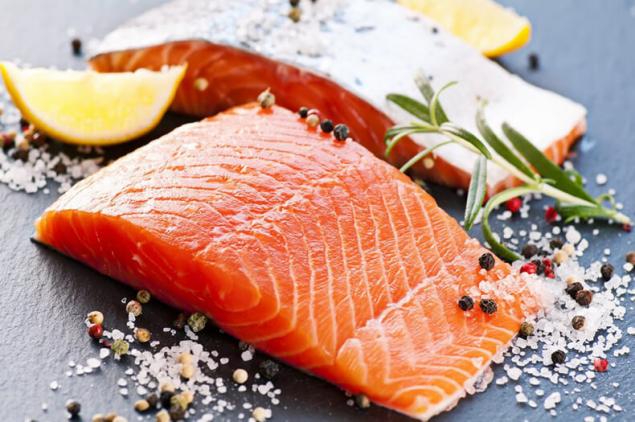 2. MARINADE RECIPE FOR RED FISHIngredients:
1 kg fish fillet
4 tablespoons coarse sea salt
2 tablespoons sugar
zest of 1 lemon
20 grams dill
1 floor or a tablespoon of brandy
How to cook:
1. RUB a piece of fish fillets with salt and sugar. Roll in lemon zest and dill. Drizzle with brandy.
2. Close the cling film, slightly tearing it to access air.
3. Refrigerate for a few hours: a minimum of 4 hours for salted taste, and better at night.  
3. HERRING SPICY SALTED
The set of spices, as in other recipes pickles and marinating anything can change to your taste. And, thus, it is possible to pickle virtually any fish!
Cooking time: 10 minutes + time for marinating (48 hours)
Servings: 4-6:
Ingredients:
Brine in 1 liter of water:
4 tablespoons of salt
1.5 tablespoons sugar
80 ml of alcohol vinegar (regular)
1 teaspoon of coriander seeds
6 juniper berries
2 pieces cloves
4 peas of fragrant pepper
½ Teaspoon pepper
3 Bay leaves
2 fresh or frozen herring
How to cook:
1. All the ingredients for brine and water to put in a small saucepan.
2. Bring to a boil and stir to dissolve salt and sugar. Remove from heat and cool completely.
3. Herring gut, cut off his head, to wash. Put in the tray.
4. Pour the cooled brine and leave for 48 hours in the refrigerator, from time to time turning the fish. Herring ready!
Filing method:
cut the herring into pieces, to impose sliced red onions, sprinkle unrefined sunflower oil, juice and zest of lemon. Store in brine no longer than a week in the fridge. Without brine, in a tray 2 weeks. Taste best on the third day pickles.  
4. SALTED FISH
Take fresh-frozen fish (herring or mackerel). Fish (2 things) to gut, clean, dry cloth and cut into pieces.
Ingredients
to prepare the mixture for pickles:
2 tablespoons of salt
1 tablespoon sugar
2-3 tablespoons of dill, fresh
1/2 teaspoon black pepper
dry Basil (optional)
How to cook:
1. On plastic wrap place the fish, previously macnow in the mix for pickles from 2 sides.
2. All the fish pressed tightly, wrap with foil and place in a plastic bag for a day.
3. Then fish out onto a plate, add a few drops of lemon juice and 2-3 tablespoons of vegetable oil! The fish is ready
5. SALTED RED FISHIngredients:
fillet of red fish 1 kg
salt 2 tablespoons
sugar 1 tablespoon
lemon juice 1 tablespoon (natural, not from packs)
vodka 1 tablespoon
How to cook:
1. Fillet separated from the bones and skin.
2. Sugar and salt mix and RUB it over the fish. Then pour fillet with lemon juice and vodka.
3. Fold the fillet in the tray and in the fridge overnight. In the morning the fish is ready to eat.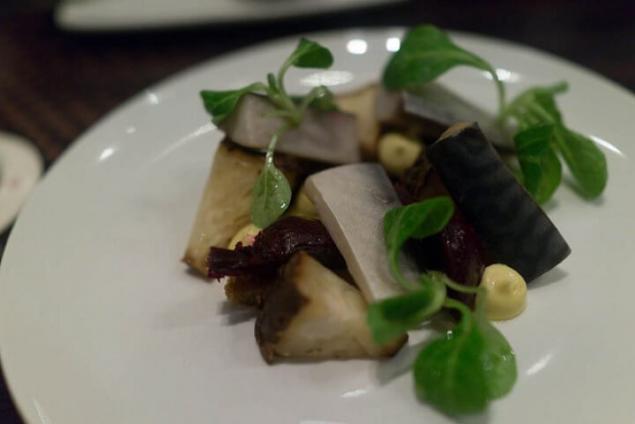 6. HOME SMOKED FISHIngredients:For the brine :
1 liter of water
3 table spoon of salt
one and a half tablespoons of sugar,
2 tablespoons dry welding of black tea,
2 handfuls of onion peel.
How to cook:
1. Fish to clean, wash, remove heads and tails.
2. To prepare the brine: in a pot of water, put salt, sugar, tea leaves and onion peels. Bring to boil, cool and strain.
3. Prepared fish carcass put them in a container, pour the prepared brine, cover and leave at room temperature for 4 days, every day, morning and evening to turn the fish.
4. Pull fish from brine, place in another container and store in the fridge. Yummy!!! Especially with boiled potatoes, sauerkraut and pickled mushrooms. Try.  
7. HERRING MARINATED IN APPLE CIDER VINEGARIngredients:
fresh herring 2 PCs
onion 1-2 large onions
the Apple cider vinegar 5 tablespoons
salt 2 teaspoon
sugar 0.5 teaspoon
water 1 Cup (250 ml)
pepper peas 10 pieces
coriander grain pinch
How to cook:
1. The fish is cleaned and cut into pieces.
2. Onions cut into half rings
3. In water to dissolve salt, sugar and add Apple cider vinegar, mix well.
4. In a bowl place the fish mixed with onions, sprinkle with pepper and coriander and pour the brine (not hot).
5. The bowl cover. Through the day you can enjoy!  
8. HERRING (peerless way salting)
Take 1 kg of frozen herring good quality. Gut, remove the skin and cut into pieces. Fold the fish in an enamel pan.
Ingredients:Pre-cook zalivochka:
3 onions cut into rings
10-12 tablespoons of water
1 teaspoon sugar
1-2 tablespoon of salt (no slides)
0.5 teaspoon black pepper
1 dessert spoon of vinegar ( essences)
2 tablespoons of ketchup
1/2 Cup vegetable oil
How to cook:
All boil together with onions, cool and pour over the fish. Put into the refrigerator. Through the day a delicious herring will be ready!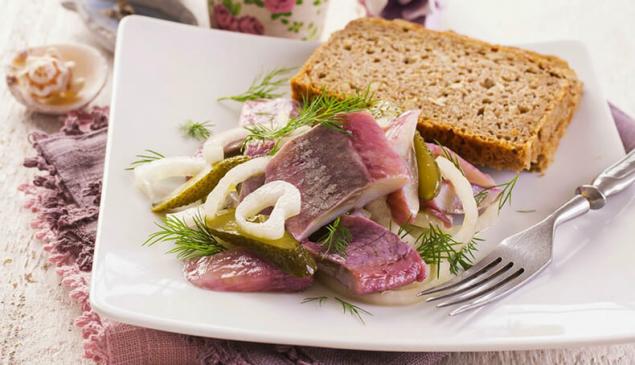 9. MARINATED HERRINGIngredients
:
2 fresh-frozen herring
2 bulbs
half lemon
about 6 teaspoons of sugar
1 carrot
Bay leaf (10-12 PCs)
8-10 peas of black pepper (coarsely ground)
Yield: two half-liter jars (4-6 servings)
How to cook:
1. Getting defrosted herring on the bottom shelf of the refrigerator overnight. Now you need to gut. Cut off the head with gills. Cut the belly to the tail with a knife and scrub the insides.
2. Then make a shallow longitudinal incision on the back (only to cut the skin) and gently pry up the edge of the skin, slowly and carefully remove from head to tail. First with one and then with the other hand. Watch below along with the skin off pieces of meat. Remove the fins (after removing the skin, they are easily removed). The tail is cut off.
3. Next, get the range. For this heave knife dark film lining the peritoneum, and otdelem from meat along with hrebtovuyu bones. Turn the herring and raskinem into two halves from the back.
4. Now completely take out the spinal bone, the cleaned fillets from the remaining ribs and other small bones. Cut the fillet pieces in the width approximately 2 see
5. Lemon cut into thin slices, carrots three on a coarse grater, cut onion into rings. And layers put all this beauty in a jar: the bottom is a little rings of onions, Bay leaf, a pinch of carrot, a slice of lemon, half a teaspoon of sugar, a pinch of pepper. Top — a layer of herring. Then again vegetable-sugar "butt". And so alternate layers, periodically pressing down until you get to the top of the jar. Now close tight lid and put into the fridge. 2-3 days and delicious herring ready! published  
Cook with love ! Bon appetit!  
P. S. And remember, only by changing their consumption — together we change the world! ©
Join us in Facebook , Vkontakte, Odnoklassniki
Source: vk.com/topic-32509740_28725634