I remember when my daughter first came back from dance class and said that some girls "there's a press", and others do not. She was 10 years old. It may seem that in this age too early to worry about the "cubes" on the belly, however, my daughter is not the only one.
A survey was conducted, in which took part 1993 adolescents and adults aged 13 to 64 years. It turned out that the average age at which Americans began to be ashamed of his body, is 13-14 years. At the same time, many adolescents from 13 to 17 years old said that he first tested such a shame 9 or 10 years.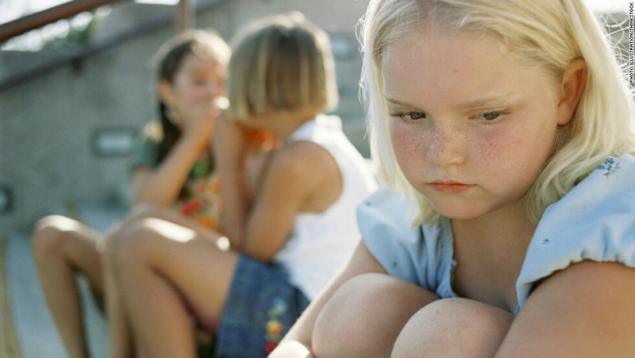 Also, 60% of respondents said that the first time they ashamed because of the comment of a classmate or friend about their body. Although most heavily influenced by classmates and the media, 25% of respondents admitted that parents also make them ashamed of their bodies. Other causes: viewing of the photo (30%), comparing yourself to someone of your friends and trying on clothes (28%).  
How so?
According to Robyn Silverman (author of "Nice girls don't get fat: how weight obsession knocks girls up and how to help them enjoy life in spite of everything"), are largely to blame media. "Children at an early age receive information about how you should look, — she said in an interview. — Children all early aware of themselves as representatives of one sex or the other. They are in a hurry to act like an adult, dress like adults, and they feel the need to look a certain way. The result is a society of tense, ashamed people."  
How parents can help their daughters build confidence in yourself?
1. Teach the children proper attitude to the media.
That is, you need not just sit children in front of the TV and discuss what they see, but really be able to dismantle all components, how to perform, says Robyn. — Explain that the cover girl of the magazine in my life don't even look like the girl on the cover of this magazine. To raise the curtain.  
2. Remove the focus from appearance.
Speaking about the body in the presence of children, try to focus on what your body is capable of, not just how it looks. "You can say, "I love that my body allows me to run on the treadmill and play catch in the Park," advises Robin. — It's great that we are walking with you on this beautiful path. I love it for my feet. I have a body with which it is possible to swim and to dance."  
3. Teach your child to speak positively about your body.
Themselves spoke positively of him. "Let's talk about Hobbies that are enjoyable for your daughter such as playing soccer or how she finally learned to tumble, recommends Robin.
— The more we talk about the possibilities of our body, the less important are pounds. Your understanding of beauty is becoming broader." published  
Author: Holly Becker Actman (Hollee Actman Becker) Translation Marina Nestrugina  
P. S. And remember, only by changing their consumption — together we change the world! ©
Join us in Facebook , Vkontakte, Odnoklassniki
Source: intueat.ru/journal/2043/