Cerboli is a great alternative to traditional scrambled eggs.
Tired of plain scrambled eggs? We offer you to look at Breakfast in a new way and to prepare mental Adjarian dish called ciruli. This is a budget, quick and surprisingly tasty.
There is a great variety of recipes cerboli, and each, of course, would claim the palm. Our food blogger Denis Handuk made his version of Georgian eggs. Tasted this magnificence, we immediately requested a detailed step-by-step recipe.
For a perfect taste it is best to use tomatoes straight from the garden, but due to the fact that at the moment it's impossible, you can easily take the tomatoes in their own juice, harvested last summer, or bought in the supermarket.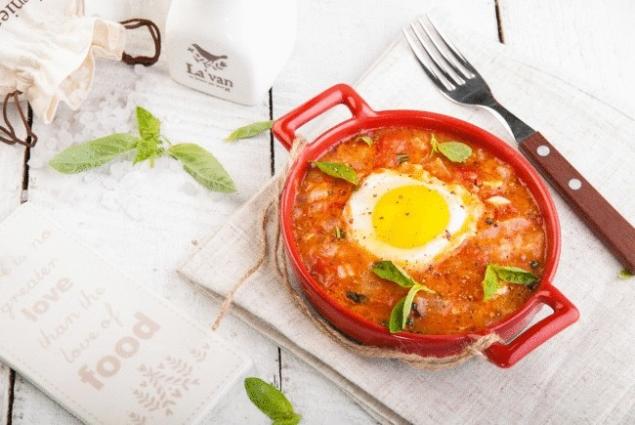 RECIPE CERBOLI OR GEORGIAN SCRAMBLED eggs What you need:
3 eggs
1 onion
30 g butter
2 tbsp corn flour
3 large tomatoes (you can substitute canned tomatoes in juice)
0,5 tbsp. boiling water
2 cloves of garlic
salt and freshly ground pepper – to taste
small bunch Basil
How to cook cerboli or Georgian eggs:
1. Onion cut into small cubes. Heat the pan with butter, add the onion and cook over medium heat until transparent.
2. To the onions add the corn flour and mix well.
3. Fresh tomatoes blanch and remove the skin. In the case of canned tomatoes just enough to remove the skin. Tomatoes coarsely chop and additionally mash them with a fork.
4. Fold the tomatoes into the pan with the onions and cook for 5-7 minutes on medium heat until lightly thickened. Add boiling water and chopped garlic. Season with salt and pepper. Boil down the sauce for another 7 minutes.
5. With the help of a spoon to make sauce 3 deepening and gently smash into each recess one egg so that they remained intact. At this stage you can add in the sauce a few Basil leaves.
6. Cerboli to cook over medium heat, without covering with a lid for several minutes. Protein should slightly turn white, and the yolk to remain liquid.
7. When submitting the Georgian eggs, sprinkle with chopped Basil.  
Cook with love!  
P. S. And remember, only by changing their consumption — together we change the world! ©
Join us in Facebook , Vkontakte, Odnoklassniki
Source: domashniy.ru/