Gnocchi in a creamy sauce with spinach. ? Probably impossible to find such a person.
Another variation is with spinach in gnocco, and sauce. "Double spinach", so to speak. With a fresh note of lemon zest and tangy flavor of Gorgonzola.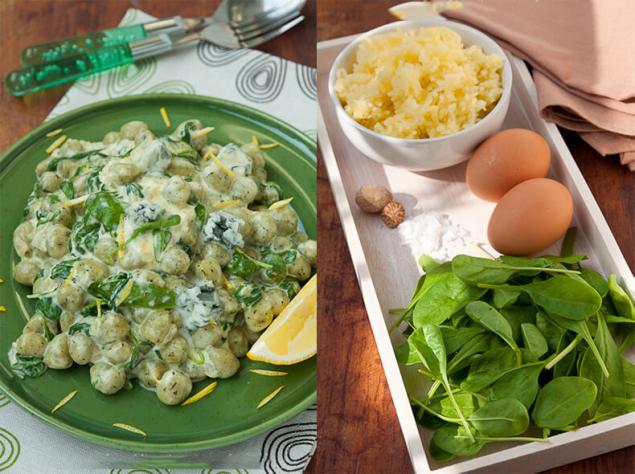 Ingredients for 4 servings:
500 g of potato crisp varieties
1 egg
150 g flour
100 g of spinach leaves
2 tbsp grated Parmesan
salt
For the sauce:
1 small onion
1-2 cloves of garlic
200 g of spinach leaves
200 g cream 23 %
1 tsp. grated lemon peel
2 tsp lemon juice
pinch of grated nutmeg
1 tsp olive oil
freshly ground black pepper
salt
For serving:
How to prepare:
Boil potatoes until tender, cool, grate. Drive into potatoes egg, along with half the flour.
Spinach leaves (100 g) to sort, wash, pour over boiling water, gently squeeze and chop.
On floured work surface lay out the potato mixture, then add the chopped spinach, salt and sprinkle with grated Parmesan cheese.
Knead elastic dough, adding remaining flour rule. The dough should not be rigid and should not strongly stick to the hands.
On floured Board roll out the dough with a layer of 1 cm. Cut it into strips 1 cm thick, molded them into sausages. Slice crosswise with a sharp knife into small pieces and shape them into balls. Lay them on a floured Board, cover with cling film and refrigerate for 30 minutes.
Meanwhile to make the sauce. Finely chop the onion and garlic and fry them until transparent in olive oil. Wash spinach and put in pan and cook for 1-2 minutes, until the leaves settle. Add cream, salt, pepper, add nutmeg. Warm, not boiling. Remove from the heat. Add the grated lemon zest and lemon juice. Leave the sauce in a warm place.  
See also: Detox for 30 days: the best drinks, body cleansingRecipe for carrot cutlets for a light lunch
Boil the gnocchi in plenty of boiling salted water for 2-3 minutes. After surfacing dumplings out with a slotted spoon.
Put the gnocchi in the warm sauce, mix and serve, sprinkled with pieces of Gorgonzola.published  
Cook with love ! Bon appetit!    
P. S. And remember, only by changing their consumption — together we change the world! ©
Source: zveruska.livejournal.com/52765.html