We offer an excellent method of cooking a cold dessert of the most original products.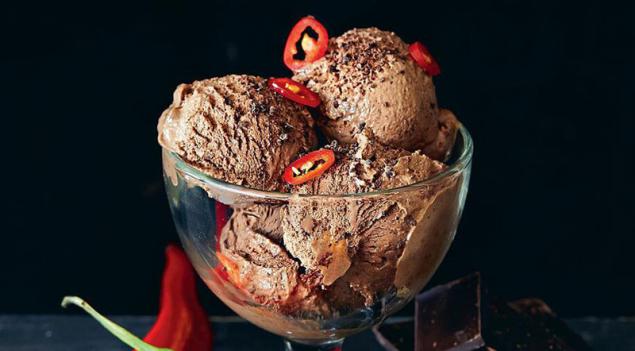 Ingredients:
450 ml of milk fat content 3,5%


150 ml cream with fat content of 33%


6 egg yolks


60 g fine sugar


50 g milk chocolate


190 g dark chocolate


seeds of 1 vanilla pod


0,3 tsp salt


freshly ground red pepper, the better grades of espelette


How to prepare:
Step 1
Milk, cream, salt, pepper, and vanilla seeds, mix in a saucepan. Bring to the first signs of boil. Immediately remove from heat.
Step 2
In a bowl combine the yolks with the sugar and gently pour them into the milk mixture. Cook, stirring constantly and not allowing to boil, until thickened, about 15 min.  
 How to make salt-free sauerkrautThe best desserts with peaches
Step 3
Remove from heat, RUB through a sieve and pour into a bowl with a little melted in a water bath chocolate.
Step 4
Wait 5-7 minutes and whisk blender until smooth. Put the prepared mixture in the Cup machine for ice-cream. Prepare ice cream following the instructions.
Cook with love ! Bon appetit!    
P. S. And remember, just changing your mind — together we change the world! ©
Source: www.gastronom.ru/recipe/29840/shokoladnoe-morozhenoe-s-ostrym-percem