Think where to put the apples that had already closed for compotes and jam? Salted cucumbers with apples is a delicious recipe! And therefore more likely to get to work.
Cooking time
- 2 h 30 min
Number of servings
- 10 servings
The complexity of the preparation
- easy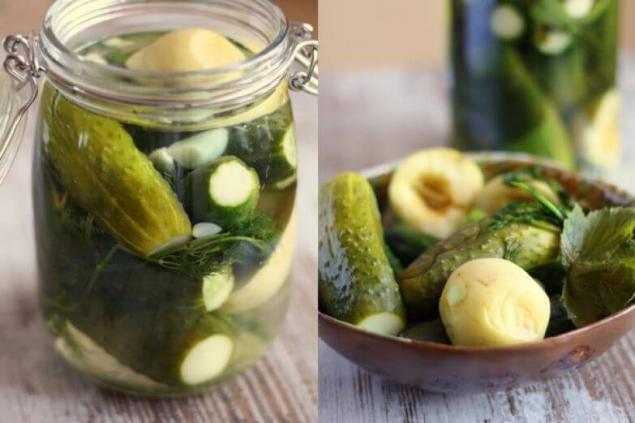 Ingredients:
black pepper – 10 peas
parsley – 1 bunch
green apples – 2 PCs.
cucumbers – 1 kg
dill – 1 bunch
cherry leaves – 2-3 PCs.
black currant leaves – 8 PCs.
garlic – 1 head
For the brine:
rock salt (per 1 liter of water) – 2 tbsp


How to prepare:
Step 1
Cucumbers, apples and herbs to wash. Garlic broken down into cloves and peel. From cucumbers to cut off the tips. Apples cut into 4 parts without removing the core.
Step 2
To place them in a bowl or jar of cucumbers and apples, interspersing them with greens and garlic cloves. Add the black pepper. Boil water, add salt and mix thoroughly. Pour hot brine into a bowl. Leave at room temperature. The next day, the cucumbers are ready to eat.
Cook with love ! Bon appetit!  
4 delicious recipe of peppersSuritsa — unusual drink, which prepared our ancestors
P. S. And remember, just changing your mind — together we change the world! ©
Source: www.gastronom.ru/recipe/3582/malosolnye-ogurcy-s-yablokami