The modern approach of designers to the solution the color of the interior of the housing so versatile that, at times, seemingly incompatible colors, very effectively together. While a combination of turquoise and brown colors in the interior, at first glance, it may seem that they are incompatible.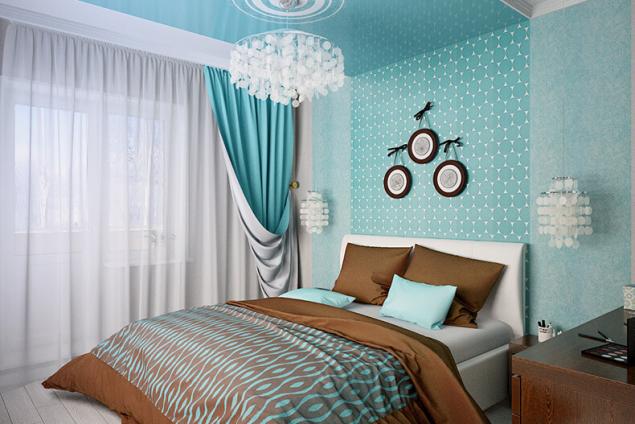 These colors have an intense saturation, considering the dark tones. But a competent and skilled design approach makes these interiors are gorgeous. After all, brown has a wide variety of shades. The turquoise color may be different shades.
Its shades depend on the content of the amount of green or blue. Skillfully using the palette of these colors, you can create a variety of designs interiors. You can consider the color scheme in the design of the bedrooms, decorated in rich turquoise and brown.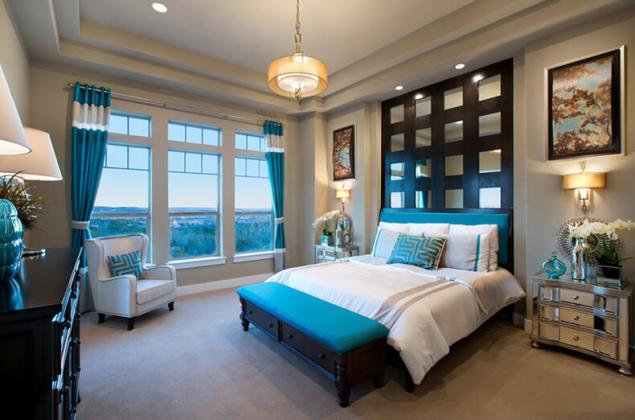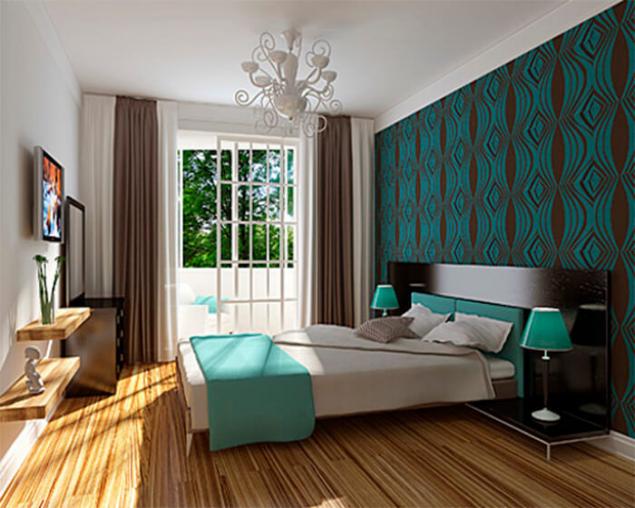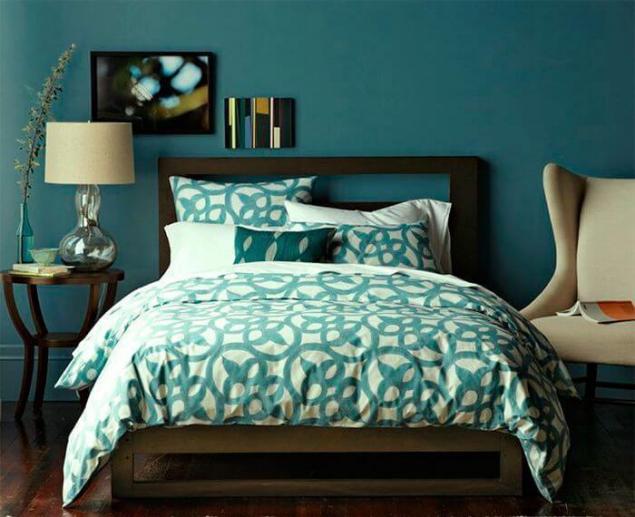 This color solution is suitable for the bedroom, South-facing, brightly lit by the sun. Due to this, during the day, the bedroom will be brighter, creating a feeling of coolness. The walls are decorated in rich turquoise color, blend harmoniously with the oak furniture. The decoration of the bed consists of alternating dark turquoise and dark brown colors.
The ceiling has a light beige background, on the perimeter, which caused the ornament turquoise with small patches of light brown color, which fades into a light beige tone on the center of the ceiling. Ceiling pendent lamp is selected to match the ornament on the ceiling.
The frame of the chandelier is made of bronze that blends in, like turquoise and brown. Facilitate this the interior of the curtain of silk to match the background of the ceiling and beige color carpet on the floor.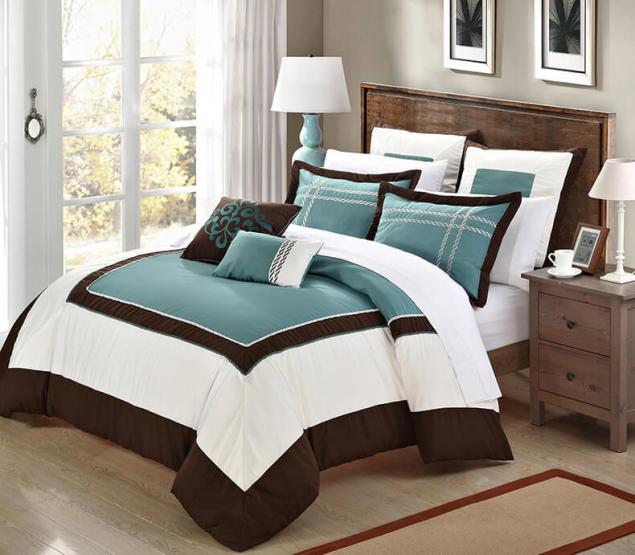 Along the perimeter of ceiling integrated lighting, the light which falls on walls, thereby diluting their color in the evening. Perhaps, this interior will not enjoy great popularity. It is somewhat heavy, but looks solid. The inhabitants, who prefer stability, the design of the interior can like.
Making a bedroom in brown and turquoise colours, you can resort to a variety of design solutions. Walls can have one of the brown shades, and the furniture — the color turquoise. The successful combination of colors you can get in the bedroom, where the walls are decorated in grayish-white shade.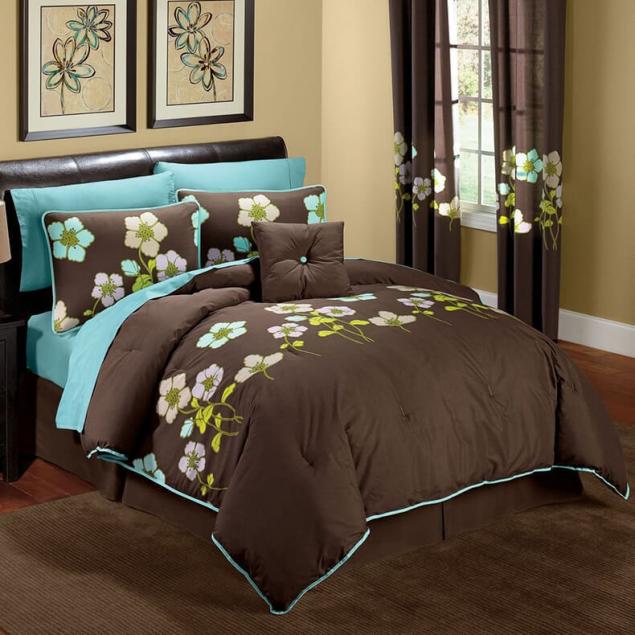 Matte white ceiling, parquet floor and light brown. The furniture has the same tone with the walls. In a small amount of the turquoise color contain accessories. On Windows, air curtains turquoise color, the same color the decorations of the bed. Dilutes the turquoise tone of the pillows of pale yellow color.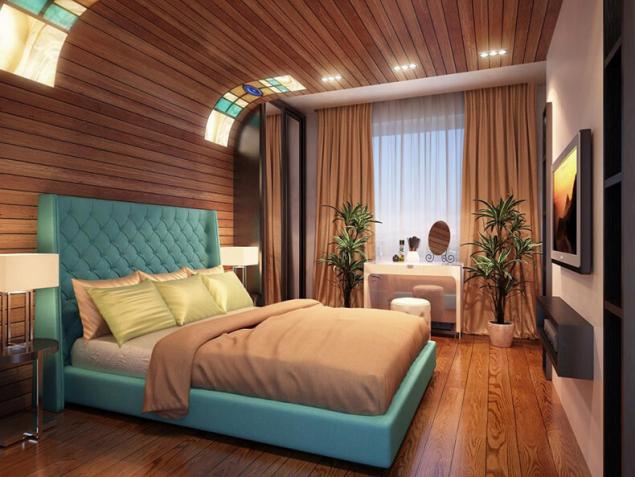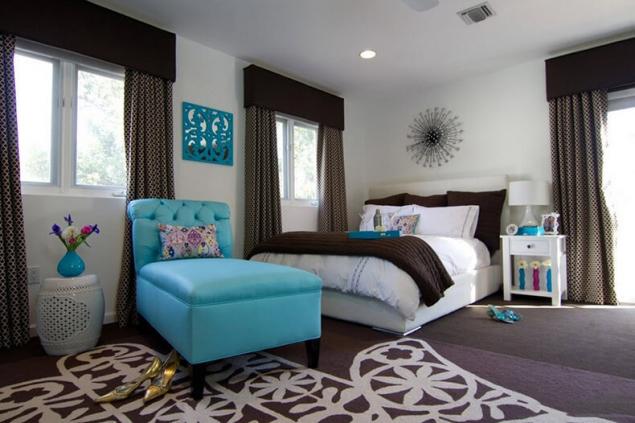 Airy interior lands parquet floor turquoise curtains picture in a wooden frame that determines the shape of the room. In addition, the turquoise makes a bright accent in the interior pastel colors. Turquoise color may be contained in the Wallpaper with a silver or gold pattern and white.  
Kitchen in the style of Provence: how to draw with your handsThe secrets of design for a small hallway
This combination of colors looks good in classic and modern interiors.Do not be afraid of their fantasies, add a little bit of knowledge about the possibilities of colors, and your interior will look stylish, comfortable and unique.published    
Source: ravchan.ru/arhiv/biryuza-i-shokolad-v-interere-spalni-207.html