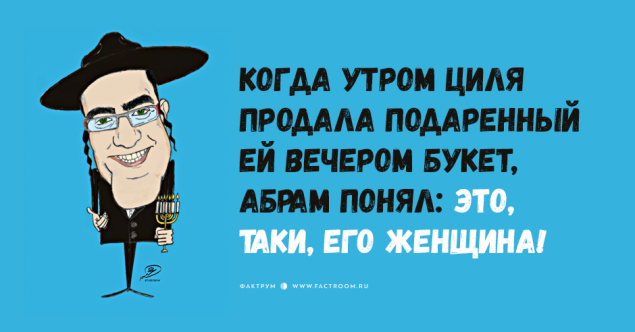 The website
tells our favorite Jewish jokes! — Monya, you sho look, as if mentally undressing me!
— Oh, well sho you sho you, no! Mentally you are already dressed, and I smoke!
***
Chaux you, Izzy, come here with a salty face, sho happened?
— Rose found on my chemise, and a trace of lipstick.
Is gembel.
Still what... the Third day he follows me: "I Want the same!"
***
— Mark Solomonovich, can I get two strong boys?
Of course, Sophie, You must, something heavy have to move?
Yes... Separation!
***
In Odessa the clinic in the waiting room:
— Where to sit?
— Sit there.
***
Husband lost wallet.
Wife:
— Joe, well, first time see such generosity to strangers!
— Celia, this premiere still survive in silence.
***
Celia buys Privoz ten cocks and one hen. The seller says to her: "we Need the opposite: ten hens and one rooster".
Celia: "Oh, well, even if she's lucky!"
***
In the morning when Celia sold donated her evening bouquet, Abram realized it was still his woman!
***
A Jew and a Russian drink vodka for a snack are two of the cucumber — big and smaller.
Drank, the Jew immediately takes a big cucumber and eating them. Russian he says:
— Listen, Abram, aren't you ashamed? Two cucumbers you took the biggest, it's not friendly
Jew:
— Calm down, WAN, everything is fine. You were in my shoes, what took?
— Of course, little
— Well, here take it!
***
An exchange of telegrams:
"'t worry. The details of the letter."
"What happened? Excited.
"Your mony, it seems, is dead."
"Still think or Yes?"
"While Yes.
***
Jewish mother to her son-in-law:
After death want to be cremated and the ashes developed from the balcony over the sea.
— Mom, what are you talking about? With the sea so the wind Shaw does not pass and in a minute you'll be back home...
***
Celia says to her friend:
— Jewish man is a mystery, because you never know what to do with it.
Put it under him — he can't breathe.
Put on himself — he falls asleep.
Turn it on its side — he watches TV.
Put on your feet — the trail was cold.
***
The entrance exam in MSU Jewish applicant want to fill up.
— How do you explain that Leo Tolstoy was beside himself with forty days of age?
— Nothing surprising. I remember being with eight.
— What do you remember?
— Remember that old Jew with a beard and cut off my possibility of admission to the University.
***
The judge asked:
Witness Zilberman, do you know what awaits you for perjury?
— Yes, I promised a foreign car.
***
Odessa Privoz:
— Buy my wife roses!
— I have no wife.
— Then his bride!
But I have a bride and no...
Still buy joy, that you have such a quiet life...
***
Oh, how I wish to have a harem — dreams of the Jew.
— Harem? Why do you have a harem? You're not a Muslim.
— Why?.. Harem — this is a great thing! First wife I say I went to the second, the second went to third, third went to first. And he, as Sultan, go to sleep.
via anekdot.dirty.ru/