World Press Photo - one of the most prestigious international competitions photographers. WPP has numerous nominations, including "Sport", "Art", "Daily Life", "News Photo", "Portrait", "Nature". These categories will be awarded to three photographers (from first to third place) in two subnominatsiyah - photo essay and one photo. Key nomination contest - a "Photo of the year".
The winners of the photo contest «World Press Photo Contest 2010" were announced February 11, 2011. Organizers say this year they sent a record number of photos - 108 059. The competition attracted 5,847 photographers of 125 nationalities.
The winners in many categories of the competition World Press Photo (WPP) in 2010 became the photos that depict human tragedy, death and violence; Jury considers that these photos - just a reflection of the past year in which there was a lot of unfortunate events, including the earthquake in Haiti, floods in Pakistan and volcanic eruptions.
1. Photo of the year
South African photographer Jodi Bieber won the award for Best Picture in 2010. This photo 18-year-old girl Bibi Aisha from Oruzgan province in Afghanistan, to escape from her husband in his parents' home after her husband began to beat her. Once the Taliban came to him, asking to give Bibi to "restore justice." After the verdict was announced leader of "Taliban" Bibi brother-in-law grabbed her, and her husband sliced ​​off her ears and nose. Her and left for dead, but she was rescued by aid workers and the US military. After spending some time in a women's shelter in Kabul, she came to America, where she underwent an operation to restore his ears and nose. She now lives in the United States. (Jodi Bieber / Institute for Artist Management for Time magazine)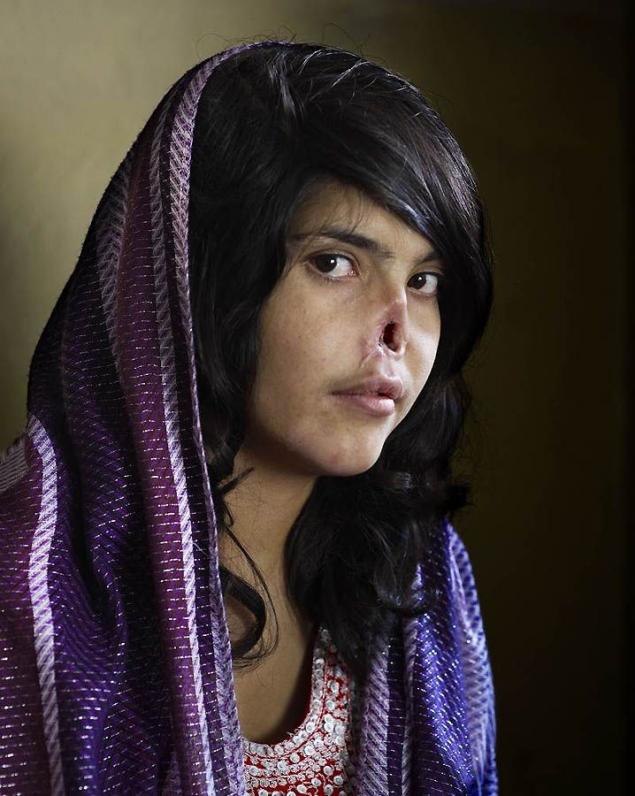 South African photographer Jodi Bieber won the award for Best Picture in 2010. This photo 18-year-old girl Bibi Aisha from Oruzgan province in Afghanistan, to escape from her husband in his parents' home after her husband began to beat her. Once the Taliban came to him, asking to give Bibi to "restore justice." After the verdict was announced leader of "Taliban" Bibi brother-in-law grabbed her, and her husband sliced ​​off her ears and nose. Her and left for dead, but she was rescued by aid workers and the US military. After spending some time in a women's shelter in Kabul, she came to America, where she underwent an operation to restore his ears and nose. She now lives in the United States. (Jodi Bieber / Institute for Artist Management for Time magazine) & quot; / & gt;
2. Daily life: India
Photographer agency «Panos Pictures» Martin Romersa from the Netherlands won the first place in the category "Everyday Life" with his series of photographs "Metropolis". In this photo the usual picture of the city of Kolkata. (Martin Roemers / Panos Pictures)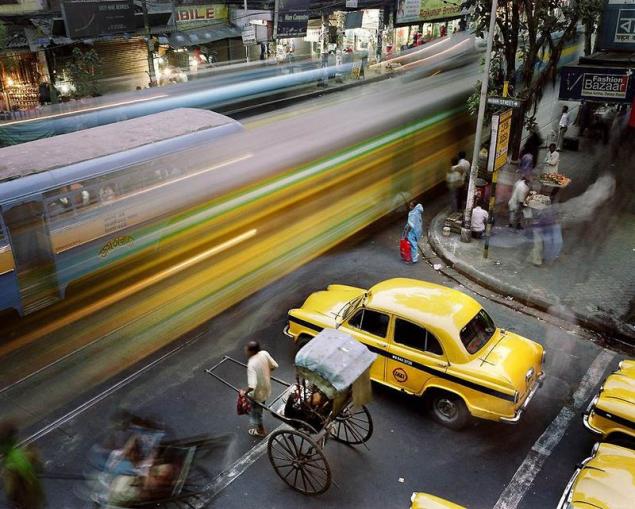 Photographer agency «Panos Pictures» Martin Romersa from the Netherlands won the first place in the category "Everyday Life" with his series of photographs "Metropolis". In this photo the usual picture of the city of Kolkata. (Martin Roemers / Panos Pictures) & quot; / & gt;
3. Nature: Japan
Photographer magazine «National Geographic» Unterhiner Stefano from Italy took second place in the category "Nature" with this photo of Whooper Swans at dawn, made in January in Hokkaido, Japan. (Stefano Unterthiner / National Geographic)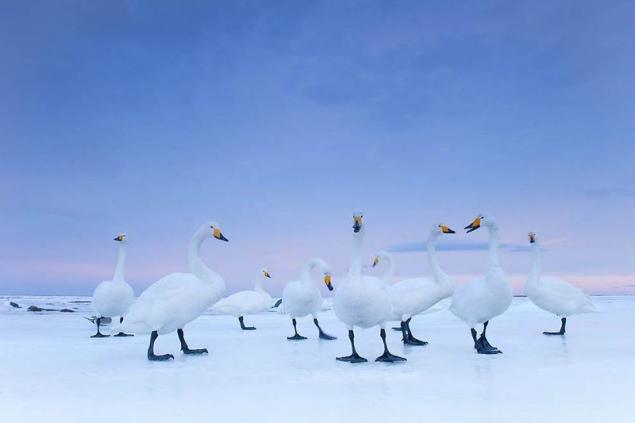 Photographer magazine «National Geographic» Unterhiner Stefano from Italy took second place in the category "Nature" with this photo of Whooper Swans at dawn, made in January in Hokkaido, Japan. (Stefano Unterthiner / National Geographic) & quot; / & gt;
4. General News: Haiti
Photographer «Contrasto» Riccardo Venturi from Italy won first place in the category "General News" with this photo of the burning of the old market in Port-au-Prince, made on 18 January. (Riccardo Venturi / Contrasto)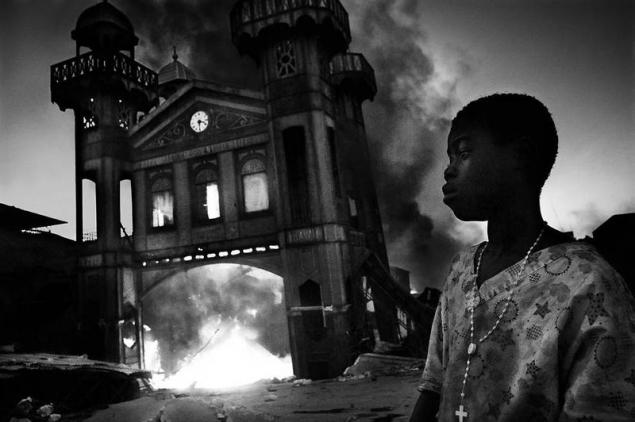 Photographer «Contrasto» Riccardo Venturi from Italy won first place in the category "General News" with this photo of the burning of the old market in Port-au-Prince, made on 18 January. (Riccardo Venturi / Contrasto) & quot; / & gt;
5. Issues of modernity: Vietnam
Photographer «VII Photo» Ed Kashi US took second place in the category of "Issues of our time" with this photograph taken in Da Nang, Vietnam, depicting the 9-year-old Nguyen Thi, who became disabled as a result of exposure to Agent Orange. (Ed Kashi / VII Photo)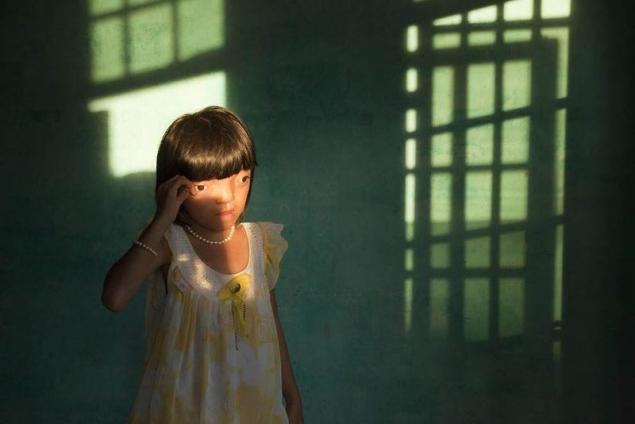 Photographer «VII Photo» Ed Kashi US took second place in the category of "Issues of our time" with this photograph taken in Da Nang, Vietnam, depicting the 9-year-old Nguyen Thi, who became disabled as a result of exposure to Agent Orange. (Ed Kashi / VII Photo) & quot; / & gt;
6. Portraits
German freelance photographer Wolfram Hahn took second place in the category "Portraits" series of photographs with his "Self-portraits for social networks." (Wolfram Hahn /)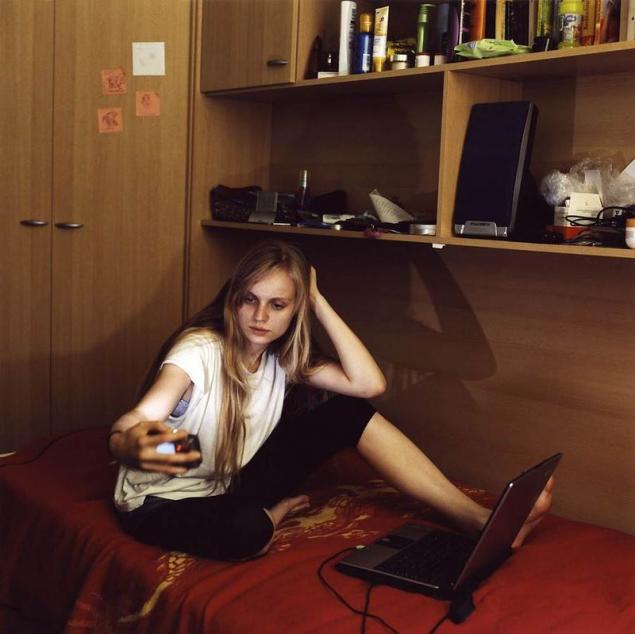 German freelance photographer Wolfram Hahn took second place in the category "Portraits" series of photographs with his "Self-portraits for social networks." (Wolfram Hahn /) & quot; / & gt;
7. People in the News: Pakistan
Australian photographer «Getty Images» Daniel Berehulak won first place in the category "People in the News" with this photo flood victims, grabs humanitarian assistance that military helicopters are reset after the floods in Dadu. Picture taken on September 13. (Daniel Berehulak / Getty Images)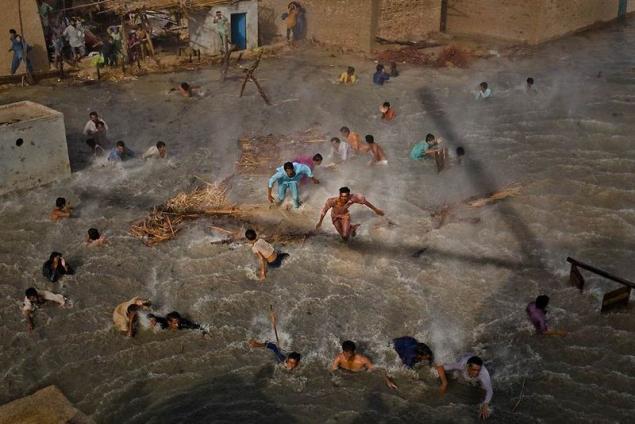 Australian photographer «Getty Images» Daniel Berehulak won first place in the category "People in the News" with this photo flood victims, grabs humanitarian assistance that military helicopters are reset after the floods in Dadu. Picture taken on September 13. (Daniel Berehulak / Getty Images) & quot; / & gt;
8. This photo Spaniard Gustavo Cuevas from the agency «EFE» ranked second in the category "Sports". The photo Spanish matador Julio Aparichio, which bull wounded in the neck, and the horn went through his mouth. Picture taken during a bullfight at Las Ventas, Madrid, May 21. (Gustavo Cuevas / EFE)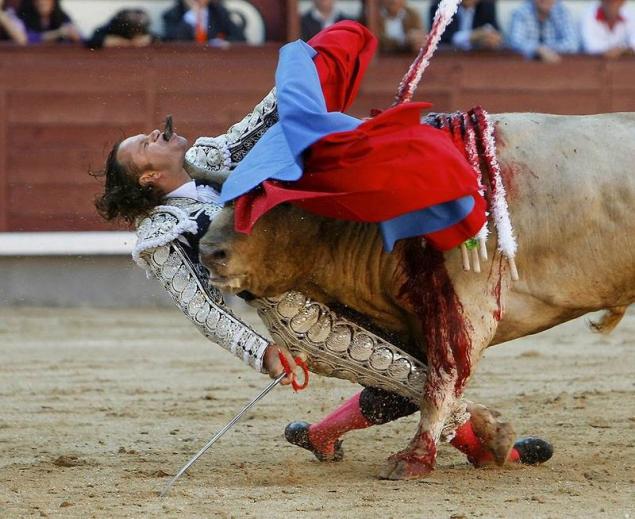 9. Everyday life: Bangladesh
Photographer «Reuters» Andrew Biraj took third place in the category "Everyday Life" photo crowded train, drive up to the station in Dhaka on November 16. (Andrew Biraj / Reuters)
Photographer «Reuters» Andrew Biraj took third place in the category "Everyday Life" photo crowded train, drive up to the station in Dhaka on November 16. (Andrew Biraj / Reuters) & quot; / & gt;
10. Arts and Entertainment: Italy
Italian photographer Davide Monteleone from «Contrasto» took second place in the category "Arts and Entertainment" for this photo taken at the Fashion Week in Milan, during the fashion show Valeria Marini. (Davide Monteleone / Contrasto for The New York Times Style Magazine)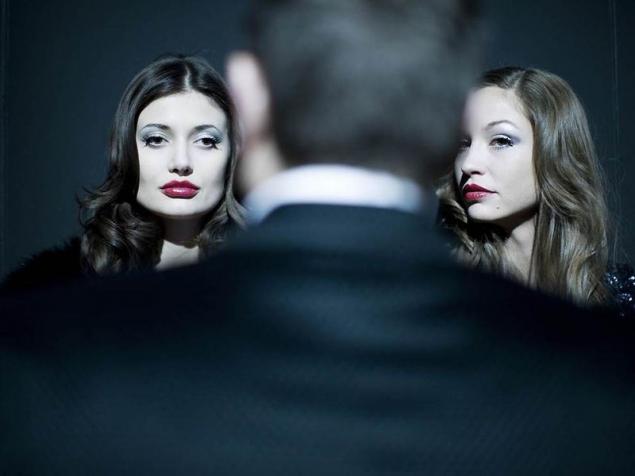 Italian photographer Davide Monteleone from «Contrasto» took second place in the category "Arts and Entertainment" for this photo taken at the Fashion Week in Milan, during the fashion show Valeria Marini. (Davide Monteleone / Contrasto for The New York Times Style Magazine) & quot; / & gt;
11. Portraits: Russia
Dutch photographer Joost van den Broek of «Volkskrant» took second place in the category "Portraits" for this photo Cyril Leverskogo - cadet from the Russian military ship "Kruzenshtern". (Joost van den Broek / de Volkskrant)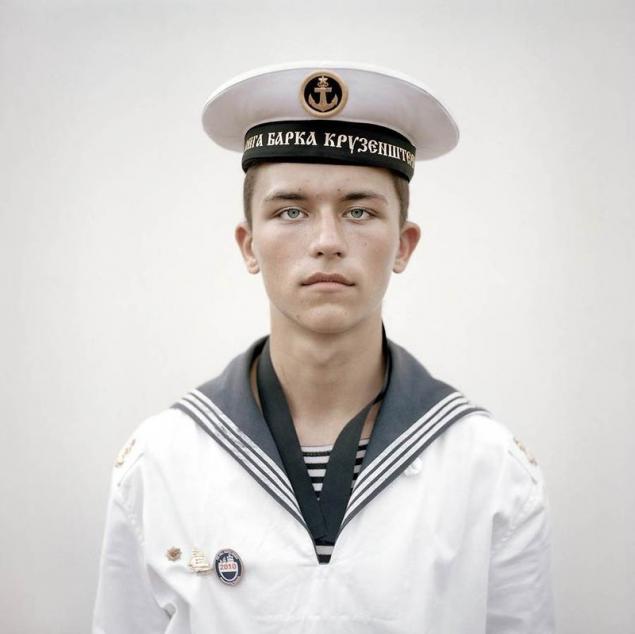 Dutch photographer Joost van den Broek of «Volkskrant» took second place in the category "Portraits" for this photo Cyril Leverskogo - cadet from the Russian military ship "Kruzenshtern". (Joost van den Broek / de Volkskrant) & quot; / & gt;
12. General News: Haiti
French photographer Olivier Laban Mattei, of the «Agence France-Presse» has won first place in the category "General News" for this shot morgue worker made in a hospital of Port-au-Prince on January 15th. (Olivier Laban-Mattei / AFP)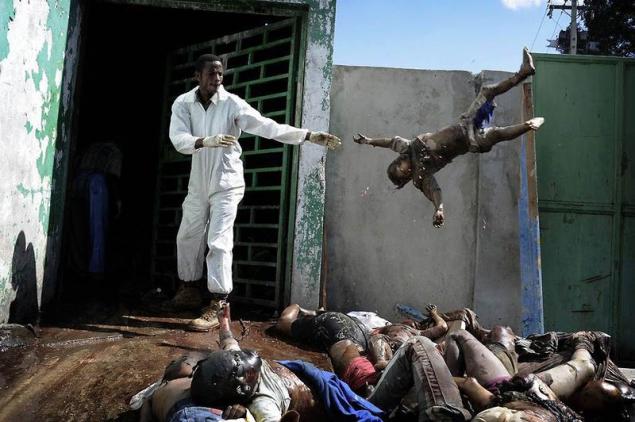 French photographer Olivier Laban Mattei, of the «Agence France-Presse» has won first place in the category "General News" for this shot morgue worker made in a hospital of Port-au-Prince on January 15th. (Olivier Laban-Mattei / AFP) & quot; / & gt;
13. Arts and Entertainment: Congo
Irish photographer «Panos Pictures» Andrew McConnell took first place in the category "Arts and Entertainment" for this photo of 37-year-old Josephine Mpongo playing the cello in the area Kimbanguiste, Republic of Congo. Mpongo playing in a symphony orchestra rehearses and five days a week. (Andrew McConnell / Panos Pictures)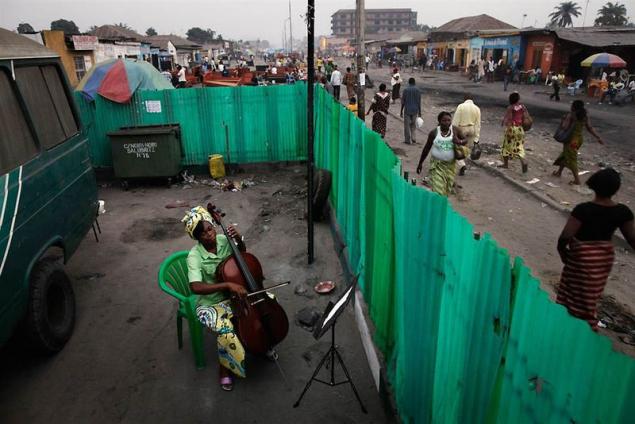 Irish photographer «Panos Pictures» Andrew McConnell took first place in the category "Arts and Entertainment" for this photo of 37-year-old Josephine Mpongo playing the cello in the area Kimbanguiste, Republic of Congo. Mpongo playing in a symphony orchestra rehearses and five days a week. (Andrew McConnell / Panos Pictures) & quot; / & gt;
14. People in the News: Julian Assange
Photographer Irish agency «VII Photo» Seamus Murphy took second place in the category "People in the News" with this photo of the founder of «WikiLeaks» Julian Assange made by September 30th. (Seamus Murphy / VII Photo)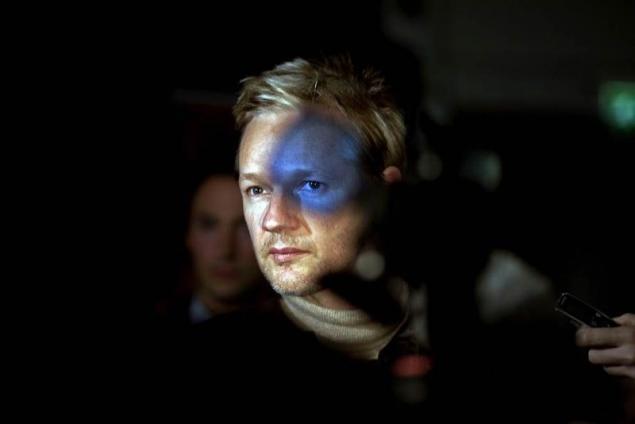 Photographer Irish agency «VII Photo» Seamus Murphy took second place in the category "People in the News" with this photo of the founder of «WikiLeaks» Julian Assange made by September 30th. (Seamus Murphy / VII Photo) & quot; / & gt;
15. Sports: Singapore
Photographer «Getty Images» Adam Pretty from Australia won the first place in the category "Sports". In this photo the Englishman Thomas Daly in the qualifying round of the competition in ski jumping at the Youth Olympic Games in the sports complex «Toa Payoh» Singapore. Picture taken on August 22. (Adam Pretty / Getty Images)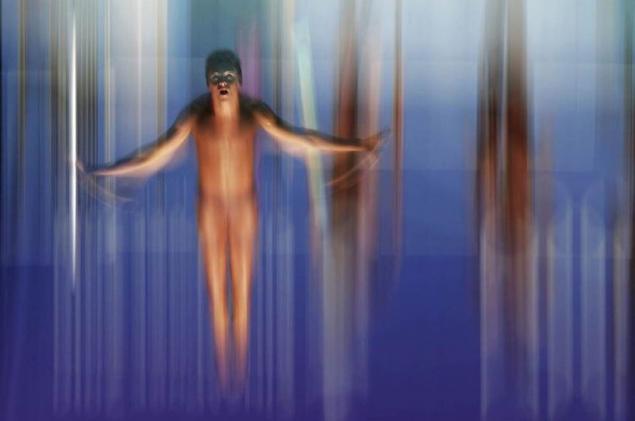 Photographer «Getty Images» Adam Pretty from Australia won the first place in the category "Sports". In this photo the Englishman Thomas Daly in the qualifying round of the competition in ski jumping at the Youth Olympic Games in the sports complex «Toa Payoh» Singapore. Picture taken on August 22. (Adam Pretty / Getty Images) & quot; / & gt;
16. Nature: Indonesia
Photographer «Agence France-Presse» Christophe Archambo took third place in the category "Nature". In this photo, a smoker trying to keep warm in the village covered with volcanic ash Semoro Lawang near the active volcano Bromo east of the central Indonesian island of Java. (Christophe Archambault / AFP)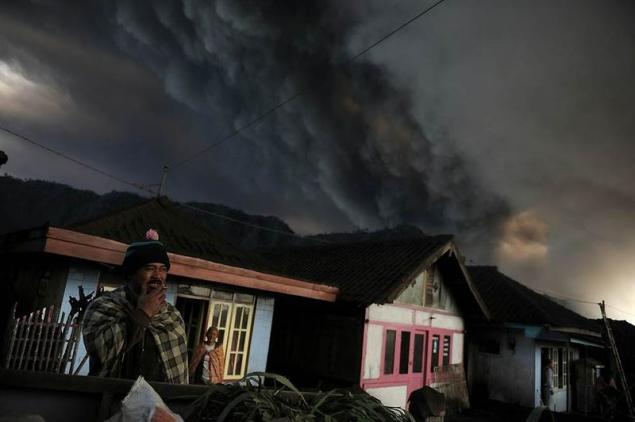 Photographer «Agence France-Presse» Christophe Archambo took third place in the category "Nature". In this photo, a smoker trying to keep warm in the village covered with volcanic ash Semoro Lawang near the active volcano Bromo east of the central Indonesian island of Java. (Christophe Archambault / AFP) & quot; / & gt;
via Source