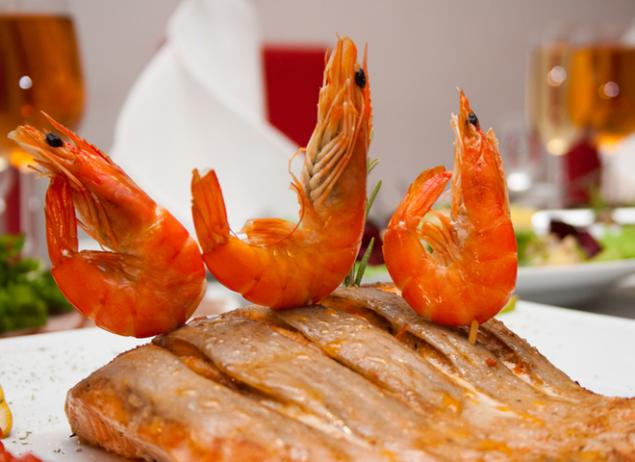 Try the red fish under appetizing creamy shrimp sauce. By the way, in order not to waste valuable pre-Christmas time, you can prepare the sauce in advance, and then get out of the refrigerator. Sure, your guests will absolutely love it!
red fish for shrimp sauce
Ingredients:
2 fillets of red fish (salmon, salmon),
salt to taste,
for shrimp sauce:
200 grams of peeled shrimp,
200 ml of 20% cream -x,
30 g cream cheese,
0, 5 lemon,
1 onion,
ground pepper to taste (white, pink, black),
salt to taste.
Christmas red fish shrimp sauce - cooking:
Fillet of red fish lightly salt, wrap in foil and send in a preheated 200 ° C oven for about 20 minutes.
Unfreeze shrimp. Cheese can cut into small pieces. Squeeze the juice from a lemon. Cut onion into quarters.
In a small saucepan, bring the cream to a boil. Add cream cheese, onions and lemon juice and then to heat until cheese is melted. Then remove it from the onion sauce.
Add shrimp to the sauce, boil for no more than 1 minute and remove from heat, so that the shrimp did not work too hard. Several shrimp aside for decoration New Year dishes.
Slightly cool cream with shrimp and pyuriruy blender until smooth. Salt and pepper sauce to taste.
Prepare fish remove it from the foil and passed on to serving plates. Fields sauce and decorate shrimp and greens.