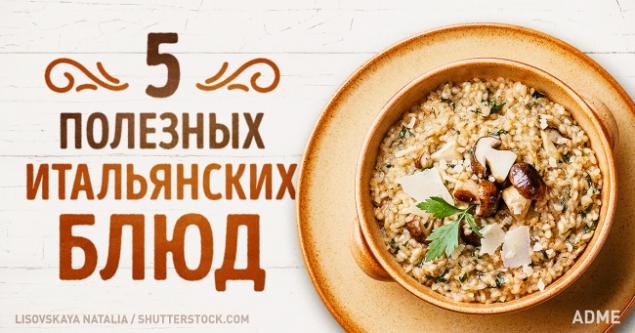 The phrase "health food" leads to sadness. Useful food - a thing, of course, necessary - in order to feel better and look too. But still not really happy, when you have to give up many delicacies!
Today
Website proves that healthy food and fresh food are not always synonymous. All pleasant!





Spaghetti with pesto sauce, pistachios and cabbage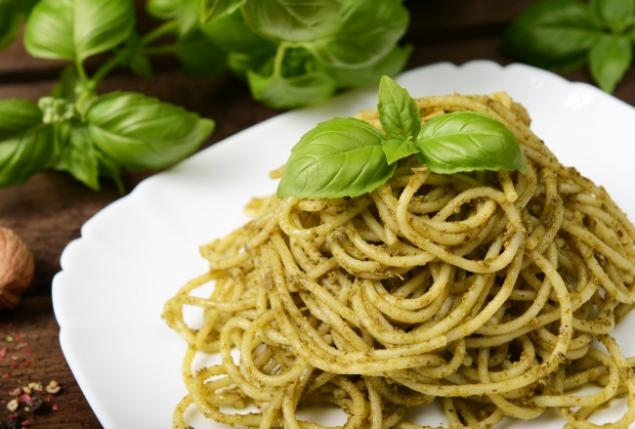 Ингредиенты:

соль 450 g leaf spinach or kale 300 g whole wheat spaghetti 2 tbsp. l. roasted salted pistachios 1 crushed clove of garlic 1 cup parsley leaves 1/4 cup olive oil 2 tbsp. l. grated parmesan 2 tbsp. l. lemon juice ground black pepper Method:

Add the spinach in boiling salted water and cook for about 2 minutes. Then put it in a bowl of ice water and, when it has cooled, chopped. Add the pasta to the boiling water and cook until tender. While the spaghetti is cooked, chop the pistachios in a food processor and garlic. Add the parsley and olive oil, then cheese, lemon juice and 1/3 hours. L. salt and pepper. Stir again. Mix the resulting spaghetti and pesto.



low-calorie pasta "Fettuccine Alfredo"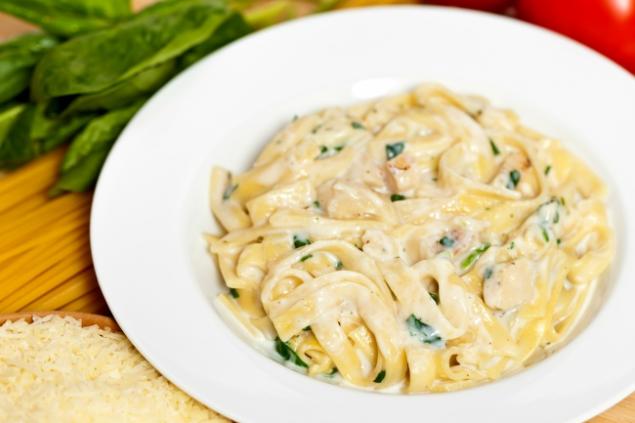 Ingredients:
< br>
1 tbsp. l. unsalted butter 1 crushed clove of garlic 1 hour. l. lemon peel 2 hours. l. flour 1 glass of milk salt 2 tbsp. l. low-fat cream cheese 3/4 cup parmesan 3 tbsp. l. fresh parsley 350 g fettuccine pepper Method:

Melt the butter in a frying pan over medium heat. Add the garlic and lemon zest and cook for 1 minute them until garlic is a little soft. Add the flour and cook, stirring with a wooden spoon, for 1 minute. Pour in milk and 3/4 hours. L. salt and cook for about 3 minutes, until the sauce thickens. Add the cream cheese and Parmesan. Stir and wait until the cheese melts (about 1 minute). Add the parsley. The sauce is ready. At the same time put the sauce to cook the pasta to a state of al dente. Toss the pasta with the sauce ready. Sprinkle with the remaining Parmesan cheese and pepper.



Fake risotto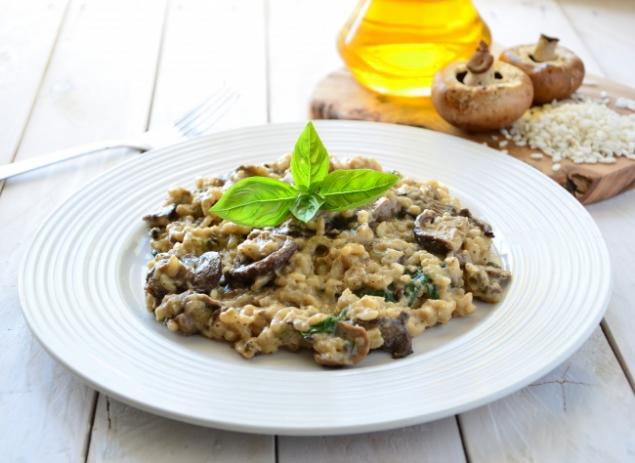 Ingredients:


1/2 cup of whole grain brown rice 1/2 cup barley 1 tbsp. l. olive oil 1 small onion 2 cloves garlic salt ground black pepper 1/2 chicken broth cups 400 g chopped asparagus 170 g mushrooms 60 g low-fat cream cheese 1 tbsp. l. grated parmesan 2 tbsp. l. finely chopped green onions 1/2 hours. l. lemon peel Method:

In boiling salted water, pour rice and barley grits and cook for 15-20 minutes. In a large skillet, heat the oil over medium heat. Add the onion, garlic, salt and pepper. Cook about 5 minutes, until the onion is soft and begins to be covered by a brown crust. Drain the water from the pan with cereals and add them to the fried onion and 1/4 cup of chicken broth. Cover and cook until the rice and barley are tender - 6-8 minutes. Add the asparagus and mushrooms and continue cooking for 8-10 minutes, until the vegetables are tender. Remove the pan from the heat and add to the remaining broth Stir in cream cheese and Parmesan and stir. Cheese should melt and become soft. Sprinkle risotto with green onions and peel.



rigatoni with aubergine and cheese sauce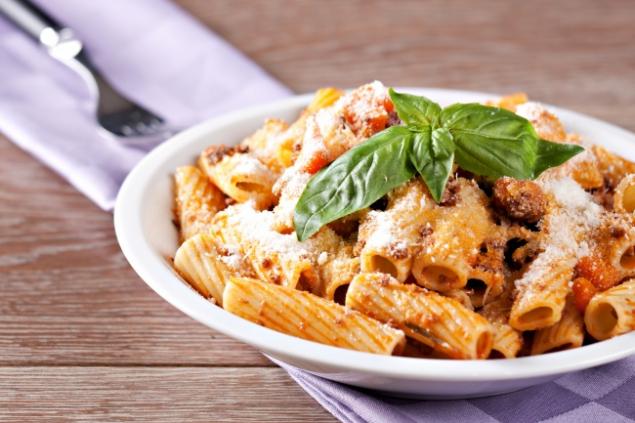 Ingredients:
< br>
450 g eggplant 2 1/2 cups of flour salt pepper 2 eggs < / 1/2 cup of milk 1/2 cup grated parmesan cheese olive oil 4 cups marinara sauce 220 g rigatoni method:

Cut the eggplant into cubes and place in salted water for 15 minutes, then drain the water and let them dry. Mix in a bowl, cup of flour with salt and pepper to taste. In another bowl beat the 2 eggs, add the milk and whisk them mass. In a third bowl, mix the remaining flour with parmesan. Dip pieces bakalazhanov a mixture of the first, then second, then third bowls. Fry them in olive oil over medium heat until they acquire a golden hue. Dry them on paper towels, and then mix it with marinara sauce. At the same time, cook the pasta. Add the sauce to the finished pasta.



Saltimbocca Chicken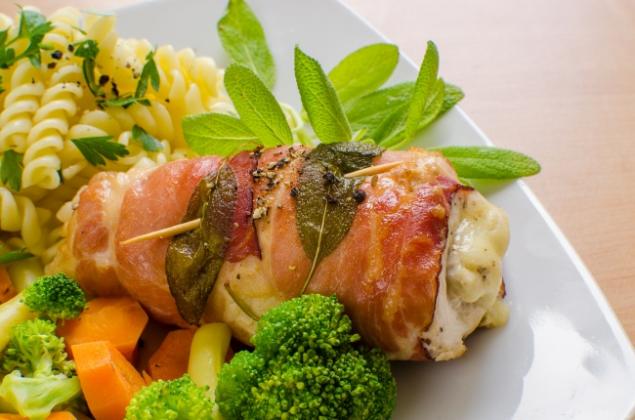 Ingredients:

< 500 g chicken breast salt black pepper 6 slices of ham, grated salt (prosciutto) 250 g 3 tbsp. l. olive oil 1/4 cup grated Parmesan cheese 400 g chicken broth 2 tbsp. l. lemon juice Method:

Make steak fillet. Cut so as to obtain 6 parts-cutlets. Sprinkle with salt and pepper to taste and place a slice of prosciutto on each of them. In a bowl, mix the chopped spinach with 1 tbsp. l. oil and add salt and pepper. Pour over the spinach and prosciutto evenly sprinkle parmesan all. Roll the cutlet into a tube, and seal the edges with the aid of a toothpick. Heat the remaining 2 tablespoons oil to a large frying pan over high heat. Fry the patties for about 2 minutes on each side - as long as they are not covered with a golden crust. Pour into the pan to the ducts broth and lemon juice and bring the liquid to a boil. Reduce temperature to medium. Cover and cook until tender - about 10 minutes. Transfer the patties on a plate, and the liquid simmer another 5 minutes on low heat, until its volume will be equal to about 2/3 cup. Add to it salt and pepper to taste. Remove the toothpicks from the cutlets. Sprinkle the rest of the liquid and serve immediately.









via www.shutterstock.com/ru/pic-218672134/stock-photo-risotto-with-wild-mushrooms-with-parsley-and-parmesan-on-blue-background.html?src=fAnhQHrnUBYtpJbxBk1Mrw-1-41