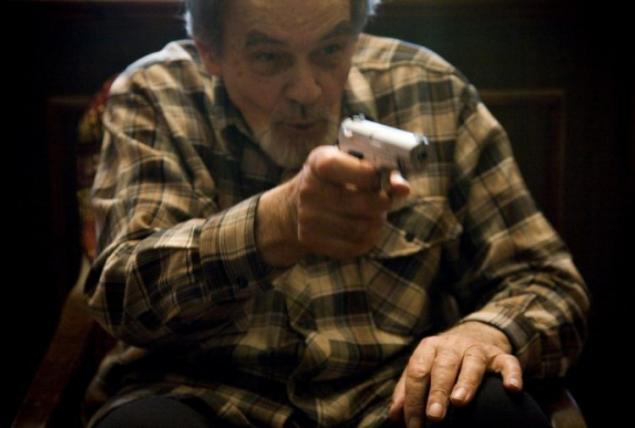 My grandfather was at a loss and could not figure out where to go to him.
The guard turned his head to the visitor stared up and nodded contemptuously:
- That's what you got, I do not see out the windows, and there pay
. - You can not be angry, my son, I thought that you have some order here, and now it is clear that in any window can pay
. Grandfather slowly walked to the nearest window.
- With you 355 rubles and 55 kopecks, - said the cashier
. Santa got battered wallet, a long time it was dug and then put the bill.
The cashier gave his grandfather a check.
- And what, son, that's it sit sydney all day, you would have found a better job - grandfather stared at the guard
. The guard turned to his grandfather:
- Are you kidding me, grandfather, this is the work
. - Ahhh - handed grandfather and continued to look carefully at the guard
. - Father, so tell me what you want? - I asked irritably guard
. - You can be the points or all at once? - Calmly replied grandfather
. - Do not understand? - The guard turned and looked at his grandfather
. - Well, Grandpa, go, - he said after a moment, and again stared at the monitor
. - Well, look, the door will lock and put down the blinds on the windows
. - Close to ... - the guard turned and straight at eye level, I saw the gun barrel
. - Yes, what are you doing, but right now I
! - You, my son, do not bristle helluva lot, I pukalki this before with 40 meters in nickels got. Now of course not the years, but yes, and the distance between us did not go and forty meters, so I vsazhu you right between the eyes and not promazhu - calmly replied grandfather
. - Son, you do not need to repeat an hour twice? Ali bad do you hear? Locks the door, put the shutters.
On the forehead guard stood out sweat.
- Father, are you serious
? - No, of course not, I have fun poking you in the forehead with a pistol and ask to block the door, as well as to inform you that I have come to plunder
. - You, son, but do not be nervous, do not make unnecessary movements. You see, I have a cartridge in the barrel, with the fuse removed, and the hands of old people you know, half live their lives. That and look, I'll casually and can change the pressure in the cranium, - said the old man, quietly looking at the guard's eyes
. The guard reached out and pressed two buttons on the remote. In the hall there was a click bank closing the front door, and the windows began to sink steel shutters.
Grandfather, not turning away from the guard, took three steps back and shouted:
- Attention, I'm not harming anyone, but this robbery
! In the lobby of the bank came absolute silence.
- I want all raised their hands! - I said slowly visitor
. In the lobby there were a dozen customers. Two mothers with children of about five years. Two guys are not more than twenty years with the girl of their age. A pair of men. Two middle-aged woman and a pretty old.
One of the cashiers reached down and pressed the panic button.
- PUSH, PUSH, daughter, let get together - quietly said
grandfather. - And now, all leave the hall - visitor said
. - Len, what are you doing this udumal, sbrendil finally old age or something? - Pretty old yavna was familiar with the robber
. All visitors and workers out into the hall.
- Well, Shut up, you see here - the grandfather said seriously and shook his hand with the gun
. - No, well, you take a look at him, the robber, oh scream - not appeased pretty old
. - Dude, what are you doing in my mind? - Said one of the guys
. - Father, do you realize what you're doing? - I asked a man in a dark shirt
. Two men slowly moved to his grandfather.
Another second and they come close to the robber. And then, in spite of the age, the grandfather quickly jumped to the side, raised his hand up and pulled the trigger. A shot rang out. Men stopped. Children wept, clinging to their mothers.
- Now listen to me. I have no one and nothing bad will, will soon be over, sit on the chairs and just sit.
People sat on chairs in the lobby.
- Well, the children because you scared, you thu. Come on, kids were not crying, - grandfather winked children. The children stopped crying and stared at his grandfather.
- Grandpa, how do we rob you gathered when two minutes ago communal paid on the payment order, you also know in two minutes? - Quietly asked a young bank teller
. - And I, my daughter, nothing to hide, and do not intend, and worthless debts for a post
. - Uncle, you kill the police, they always kill the bandits, - said one of the kids carefully examining grandfather
. - I can not kill, because I have long ago been killed - quietly replied the visitor
. - How it can not kill you like Bag of Bones? - I asked the boy
. The hostages smiled.
- And then! I may even be your pohlesche Koshchey - grandfather said cheerfully
. - Well, there
? - Alarm activation
. - So, who do we have in the area? - Manager of private security crews
studied the list. - Yeah, I found
. -. 145, Receiving
- Listen, 145.
- Operate on the street Bohdan Khmelnytsky
. - Got it, leave
. The crew rushed to include a siren call.
- Base reply 145.
- Base listens
. - The doors are locked, the blinds on the windows, no forced entry
. - And it's all
? - Yes, the base is all
. - Stay where you are. Take protection inputs and outputs.
- Strange, listen, Petrovich, the crew went on trevozhke, the door to the bank closed, the blinds lowered, and no forced entry
. - Yeah, see a phone number and call me in this office, you ask cho, instructions do not know whether that
? - They say that there is no truth in the legs, but it's true - the grandfather sat on a chair
. - Len, now you that you want to spend rest of his life in prison? - I asked the old woman
. - I'm Luda, after what I will do, and is ready to die with a smile, - calmly replied grandfather
. - Thu ... you
The phone rang on the desk at the box office. The cashier looked at my grandfather.
- Yes, yes, go, my daughter, tell and tell it like it is, they say, he took the man with the weapon requires a negotiator, then a dozen people and two Maltsev - grandfather winked kids. The cashier answered the phone and told him everything.
- Father, because you can not hide now specialists arrive, all surrounded, will be put snipers on the roof, the mouse does not slip, why would you? - I asked a man in a dark shirt
. - And I, my son, to hide something and not going, I walk out of here with our heads held high
. - Chudish you grandfather, okay, it's your business
. - My son, give me the keys razblokirovochnye
. The guard put on the table a set of keys. The telephone rang.
- They are fast Eka - grandfather looked at his watch
. - I pick up the phone? - I asked the cashier
. - No, docha, now it only concerns me
. The visitor picked up the phone:
- Good afternoon
. - And you do not fall ill, - said the visitor
. - Rank
- What is the title of
? - What is the title you have, in what rank you are, it's hard to understand
? - Mayor, - was heard at the other end
. - So we decided to do, - answered grandfather
. - How can I contact you? - I asked Major
. - Strictly according to the ordinance, and rank. Col. I so and treat, Comrade Colonel, - calmly replied grandfather
. Major Serebryakov spent a hundred of negotiations with terrorists, with criminals, but for some reason now it is understood that these negotiations will not be the usual routine.
- So, I would like to ...
- Uh no, Major, so it will not go, you're probably not listening to me, I said clearly after the manner and rank
. - Well, I do not quite understand what it is, - said Major
confusion. - Here you are, queer people, then I'll help you. Comrade Colonel, let me turn to the subject matter further.
There was an awkward pause.
- Comrade Colonel, let me address
? - Cleared
. - I would like to know your requirements, and wanted to know how much you have hostages
? - Mayor, the hostages I have a dime a dozen and one smaller. So, you do not make mistakes. I'll tell you right away, where you studied, I taught. So let's just dot the "i". Neither you, nor I do not want conflict. You have to all survive, and that you arrest the criminals. If you do everything I ask, you'll get a brilliant operation to free the hostages and arrest the terrorist, - grandfather raised his index finger and smiled slyly
. - I understand correctly? - I asked the grandfather
. - In principle, yes, - said the major
. - Here, you're doing everything wrong, I ask
. The Major was silent.
- Yes, Comrade Colonel. It is so under the statute to be answered?
- Yes, Comrade Colonel, - said the major
. - Now the main thing, Major, just say, let's not be silly. Doors closed, shutters are omitted on all windows and doors, I put extensions. I've got a dozen people. So do not shove lightly. Now requirements - grandfather thought - well, as he guessed, to ask for money, I'm not stupid to ask for money, if seized bank - grandfather laughed
. - Mayor, in front of the Bank is trash, send someone there, they will find an envelope. In the envelope all my requirements, - said the old man and put the phone down
- What is this garbage? - Major holding a torn envelope - bl @, this is a joke
? Major dialed phone bank.
- Comrade Colonel, let me address
? - Cleared
. - We found your envelope with the requirements, this is a joke
? - Major, are not in my position to joke, in fact right? No jokes there. Everything that is written there - all in all seriousness. And most importantly, do everything exactly as I wrote it. Personally see that everything was done to the last detail. What matters is that the leather strap, so sniffy and not those of your plastic. And yes, major, give you some time, I've got children, small, you know.
- I just try Lyonka thirty years know - pretty old lady whispered the cashier - and with his wife, we were friends. She died five years ago, he was the only one left. He went through the war, as far as Berlin. And after the war and remained so, scout it. The KGB served until his retirement. His wife, his faith, always a holiday suited for May 9. It is only for this day, and lived, you might say. On that day, she agreed to a local cafe to table them covered with barbecue. Lenka passion as he loved. So they went there. We sat and remembered all, she had a nurse, too, the war is over. And when they returned ... they robbed their apartment. They rob and some had nothing, that take to the elderly. But robbed, they took holy, all Lenkina awards and took tyrants. But even before the criminals did not touch the soldiers, and these are all cleaned endured. And Lyonka know how many awards it was, he was always joking, tells me another medal or award if the hand, I can not get up. It is the police, and then waved his hand, saying, grandfather, come here, you still with your orders are not enough. So this thing and hushed. A Lenka after the case had aged ten years. It is very hard, he is experienced, grab the heart of even strongly. That's so ...
The phone rang.
- Allow me to address, Comrade Colonel
? - Allow, say, Major
. - All I have done as you requested. In the transparent bag on the porch of the bank lies.
- Major, I do not know why, but I believe you and trust you, give me a word as an officer. You you know, I have nowhere to run, and run some I can not. Just give me your word that you will give me the hundred meters to go and no one will touch me, just give me a call.
- You have my word, exactly one hundred meters no one will touch you, just go out without weapons
. - I give the word, go out without weapons
. - Good luck to you, father, Major - hung up
. The news was told that bank branch is captured, there hostage. Negotiations are under way and will soon release the hostages. Our crews are working directly from the scene.
- Mil people out there on the porch is a package, enter it here, I go you know, - said the old man, looking at the man in the dark shirt
. Grandfather carefully put the package on the table. He bowed his head. Very carefully tore the package. On the table lay a dress uniform of colonel. The whole chest was in awards and medals.
- Well, hello, my family - my grandfather whispered ... - How long have I been looking for you, - he gently stroked
awards. Five minutes later, the hall came a middle-aged man in the form of a colonel in the white shirt. The entire breast, from the collar to the bottom and was in the awards and medals. He stopped in the middle of the hall.
- Wow, Uncle, how much you have icons - surprise toddler
said. My grandfather looked at him and smiled. He smiled a smile of the happy man.
- I'm sorry, if something goes wrong, I'm not out of malice, and for the need
. - Len, good luck to you, - said the old lady pretty
. - Yeah, good luck to you - all present repeated
. - Grandfather, look, not to get killed, - said the other kid
. The man somehow haggard, looked at the baby and said quietly:
- I can not be killed because I have killed. Killed when Faith took my, when taken my story when rewrote it in his own way. When I took that day, for which I lived a year, that would live up to my day.
I killed when I was betrayed and robbed, killed me when did not want to look for my reward. And what is a veteran? His reward, after every award - it is a story that should be stored in the heart and protect. But now they are with me, and I will not part with them, to the last, they will be with me. Thank you that you understand me.
Grandfather turned and headed for the front door. Not reaching a couple of meters to the door, the old man in a strange staggered and clutched a hand to his chest. A man in a dark shirt just a second appeared near his grandfather and managed to catch him by the elbow.
- Something naughty heart, worried much
. - Come on, Father, it is very important, important, and all this is very important for us for you
. The man held his grandfather's elbow:
- Come on, father, pull yourself together. This is probably the most important one hundred meters in your life.
Grandfather looked at the man. He took a deep breath and headed for the door.
- Wait, father, I'll go with you - quietly said a man in a dark shirt
. Grandfather turned.
- No, it's not your hundred meters
. - My father, even as mine, I am an Afghan
. The door leading to the bank opened, and seemed on the verge of an old man in the dress uniform of colonel, whose arm led a man in a dark shirt. And as soon as they stepped onto the sidewalk, out of the speakers began to play the song "Victory Day" by Lev Leshchenko.
The colonel looked proudly forward, rolled down his cheeks and dripped tears on military awards, lips silently considered 1, 2, 3, 4, 5 ... Never before in my life the colonel was not such an important and dear to his heart meters. They walked the two warriors, two people who know the price of victory, know the value of awards, two generations of 42, 43, 44, 45 ... Santa heavier and heavier relied on Afghan hands.
- Father, hold on, you're a warrior, you should
! Grandfather whispered 67, 68, 69, 70 ...
The steps became slower and slower.
The man has grabbed the old man's body by hand.
Grandfather smiled and whispered. 96, 97, 98 ... it is difficult to take the final step, smiled and said softly:
- One hundred meters ... I could
. On the pavement lay the old man in the form of a colonel, his eyes still looked in the spring sky, and next on his knees crying Afghan.
Loading ... Loading ...
Liked? Share with your friends!
Loading ... Loading ...