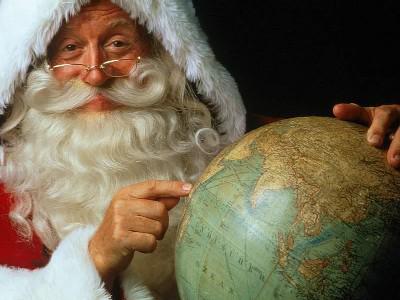 The whole truth about grandfathers Frost!
Today we will open you the truth about Santa Claus!
Russian Santa Claus comes in a sheepskin coat, boots, and with the smell of fume.
Belarusian Grandfather Frost comes with a mustache and a sack of potatoes.
Harlem Dead Mr. Ozz has a thick gold chain with hand and talking rap.
With him goes Maiden Volodarsky and all transfers.
Croatian Santa Claus - has brought us a gift.
Jewish Santa Claus comes with a curly beard, takes the children and gives presents poems. If it comes as Russian - a stale, it takes two more liters of fume with him. Sometimes a Jewish Santa Claus congratulates children by telephone or telegram. But more often he sits at home, and all come to him.
Chinese Mo Santa Rose comes and recalls last year's gifts. He is dressed in the latest fashion, but felt fake - often falls off the beard. Mo Rose hates children, because of their 300 million. On New Year's night, he is to a billion bits of time because of domestic production brings gifts. In these cases, Chinese Mo Santa Rose apologizes and as a gift to a child takes away from large Chinese families.
German Santa Claus comes in a suit plumbing, and not to children. The bag is only videopodarki. Dutch Santa Claus can not decide who he is: Wang Frost and Snow Maiden Le? Comes only to those who tire out much. As a rule, children are poorly behaved all year. Dutch Santa Claus arrives with eight reindeer on the ship, he sits on the window sill and begins to smoke from the apartment pink elephants. Sometimes it is affectionately known Guss Hiddink.
African Santa Claus does not come at all. Because in the drylands of Africa Frosts rarely live up to his grandfather.
Santa hellish Kreved-Preved Moross comes with Bojan, talking with quotes bashorga: beer, cat, Shredder, blonde.
The Indian Santa Claus four arms and an elephant's head, so that all children in India gray.
Polish Santa Claus name Djedzh Morodj.
French De'Dmoroz comes with a bottle of champagne, and first of all offers to call the Snow Maiden.
Hawaiian Santa Claus comes in shorts and slippers and very freezing. His regret is poured ... In the end, he goes in a sheepskin coat, boots, and with the smell of fume.
Finnish Joulupukki there - and thank God ...
In Siberia, there are no Santa Claus, there is everything for him. On whom do not look - Santa Claus!
Lapland Santa Claus stole chip Uncle Tolley - every year as the snow falls on the head ... Yes, with some deer.
Turkish Santa Claus comes in a Russian home is not the Snow Maiden, and for the Snow Maiden.
Vatican Santa Claus does not believe in himself.
Romanian Santa Claus parents frighten children.
Mongolian Santa Claus arrives on a horse and a naked, with a jar of land as a gift.
Ukrainian Santa Claus dressed in orange, permanent quarrels with the Snow Maiden, dressed in white and blue. Both strive to put up a tent in your hallway.
Latvian Santa Claus does not come at all. He Kaliningrad with Belarusian tea drinkers.
St. Petersburg Santa Claus comes suddenly on New Year's Eve. The jacket is short, gives hope.
Santa Claus with Cuba dressed in military uniforms. On the walls in the stairwell reserves revolutionary slogans instead Maiden leads a dozen half-naked girls. He talks for hours. Kids gives cigars adults - faith.
Santa Claus from disadvantaged areas over the red coat wearing a black leather jacket.
English Father Christmas arrives, gets a soccer ball and crying. Then it goes without saying goodbye.
Spanish Santa Claus gives good children castanets and poor - a bull and a red T-shirt.
Chukotka Santa Claus arrives on his own plane, in an Armani suit.
Santa Claus Liechtenstein does not need the deer. To give gifts to all children, it is enough to go to a neighbor.
Abkhazian Aksakal Hot brings mandarins, not all children have enough money to buy them.
Kazakh-by Claus appears in a red jacket command of Kazakh-British University and talking with the children, using the vocabulary of the most ridiculous "Sanjar».
Tajik Grandfather Frost comes with a spatula and a bag of cement, shows all registered, and begins to finish a balcony.
Chelyabinsk Santa Claus is so severe that comes to children with a bag of apples iron and steel oranges.
Gypsy Santa Claus arrives on horseback, singing songs with a guitar and steal something of value for free.
Kenyan Santa Claus runs the children for a moment, quickly making them a lap of honor near a Christmas tree and runs toward the finish line.
Aboriginal Santa Claus - usually very good and tasty meal on the table in Papuan New Year's Eve.
Estonian Santa Claus can not get away from the previous year.
Japanese Dedza Morozuki arrives on the eve of personal raketolety cherry blossom, boasts digital kongyugatorom, combed, smiling, looking at his watch and conducts a workshop with children. The seminar was a good read for children Morozuki haiku, and the bad make themselves seppuku.
Punk Dedkov Frost broke somewhere to go.
Drink-ovsky Santa Claus on New Year gifts does "ordinary people" and "Maximum". And, in general, KVN-ovsky Santa Claus comes in every homework or business cards Major League finals.
And finally, the terrible truth. While all Santas create a holiday for them from the depths of the galaxy's great-grandfather observes Frost ...
kvnru.ru
-