Intel CEO Brian Krzanich at the may conference Code in California put on a show. During a speech on stage, he suddenly unbuttoned his shirt. Under it was something like a Cycling Jersey. Krzanich showed the screen of his smartphone, and the audience saw his heartbeat quickens.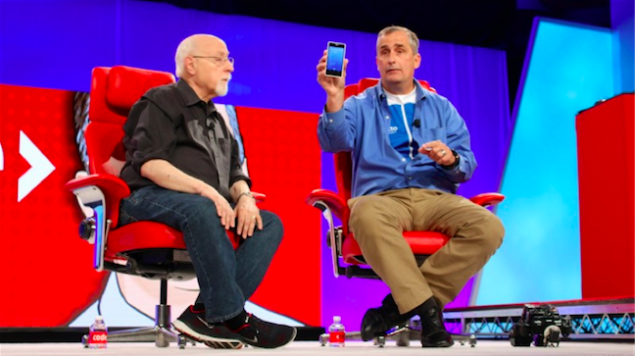 Imagine that your clothes advises when and to what doctor you need to register. Or a smartphone app is customizable depending on your mood. "Smart clothes" opens up amazing possibilities.
We in MadRobots, of course, follow this direction. Here you can find sensational pillow Ostrich Pillow. And today we decided to gather in one post the most interesting developments in high-tech clothing, some of which in the future may even save your life. If you eyes came across other interesting "smart thing", share your finds in the comments.
Shirt who knows about your health all
Intel is developing wearable technology on the basis of his new miniature computer Edison in partnership with AiQ Smart Clothing. This Taiwanese company is experimenting with interweaving stainless steel yarn since 2009.
For five years, AiQ has released several products of high-tech textiles.
The BioMan shirt
(something similar just showed Brian Krzanich), perhaps the most interesting achievement of the company. It connects to your phone via Bluetooth, continuously monitors your breathing, heart rate, and body temperature. It is important that in this shirt, you can sweat, mashing it, and then throw in the washing machine. She will continue to work.
If you do sports only rarely, we may be restricted
from AIQ winter gloves
for touch screens (although this is difficult to surprise). There are clothes heated. Jackets with LEDs. And – for the cautious – clothing that protects against electromagnetic and radioactive radiation.
Many will say that the appearance of clothing AIQ leaves much to be desired. Yes, while "smart clothing" is far from high fashion. But it eliminates the need to light weight wrist and other parts of the body with additional gadgets.
You can look at offers from other manufacturers. For example, the company Hexoskin with offices in Canada and the United States supplies similar to clothing with embedded sensors professional athletes and even astronauts. You can buy it at the usual online store.
In the summer of 2014 to sell biometric shalt begin another manufacturer Omsignal (https://smartclothinglab.com/brands/what-happened-to-omsignal/).
USB jacket
Experiments with clothes and put the company name. Well-known manufacturer of outdoor clothing Columbia technology uses
Omni-Heat Electric
in their jackets, gloves and boots.
Jacket two batteries, which take place near the breast. "Heaters" are made in the form of a thin flexible wire, so that the appearance do not spoil and do not interfere with wearing. Charging jacket by USB cable. Moreover, this is a nice bonus for traveling, the jacket may share charge with other devices through the same USB. Columbia States that the charge lasts for six hours. The prices of these jackets in Russia range from 6 to 30 thousand rubles.
However, judging by the reviews, the clothes are a bit heavy, not recharged as fast as we would like, and at very low temperature even when the heating light shiver from the cold you can not avoid (the authors of the reviews mention minus 23 degrees Celsius, even though Columbia says that the clothes will help and at minus 32). Another of the disadvantages — not the best location of the sensor on and regulation of heating capacity. Columbia placed him at the chest and tied the scarf or sports equipment to find a small sensor is not so easy.
Bed linen for reading biometrics
Major Japanese Telecom operator NTT Docomo with Toray is also preparing to release a line of "smart clothing" brand Hitoe. The company is planning to release not only clothes, but
linens, reading biometrics during sleep
.
Suit to monitor 22 muscle groups
If you need to observe the individual muscles of your body, then pay attention to the clothes Athos. The company was founded by two graduates of the canadian University of Waterloo. In addition to tracking breathing and heartbeat, this
tracksuit keeps track of all 22 groups of muscles of the person
, and transmits data to the smartphone application.
Smart insole for shoes
All manufacturers, the average price of a set of shirts, the module data transfer and charging is about $200-400. For shipping, of course, will have to pay. For a smaller budget, about $100, in the second half of 2014, you can purchase
insoles
FootLoggers.
Insert them into your usual shoes, minding my own business (battery lasts for 24 hours), then removed and put on ShoeStation. This dock charges the device via Bluetooth and insole takes the accumulated data. After analysing the data come to you in a smartphone app or SMS.
It is assumed that these insoles can be used not only for sports but also for diagnosing diseases associated with gait disorders.
Socks, of saving from injury and complications of diabetes
American manufacturer of "smart clothes" for sports Heapsylon has worked hard to expand the use of their food and medicine.
Socks Sensoria
this company counts your steps, calories, distance. They monitor your technique and notice of injury. The algorithm is finished, and soon socks can even warn that you may fall.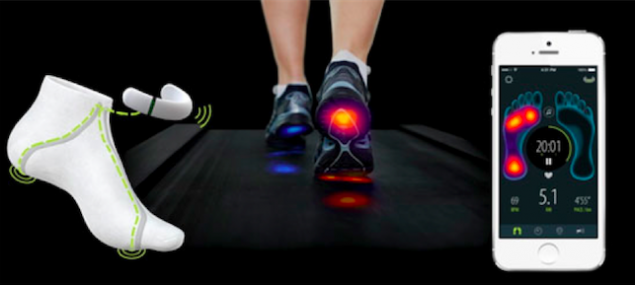 Doctors also using these socks identify patients complications of diabetes. The sensor continuously transmits data to the mobile device, and doctors can timely detect and prevent diabetic ulcers of the foot. Similar tests have been conducted.
Bra, diagnosing diseases of the breast
Heapsylon don't stop and prepare for the second half of 2014 to begin testing the bra that warns women about the possibility of breast cancer with the help of thermodynamic sensors and analysis of circadian rhythm. Recent studies associate these parameters with changes in the metabolism of breast cells.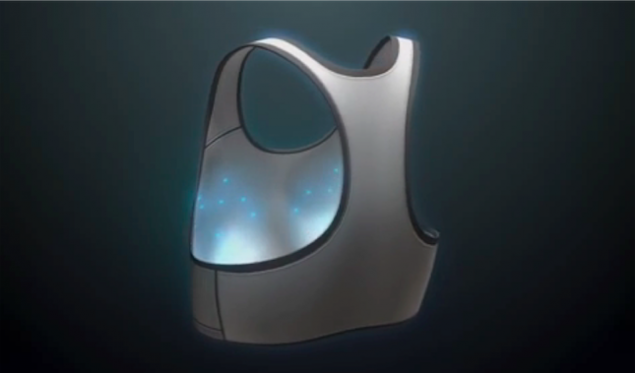 Pajamas, save in a dream
For those suffering from sleep apnea syndrome Heapsylon plans to release
pyjamas. It is to notice the breathing
and will alarm. The next step in the technology development experts see the analysis of the chemical composition of your body. Clothes will take blood, sweat, tears and even urine.
Wi-Fi transmitter, made of fabric
Every year professionals around the world create new fabric with amazing technical properties. For example,
researchers at the Catholic University of Louvain and the University of Malaysia Perlis
said in early 2014 that made the dual frequency (of 2.45 and 5.4 GHz) Wi-Fi transmitter completely made of fabric with the use of metamaterials. The shielding layer minimizes interference of the human body.
The suit is a gadget for listening music and Internet distribution
Dutch designer Born of Akkersdijk
long been experimenting with the creation of tissue on a 3D printer. And at the March SXSW festival drew attention to himself with his BB suit.Suit from a mixture of cotton and synthetic fibers, and copper thread. The result is a wearable gadget with built-in right into the fabric GPS, Wi-Fi, NFC and Bluetooth.
While there are only two instances BB.The Suit, which probably will remain a prototype. However, Akkersdijk plans to develop the technology and engage in the mass production of "smart clothes".
The shirt that never gets dirty
A young entrepreneur Amir Patel came up with
t-shirts, which are sweat, water, sauces and other liquids roll off without leaving traces
. This effect helps to achieve hydrophobic technology. The liquid molecules bounce off tissue due to microscopic silica particles, which create the air barrier at the surface of the clothing. To start production under the brand name Silic Patel appealed to the participants of the Kickstarter and have not regretted. Wanted to collect $20 thousand, eventually received about $300 thousand good news for bachelors: these shirts can be worn without washing much longer than usual, because bacteria need moisture, and the products of Patel it does not accumulate. To wash this fabric is still possible. Protective properties be maintained even after 80 washes.
A jacket that is warm, when it is necessary
Experimenting with fabric and at the University of Texas Dallas. The scientists twisted polyethylene fishing line and nylon thread in the fiber that can withstand the weight of 1 ton and give torque, comparable in power to a jet engine. Moreover, the fiber shrinks and expands depending on temperature. The researchers plan to build new fiber in the clothes so in
cold weather your jacket retains heat, and heat, on the contrary, cooled
.
While the main "smart clothing" is often absurd in appearance, not too easy and certainly too expensive. But maybe in a few years we will look back and wonder how it was possible to wear such stupid clothes, what wear.
By the way, smart washing machine already available.
Source: habrahabr.ru/company/madrobots/blog/227485/