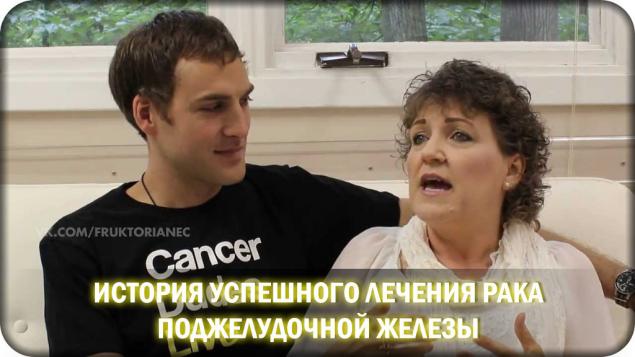 Here is another interesting interview with my friend Kay Gah. Chemotherapy almost killed her, but proper nutrition still helped. It is cured with pancreatic cancer. History Kay her own words.
Our life is always ups and downs. If nothing special in my life as if there is not, I always wonder what will happen next? Good and bad? I remember the end of 2011 so conceived that same 2012 in store for us. But I had no idea of ​​what is waiting for me.
The first Saturday in January 2012 my pastor Max Lucado (Max Lucado) began a series of sermons entitled "You can get through it." I immediately tensed and suspected that perhaps something needs to happen.
And two weeks later I was in the hospital, I found a rare form of pancreatic cancer. It was a type of cancer that doctors rarely observed, and no one does not know how to treat it.
In total I had nine tumors. One of my liver, 7 wandering in my abdomen and a third one in my pancreas (two-thirds was removed in another godu 2006).
The doctors were not optimistic and quite clearly gave me to understand that we have to be very "aggressive" in the treatment of this disease. I had very little time. One doctor has even started to prepare my last journey, I confidently told him, "All will be well." I had a feeling that God is going to heal me.
My husband was in the hospital with me and prayed for me. He was 2 vision where God healed me. However, the following year he had to often recall these visions, no matter what happened to me. That was Faith!
I began to search the Internet cases of cancer healing. I found a few. However, we have been taught all my life to believe the doctors who know best how to treat us. Therefore, February 1st, I started chemotherapy. All this time, I prayed for the people around the world. I often prayed to God, and he sometimes "encouraged" me. Once I was in the hospital and, as usual, sitting in the waiting room, praying for all those patients who are around me. Nurse a Christian (!) Called us to another examination room, where on the board it was written only the phrase "Trust Him» ...
From February to November 2012 I went through 7 chemotherapy types treated me 3 oncologist. I had perhaps all the side effects that are possible from chemotherapy. Previously, I had more or less well-felt, then by May, I began to feel worse.
As God continued to send me messages about natural healing in different ways throughout the year. I continued to ignore them, not knowing whether to believe it or not. By divine providence, in September I started taking chlorella, spirulina and vitamin supplements. During the two and a half weeks, my hair started to grow in the middle of chemotherapy! My blood test was good. I felt better. My doctor kept trying to figure out what am I doing, and constantly checked by a wig of my new hair growth.
By the end of November, I had severe pain in the bones of the destroyed bone marrow. Since I've had enough. I stopped clinical procedures. At this time I started to come in the mail box from a friend overseas, which turned out to be: a juicer, a few hundred dollars in aid, 15 pounds of organic coffee, a lot of letters with instructions. We had a friend of a friend, was cured of cancer with the help of "Gerson Therapy", and she wanted me to do the same thing.
Interestingly, the boxes were already with me yet 2 months before I started using them, I bought the book and started the Gerson therapy. After two and a half weeks scan showed a reduction of cancer by 20 percent. My doctor and nurses were all delighted. Everyone wanted to know what I'm doing this. The doctor told me to continue to do the same and come back in 3 months. Around this time, my best friend called me one day and said that I immediately turned on the TV. There was a story about a guy who was cured of cancer in a natural way. It was Chris. These then, his website and all the information on it became my inseparable companions that I would recommend.
I continued to eat vegetarian food refused to sugar, salt, meat and dairy products. Included in the diet of a lot of supplements (about them - below - note of the translator.), Carried out detoxification using coffee enemas several times a day, and saw 10 fresh fruit and vegetable juices per day. I went back to the hospital after 3 months that conduct tests. And it turned out that the cancer had again retreated. It's all in one year instead of chemotherapy, which I just killed. The doctor was very impressed and told me to continue to do the same and come back in 6 months.
I started to use a juicer that my friend sent me. I follow Gerson recipes for making my juices. They can be found on the site www.gerson.com or look here. I drink green juice 3, 3 and 3 carrot carrot-apple juice a day.
3 or 4 times a day I do "coffee break" - the so-called time of my coffee enemas. I usually do one in the morning, one or two during the day and one at night. I did not think that all will be done once the coffee enema, especially on a regular basis. After the first two visits, this procedure has become simpler and more everyday. My friend gave me several recommendations how it is more convenient to carry out this procedure. One piece of advice that I always use - is to lie in a bath in warm water. It is well relaxes. Coffee enemas help me feel a lot better.
During this time, I read a few books:
«The China Study» author T. Colin Campbell (The China Study),
«A Cancer Battle Plan» authors Anne E. and David J. Frahm,
«God's Way to Ultimate Health» and «The Hallelujah Diet» Author George H. Malkmus,
«The Gerson Therapy» and «Healing the Gerson Way» author Charlotte Gerson,
«Forks Over Knives: The Plant-Based Way to Health» author Gene Stone
. Now I read «Cancer: Step Outside the Box» author Ty Bollinger. This beautiful book contains a lot of useful information.
Also I'm trying to change my diet. As I said, I gave up meat, sugar, salt, dairy products and prepared foods. I try to have everything just vegetarian. It is very difficult sometimes, but I'm learning to cook these dishes. I found a lot of recipes for vegetarian and raw foods on the Internet: www.ohsheglows.com, www.girlonraw.com. It really helped.
Take care of yourself and follow my treatment plan - a rather complicated matter and requires a lot of attention. But I feel like I'm on the right path that God sent me. At least, I do not sit in a chair and do not allow the liquid to flow to fire through my veins and destroying me from the inside (of chemotherapy - approx interpreter.). This is the choice that we have to carry themselves. I choose life.
I feel great. I had grown soft chic new hair. But I still stick to your wellness plan. I tell everybody that there is a method of treating a living food, which God has given us even in Eden. I also learned about a lot of people who were healed of cancer and other degenerative diseases such as heart disease and many others, with the power of fruits, vegetables and their juices. This - the natural way, which God has provided us for healing. Fruits and vegetables are the food for us to heal our own bodies. We should not try to cure chemotherapy, even in this it makes no sense. Our bodies are able to heal themselves.
Here is a list of some of the supplements that I use in large doses every day:
«Chlorella» and «Spirulina» Healthforce firms and 10,000 milligrams per day, «Truly Natural Vitamin C». It is an excellent source for the recovery of new cells, detoxification. They provide us with many vitamins and minerals. I advise you to visit their website and read about these supplements.
«Curamin», «Curamed», and «Tri Iodine» from «Terry Naturally» support multiple organs, the immune system and contain antioxidants. «Curamed» contains a high concentration of turmeric, which must take cancer patients.
«IP6 Gold» to support the immune system.
«Zymactive proteolytic enzymes dual power." All cancer patients should take it. Do you have any diagnosed with cancer, it is because your immune system is not working and your pancreas is sick.
potassium powder and «Key Glands liver" with www.thekeycompanyusa.com site.
I accept zinc, multi-vitamins, Ubiquinol, probiotics and several other natural products for my diabetes.
If you have further questions, you can write to me on e-mail hopeinthegarden@gmail.com.
Update, January 2014.
I want to report the good news: in December 2012 my cancer markers were more than 400, they were more than 200. In December 2013 my doctor even did not check performance, he just wanted me out of the hospital in June last year
. And now again I checked my markers, and they were at 48! Yes, it is yet not lower than 35 but not more than 400! It's amazing!