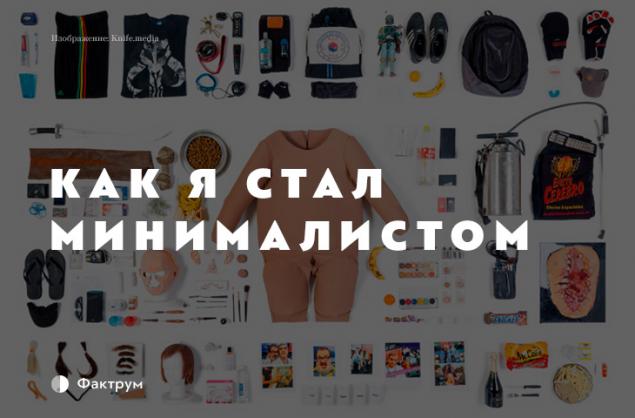 What can be new life in lean years when we used to measure changes in volume for the best money spent? Ironically, it is now fashionable in Russia useful method in the West. Igor T., 29-year-old marketing specialist from Moscow, talks about his semi-annual experience of life in the spirit minimalizma.A
Website happy to share his story with his readers.

***

In minimalism me spodvigla girl with whom we lived together: It was a classic Plyushkin hoarding stuff, and we are constantly quarreling, including so. My great-grandmother, incidentally, was the same: in Soviet times, not rich, she had saved three chest of drawers and touched the mind when moles ate her treasures.

In general, when we finally quarreled girl, I went to what was just picked up the computer, and thought it would be great to start with a clean slate and an empty suitcase. And that's what I have today.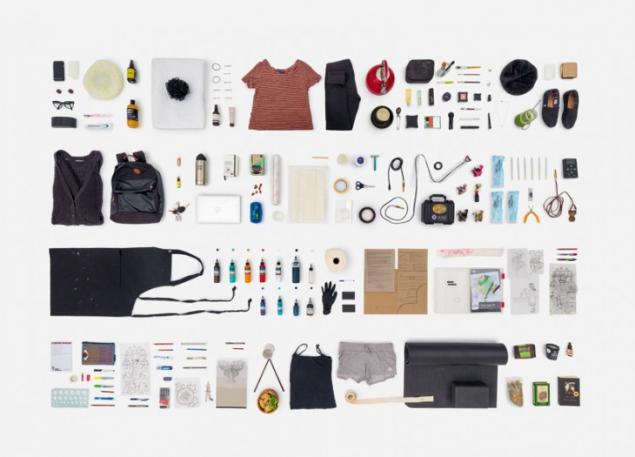 1. Computer h3> I have four Macbook Air, it provides everything that the average person may need to be away from the computer. If you clean the drive at least once a month, I think he will stretch for another ten years. The archive is stored in the "cloud».


2. Flash card h3> Titanium SanDisk's 8GB her a hundred years old, but it works without any problems on the working papers missing.


3. Backpack h3> Caterpillar city backpack with laptop compartment. Hardy enough if it does not carry the bricks, I started to deteriorate in the third year of constant wear. With him I am in office, and the pool and on the plane.


4, 5. Glasses h3> Two ikeevskih transparent glass. They are of tempered glass like, anyway, kept boiling water when brewing tea, cocktails, I, too, they do. Two glasses enough to with a friend or girlfriend to drink at home, but a big company has to gain disposable tableware, as student drinking. But even more fun.


6. Pan h3> The three-liter pot of Ikea - the most convenient volume. It is possible to mix a salad or cook soup, then to eat it in three days. The pan friend and I left completely miss it does not.


7. Aluminium bowl h3> For eggs, sausage, cereal, heating the first and other details have a bowl of thin walls, it heats up quickly. She salad bowl.







8 and 9. Table set for 12 items h3> Ikeja, 400 p. I bought it when I was waiting to visit my mother - my habit to use the disposable forks and spoons plunged to her in horror. Just 12 pieces - not a scam, I have them still leave their landlord when I move out, as long as I use only two.


10. Knife h3> Victorinox - opener, corkscrew, bottle opener for beer. Do not rust, blunts, the best gift I've ever received.


11, 12. The two bowls h3> Again, Ikeja. I used to take for granted the whole size-shaped series of plates, dishes, cups and menazhnits, but now I understand that it's a useless multiplication of entities.


13. Towel h3> A large towel with stupid camel, which we bought with my ex at a joint holiday in Egypt - it seems the only thing that reminds about it. One bypass them more comfortable in the kitchen paper towels on a roll.


14-17. Telephone, cable, carrying case, charger, headphones h3> I have an iPhone 5S, with the latest update of the power saving mode has finally become to save the battery, but in general I travel a lot, no smartphone so long pulls on a single charge. A friend gave cover with built-in battery, it makes the phone a bit heavier, but prolongs its life twice, and serves as a bumper. Well, charging from the network, from the cube aypada he quickly charged. Headphones Apple, the price is absolutely justified lifespan and quality of sound.

The phone and PC replace my library (I bought a Kindle, but he did not take advantage, gave his sister), so analog books in my apartment not at all. Impress the 18-year-old fan of Foucault I have, of course, it will not work, but not very much and wanted.







18, 19, 20. Underpants h3> 3-pack of Marks & Spencer, they have the best price / performance ratio of all that I have tried.


21 22 Jeans h3> Montana, blue, warm, and dark-gray Jack & Jones easier. In general, the smaller things, the more universal they should be, so you will not look to score on the image of the poor. Previously, I had black and khaki.


23. Pants h3> Uniqlo, their jersey cheap and pleasant feel on the body.


24-28. Socks h3> 5-pack of black socks.


29. Winter boots h3> Rieker - the quality is acceptable, the price corresponds.







30. Demi shoes h3> Skechers - I have the same model of buy every year, it is for the year (spring, summer and autumn) wears to zero, but it is convenient and it is not necessary to save the collection in the closet. For the gym, of course, you need a minimum of sneakers and pants, but I'm a lot of work to wind and fitness do not have time.


31-33. Three black T-shirts h3> Mustang - tight, do not stretch, do not crumple, do not fade. In general, eternal.


34-38. Five T-shirts with prints h3> Zara, Jack & Jones, Thai nouneym. I try to avoid the huge letters and memorable pictures on the entire breast, it only can be Superman.


39. Shorts h3> Paramilitary shorts in the summer and for the house - a lonely man oskotinitsya easily, so I keep myself within and do not go home in shorts.


40. White shirt h3> Zara, it is sometimes necessary to go to a business meeting with people who honor the dress code.






41-42. Two hoodie h3> Old Navy with insulated lining for the winter and Pull & Bear easier.


43. Warm woolen sweater h3> The dark gray, with a high neck, of unknown origin and weighs a kilogram and a half, but is fully justified in the cold and when sick.


44. Vest with long sleeves h3> Uniqlo, good to hook in the cold.


45. Demi-season jacket h3> Windproof black Jack & Jones with podstezhkoy.


46. Winter Jacket h3> The green jacket Uniqlo of the most dense, they have.


47-49. Hats, scarves and gloves h3> Springfield and leather with a label already unrecognizable.


50. 2 sets of bed linen h3> One Ikea, the second - some trendy satin by friends as a hint that I must think about a new girl.






How has my life after leaving minimalism? h2> At first I was afraid that she was poorer, and I'll be sitting in an empty room, like an orphan. Nothing of the sort happened, on the contrary - I stopped prokrastinirovat, staring at the trash, no longer irritated at a dump things, began to read more, fall asleep faster and better to concentrate on what I want to do. When you have the internet, it replaces most of the off-line amusement and progressing in it man or degrade - this is only his decision.

An item of fun - moving. Familiar rushing, pack, loaded their belongings into a gazelle, something loose and break, upset over the fact that so overgrown with trash, which is a pity to throw away. And I take a backpack, two bags of garbage to 120 liters, and sit down with them in a normal taxi.


What do I spend the money saved? h2> For more healthy food and travel, buy through Amazon e-books on the specialty. I go to concerts, helping parents save something.


What I can advise wishing to try minimalism? h2> If you've ever rented an apartment through Airb'n'b, remember what things were there in the kitchen and in the bathroom, the owners usually leave only the most necessary.

It is clear that living in your own home, you accumulate more things, I rented an apartment with an electric kettle, stiralka, lamps, that is, I do not have to carry it all. But still in the process, when you furnish your home, try to emerge from the euphoria of spending and think this thing - something you've always wanted, or just a "good buy" on sale? How often will you her use? For example, you are used to the classic stove with oven, but using the strength of the oven once a month. Is not it better to save three hundred dollars and a place by buying instead hob and aerogrill, or even one multivarku?



We, the men, it is easier to live than girls who are uncomfortable without decor and a host of little functional things. I would advise them to book Mari Kondo "magical cleaning», in it, among other things, it says: if the thing you are happy, leave it, if not warm - throw away. Or do not buy. This is the right principle.

Regarding clothing: believe marketer, passed upgrade courses on the psychology of consumption - the amount of cloths and shoes in your house is directly proportional to the volume of neuroses in your head. Superman Jobs and Zuckerberg wore the same image or not for minimizing the number of decisions - they have simply been more logical recipes on how to fulfill your potential and impress the world.



via knife.media/minimal/