December - it's time to experiment with Christmas dishes, to have something to surprise the home and visitors. And this does not necessarily spending the whole day on kuhne.Vse can make simple and delicious.
Website offers to cook several unusual colorful salads, so you can create a festive mood now.


French salad with orange and avocado h3>






Ingredients:


¼ cup of vinegar (60 ml or 4 tbsp. l.) 300 g of green salad leaves (eg Roma) ¼ h. liter. paprika 1 tbsp. l. Honey 1 orange ½ cup vegetable oil (120 ml) sliced ​​roasted almonds or other nuts (optional) 1 Art. l. sugar 1 avocado ½ hours. l. salt ½ onion head (preferably red) onions Preparation:

Orange disassemble into slices, then cut into slices crosswise into thin slices. Avocado cut into thin slices, onion - thin feathers. Mix in a bowl of chopped lettuce, slices of avocado, orange and onion. In a separate bowl, mix together all the ingredients for the filling, whisk together all the well with a fork. Refuelling can be done in advance and refrigerate. Before serving, pour salad dressing (number - to taste). Mix gently and serve immediately on the table.



Swiss Christmas salad


Ingredients:


1 small bunch of leaves 5-6 small beets or red cabbage leaves 1/3 cup pomegranate seeds 100 g large red globe grapes < 2 seedless mandarin 1 small onion 1/2 cup raw pecans 2 tbsp. l. dried cranberries 1 sweet apple 2 tbsp. l. apple cider vinegar coriander, salt, pepper, turmeric to taste 1 tbsp. l. maple syrup 1 slice toasted toast to decorate Preparation:

Beet leaves or cabbage cut into thin strips. Grapes cut in half, onion, mandarin and apple - into cubes, chop the nuts medium-sized. For the filling, mix apple cider vinegar, maple syrup and spices. Bread toast toast, let cool, and with a sharp knife or cookie cutters, cut out a star. Gently mix all ingredients, lay heaped on a plate and garnish with an asterisk.





Chicken salad with pineapple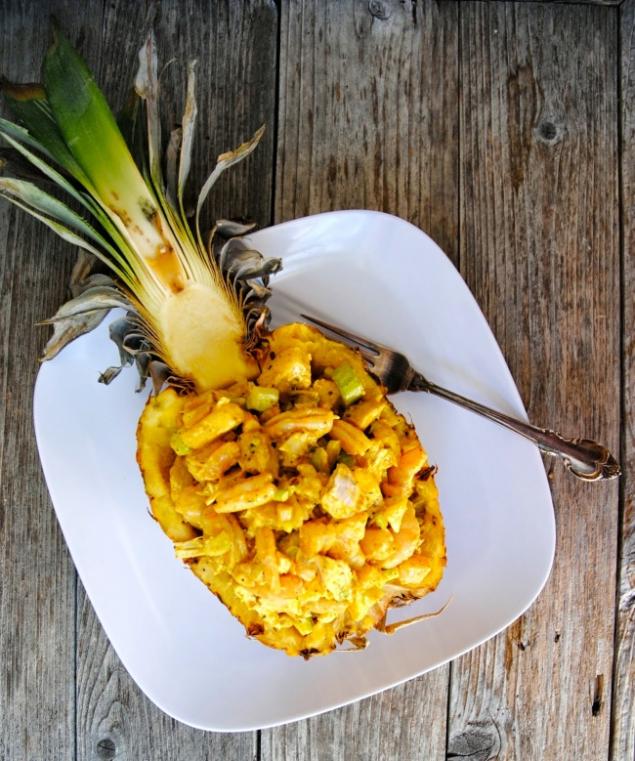 Ingredients:


1 large pineapple 400 g chicken A handful of walnuts a small bunch of cilantro a few feathers of green onion 4 tbsp. l. mayonnaise 1/2 ch. l. Curry salt and pepper to taste Preparation:

Thoroughly wash and cut the pineapple into 2 halves. With a sharp knife, remove the flesh and cut it into cubes. Chicken boil, cool and cut into cubes. Chop onion and cilantro leaves. To enhance the delicious taste of nuts, fry them in a dry pan for 3 minutes and also chop. Mix in a bowl, chicken, pineapple, herbs and nuts. Separately, mix the mayonnaise with curry and salt. Place the salad in half a pineapple and a little pepper.




Chinese cabbage salad with shrimp h3>






Ingredients:


1 small head of Chinese cabbage 100 g shrimp 1 sour apple 2 cloves garlic 2 tbsp . l. Vinegar 1 tbsp. l. olive oil 3-4 feather green onions 100 ml of vegetable oil (for frying) 2 g of seasoning for Korean carrot < salt and pepper to taste Preparation:

Heat oil, fry chopped garlic in it, a mixture of spices for carrots in Korean. Of peeled apple, remove core, cut into thin slices. Peeled shrimp toss into boiling water for 10-15 seconds, remove and let cool. Leave a few pieces for decoration and chop the remaining approximately 3-4 per side, to feel by heart. Chop cabbage, connect it with apple and shrimps. Mix the vinegar, olive oil, roasted garlic, spices, salt and pepper. Fill salad.




Salad "Nicoise" with chicken h3>






Ingredients:


300 g chicken 250 g frozen green beans 4 eggs 5 small potatoes 50 g pitted olives (kalamata) 150 g cherry tomatoes 100 g salad 3 tbsp. l. olive oil 2 hours. l. grainy mustard 1 tbsp. l. lemon juice 2 cloves garlic Preparation:

Chicken boil until tender. Cool and cut into pieces of a width of 1, 5 cm. For the filling, clean and chop the garlic. Beat butter with mustard and add the garlic and lemon juice. Whisk again. Chicken broth, bring to a boil, boil it until tender beans. Throw in a colander and cool. Boil potatoes in their skins, cool and cut into quarters. Boil eggs in a bag - 5-6 minutes, peel and cut into halves. Olives can be cut into slices, and can be left in one piece, cut the tomatoes in half. Connect salad, beans, potatoes and tomatoes, season with half the filling, mix well. Arrange on a platter, place on top of the chicken pieces, olives, halved eggs. Pour remaining dressing.




Salad with pasta and tuna h3>





Ingredients:


2 tbsp. l. Caper 2 tbsp. l. olive oil 1/2 ch. l. grated lemon peel 5-6 large lettuce 150 g cherry tomatoes 250 g pasta (pasta) 1 clove garlic 20 pitted olives (kalamata) 1 tbsp. l. lemon juice 350 g of canned tuna in its own juice basil leaves salt Preparation:

Macaroni boil in salted boiling water. Throw in a colander. Put in a bowl, add 1 tbsp. l. olive oil and mix. Open the jar of tuna, drain most of the juice, pulp crush the tuna with a fork, to get small pieces. Add the pasta. Prepare the filling: Peel and chop the garlic. In a small container, combine the remaining olive oil, garlic, lemon juice and zest, salt and pepper. Pour salad dressing, stir, put on a dish. Garnish with tomatoes and basil leaves.



You festive mood!

Photos in the preview: kathypatalsky.com



9 stunned appetizers for New Year's table
Edible ideas for New Year

via recepterra.ru/recipes/salaty/francuzskiy-salat-s-apelsinom-i-avok/