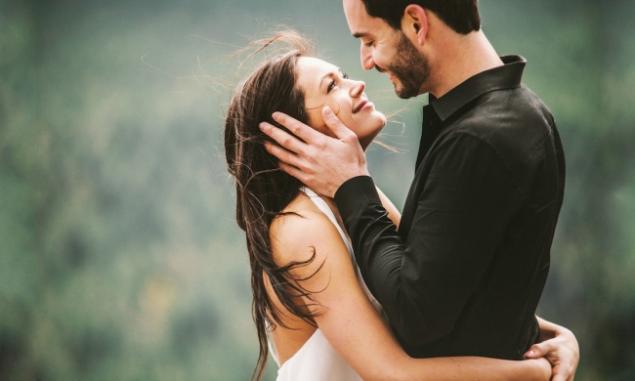 Sometimes, in order to marry happily, people - men and women - are waiting for many years. Some are too hurry and make mistakes, and some, on the contrary, is pulled to the point where the question of marriage ceases to be relevant at all, and the same mistakes.
And it should be something just not to miss this moment, which determines the whole life.
A friend told me he was going to school and to "Kashira" suddenly saw the one with which I would like to spend my life. I asked him: "Did she was extraordinarily beautiful?" He said, "I do not know, I did not even see her face." "What ?!" - I was surprised. - "So ... - he said. - Just a figure. " - "But you at least remember how she was dressed?" - "Of course! Skinny jeans, a blue windbreaker, worn-out shoes. " - "Is that all?" - "And yet". It remains to add that excitement he did not even dare to approach her. Morning train mercilessly shaking, she went on, "Kantemir", and he was left with this feeling for life. How it occurs feeling that you met her?
Rule № 1. It all started when one knows and no one knows why. Right. H3> A moment ago, you did not feel anything, but suddenly it happened. Look, turning the head - and you've brought it all the sights of its tower guns, and this sight does not get off, regardless of any stimuli. Friends may tell you something important, but glowing scrolled across the screen runs her image.

You can not turn away from him even at home, alone. You're waiting for something of this woman, but I understand that it's not just a desire to have it, no! It's definitely something different.

They say that it's not the pheromones, and the feeling that finally got the key to the castle without gaps, bedding and amenities here at anything: your inner profiles of the same, and it is clear without any bed.

In the end, a woman gets is not the way it looks or kept, and that a future that suddenly spread out before his eyes and promises bliss every second. You intriguing, as it would appear alone with you, in the vicinity, you want to get her astonishment, exhaustion. You want to be her element - a whirlwind, Buran, sandstorm - which she will not be able to resist.




Rule № 2. You do not get tired of it. h3> The wife - is not just a lover, is first and foremost a person with whom you are compatible, 24 hours a day. How healthy you are or caught a cold, dressed to the nines, or hanging around the house in shorts and Crocs, inspired tomishsya or boredom - your wife will take any.

On a date, you can stay with 6, 7, 8 hours, and then you still do not want to leave, although other even after a rough goodbye to say goodbye, and I want to be alone with him. Reluctance to leave - not because you still want something out of her, - the main sign that you can live in one house.




Rule № 3. It does not overwhelm you. In general, anyone - it's not in her way. H3> It gives you freedom and you know what - from the very first second. That is, it is already so the person - no matter how much it may be years - that is quite capable of not hang on you. You're not for her purse, and it is measured, and the other person, to which must be treated with respect. If a person respects the individual, it is called, everything. Basis.

If the middle of a conversation with you it missing a purring tone starts yelling or hiss at the waiter, requiring "clean tablecloth", know this: it will cost you about the same as it something you do not like. But you're not a waiter, you can not leave. About marriage there is clearly too early to speak: the nature fail in the first few hours. You be thankful for the universe that gave you a chance to review it.

A woman is really smart and will never be developed to insist on, try with the first steps to convince you. You're not an idiot, so that from the very first sentences of life begin to express their views, it is true?

You just feel that you took an important place in life, and that in itself is blissfully.




Rule № 4. It opens each time in a new way, and each time it pleases. h3> She was not necessarily deal with all kinds of sports, writing plays or go on a podium, each time hitting you, but - for unknown reasons - your every day opens it so that you understand: it is inexhaustible.

Since it is not just "not boring" - she raised a wonderful garden where you feel like an invited guest. Garden opens its doors to you, and you walk back a bit muzzy from the scents and walk until you get bored.




Rule № 5. She has merged with you voluntarily, being separate, and you accepted it, because it is very wanted. h3> Do you feel that you and some moment is it a single organism. It is unclear what the effect of it all: her own hands, feet, the view is good, what is bad ...

For example, if you're spending in political views, it is not just no reason to quarrel, but a chance to find a compromise, not pedaling and avoiding tenth road "dangerous" spat topic.

She - the continuation of you, Through the Looking Glass, which you will discover a lifetime.

It is for you is infinite. You fall into it, it in you. Year after year.




Rule № 6. She has no secrets hidden from you to harm you. H3> This is a very important aspect: its mystery, in which you have no right to interfere, it can not be directed against you. Sometimes, her whole being is love for you and all yours - love for her, that does not negate the existence of a personal space for each of you.

If desired, any of your SMS, any content in your office or home computer and sotsbloga be construed against you or her, but the main thing that even this desire did not arise.

If it has changed you, she will not herself, and finally admits to ease the soul - you, not a friend. And because it is - yours.




Rule № 7. It is resigned to the fact that you are destined to live a life together, and you are happy that this is the case. h3> You and she seemed to be stocked once inexhaustible patience, it mobilized for the passage of the longest distance.

Life will feel you are constantly putting steps: the car broke down, ill child was dismissed from work. There is a more serious matter - the death of parents, such as lack of money or just a long, hopeless, at first glance, the situation, "Russian blues", which like it or not comes and leans out of the blue. So - you in the first moment of the first meeting of your conviction appears that this man stand despite all nothing.

This is evidenced by all of her behavior, demeanor. You feel with all my being that your girl - a good man, patient, set up on you all their receptors, and it seems to be the magic that exists.

And, in fact, the way it is.









via www.desireehartsock.com/our-engagement-photos/