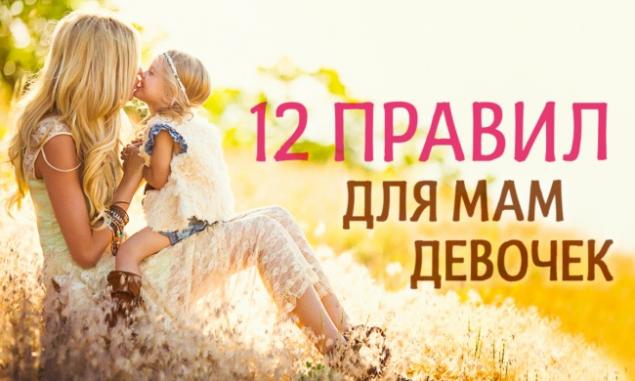 known blogger Carissa Ansell wrote an article about the education of girls. Her advice on how to behave with the young beauty, gained huge popularity on the Internet.
Website publish those same 12 rules that need to know all the girls' mother.

Educating girls is hard work, as well as the overall education of children. My daughter is eight years old, she was about to enter the world of adolescence. It scares me a little bit that, in principle, okay, because we can not protect their children from all the difficulties of this age. But it was in my childhood, we can lay in them the qualities that will help them grow up strong and independent individuals. With these thoughts I have collected a few rules for moms girls:


1. Your cosmetics - now her cosmetics. H3> My daughter really like messing with my makeup. Over time, it must be taught that the less makeup, the better, well, now it's just fun.


2. Talk about what a women's cycles, embarrassing, but it is necessary. H3> It's my job - to tell her the truth about her and my body. It should not hesitate to ask me about these things, it is necessary to be prepared for this.


3. Save her childhood as long as possible. H3> My daughter hates that she still can not use any cosmetics that can not itself choose clothes and that she still does not have a cell phone. And it's my job - not to put it in the adult world of carefree childhood.


4. Maintain a relationship with her dad. H3> It needs to know that there is a man who loves her. Thus, in the future it will not give your heart to the first that fell.


5. Teach her the value of money. H3> Give her daughter understand that the day will come when it will not depend on anyone. It should be ready to spend money wisely.


6. Talk about a figure very carefully. H3> It depends on you as a girl would take the figure in the future. You create in her mind the ideals of feminine beauty. Do not talk with her about the problem of excess weight, lack of volume in some places and a strong concern for all women about this. I assure her daughter that her body of the correct size.


7. Protect it and learn to defend itself. H3> The world needs strong women. My daughter knows that she can always count on me, but it must try to deal with the problem yourself before you call me.


8. Praise your child for her character. h3> You do not need to do only compliments about her beauty. She needs to know that there is something more than just good looks. Therefore tell her that she's smart, brave and kind. These are things that will not go away with time.


9. Demonstrate margins in dealing with people. H3> Help her to understand that it should always be treated with respect. Explain what is good and what is bad, on the actions and not in words. After all, the word will be forgotten, and your actions will always be an example for action.


10. Follow your own dreams. H3> Your daughter will believe in their own dreams, understand how important it is to do what you really love, if you show it to your experience. That's why I read my daughter's articles and blogs, share news and tell about the successes. She knows that I have certain goals and desires, for which I am working hard.


11. Teach her to be prudent when it comes to boys. H3> Mind, intuition and trust their own feelings - you need to consider all three points. Let her remember.


12. Explain that it should appreciate. H3> Talk to her openly about relationships and how they should or should not develop between people. And that it should see around.

Preview: McKinli Hatch







via devandmcki.blogspot.ru/2014/06/boho-family-photos.html