In Moscow Motion designer Artem Kurenkov in his thirty years of the 16 international awards. Including about a dozen received at the prestigious Promax BDA.Artem sure that nothing interesting motion design in the schedule does not exist, and yet he truly does not know what to do in professional competitions, but to win. The recent and perhaps the most famous work Kurenkov - Motion graphics for Eurovision-2009 along with a few freelance designer.
Site Artem asked to answer some of our questions. The result is a decent-sized essay obscure in our society is the theme «Broadcast Design». And I realized one more very important thing about Artem: besides the fact that he is a good Motion designer, he is also a very interesting person.
Read the story in the first person and see.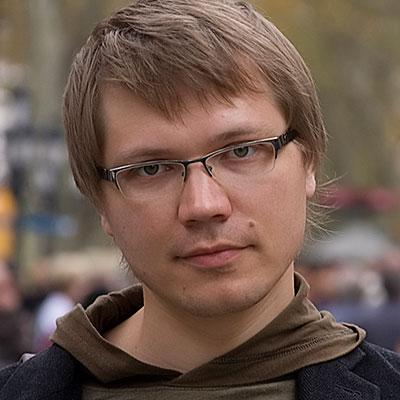 Why Motion-dizaynMoushn design was chosen spontaneously, it is absolutely unconscious decision. Just motion design - it's the fun that can be design in general, involving just a thousand skills. In the television schedule, and you are the director, and writer, and designer and copywriter, and everything in the world at once. This freedom of action is captivating. It is impossible to miss in principle, and there is always something to learn.
If we look at the graphic design, we see there the trends, repetition, copying, long tradition. In motion design all that is in its infancy, the story of his fresh enough not to copy other people's work, and do something different. Pronounced trend began to appear in all three or four years ago. We live in an explosion of technology, and it is unique for motion design time. It will take a few years, the mine will be developed, and all that remains - is to go on the thumb. It's like a rock and roll in the late sixties that those guys were the first and remember musical history, and today the group catches a glimpse of the season - and lost.
Demoreel 2009
What will fly ten years ago I was sitting at home and freelancing for random customers (from the signs on the door to the interior of clubs), and a friend came to me and invited me into the studio to shoot videos. I then thought that this brave new world that the demigods are engaged in this, and I'm not in this life will not do. In fact, everything is much easier. I know designers who are afraid to sit and Max open because there is a lot of buttons. Believe me, it's easier than it sounds.
KonkurentsiyaKonkurentsiya market Broadcast design as it is absent. What competition can be when the studio for three months can not close the position. Now there are more or less specialists who have an interest in the case from emerging designers have the opportunity to study, but even a couple of years at this stage would not close.
7TV On-Air Clock2008 Promax / BDA Gold & Silver
ObrazovaniePosledny time the client was interested, if I have specialized education, eight years ago, and I did the interior of the flower shop. All are primarily interested showreel that done, at what time and at what price, my biography of the client is not interested in completely.
I myself studied at the Philology three and a half years, but my idea of ​​philology is absolutely not in line with views of the teaching staff, and I went from there. Then I was obsessed with the psychology of advertising, bought and read everything he could on the subject. Make yourself a t-shirt "is translated by the Faculty of Psychology" and said so to the dean of BSU. I just took a third course. Now I'm at the British Higher School of Design, the program of higher education (which gave me a lot of surprise in the first year of study). Now I think about whether to continue.
Two years ago, I was not familiar with any of the "real" designer, I was curious about who they are in general, which in the profession standards, rules, patterns, and I went to the Briton whole thing to find out. I do not consider myself a designer: designers wear funny clothes and ambitious move layers in Photoshop, much more interesting to do interesting things and not be bound by a set of every identity. The client, of course, I say simply: I am a designer. He believes.
Big Racing WeekendOmni Intermedia Award Spring 2008 Gold
First proektSamy first project - a song Adrenalin group Total, I was doing three-dimensional colored spots, now this whole trash, at the time was a normal clip. Actually, I think every three months, so that now I know how to do the design. It's - I think to myself - I used to do in the design did not understand, and now something for sure and know for sure. And so every three months. Works of his three-year-old did not try to show, they now look absurd and ridiculous. Besides growing industry itself, and that was acceptable three years ago, now brings a smile. You've seen the very first television screen? That's just our jobs in ten years will be perceived: condescending smile and nostalgia.
7TV Countdown2006 Promax / BDA Silver
OstalnyeYa know a few more of the same freelancers. Some specialize in a movie, someone on advertising, someone on the concert schedule. Of course, it alone is never overpower challenging project. Here, as in jazz: all gathered at seyshn, worked, talked and tired but satisfied dispersed. But mostly the people, of course, sits at the studios. But sometimes it's an illusion, because most of the time a person is sitting in his corner and something there your doing. He is afraid to share knowledge, he was afraid to share the success with a colleague, he could hardly guess the meaning of the word collaboration. But when a project fails to assemble a team and work together - it's very cool. Good command replaces a genius, right? Under the project there are always interesting people, not necessarily at the same time a year to keep them in the state, is sufficient to meet the desired composition in the right place, such a group of operational design response.
7TV Season 2007 AutumnOmni Intermedia Award Spring 2008 Bronze
Unlike graphic dizaynaMne like to discuss differences Broadcast design of graphic design. I think they are not so much related, as it seems at first glance. Here are all the graphic artists and I say we love drawing channel Culture, that's cool. That's what they understand, they held a lecture Constructivism. And in fact it is stuck schedule a hundred years ago, right out of mothballs in television. Twirled, twisted - Design received. It is not Motion design, it's boring. Motion design - this is when you are no other means to repeat what you can do in moushene.
Look at the site made a graduate of the polygraph. This static brick that seems to be saying to us: I read Bringhurst. There is nothing interactive, there is nothing on the site. So in Broadcast design, when a man five years paints a plaster head and typesets booklets, and then comes to the Broadcast - can be seen immediately. Motion design lives only when you no other way to say it is a great story, expanded in time mikrokino, highlight contemporary art, if you will.
7tv Season 2006 SpringThe Omni Intermedia awards Spring 2007 Bronze
Picture and smyslVkladyvat sense in drawing TV channel - is a sore subject. For some reason I think it's better when there is sense than when it is not present. As per the basic idea easier, clearer and more correct string other ideas. The point is needed if there is a problem of brand building. And the question of branding - it is a question long-term relationship with the audience. If you have plans for the next few years - will build a brand. If there is a problem quickly sell advertising - would be enough of meaningless pictures. One of the leaders of the channel told me "for me there is no audience, for me there advertiser».
With this approach, there is no question of branding itself as long as there is something beautiful three-dimensional back and forth to fly, and it is fine. And in the next season to fly had something else in a different color, as though something new appeared on the channel. The meaning of the pictures themselves nobody is interested in this approach. On the one hand, it gives the illusion of creative freedom on the other hand, do not use the full potential of Broadcast Design. That is why I have so many awards, I'm doing the last six years "festival films," and that's why I went into freelancing. Now I'll meet with the client, helping him solve his problems and find solutions that no one except me they could not find, and it's much more interesting than just making pretty pictures.
The most interesting proektIz those projects in which I was the most difficult and most interesting was, of course, the project Contest. I am, among other freelancers hired Raketamedia Anton Sakara. It was a hardcore and a real team effort. The more complex the project, so it is not necessarily more interesting, but here everything matched. I find it interesting just to solve problems, and there was such a good all you want, every day had to invent something for these monstrous screens frenzied resolution.
Eurovision 2009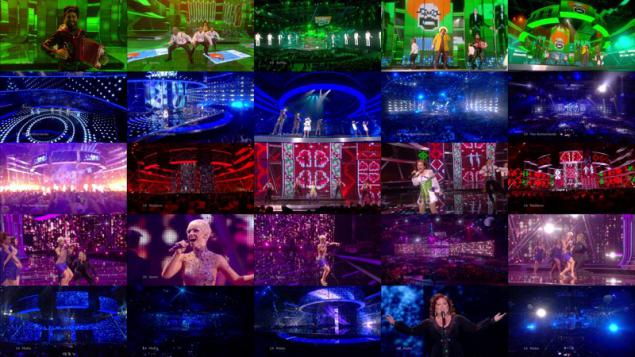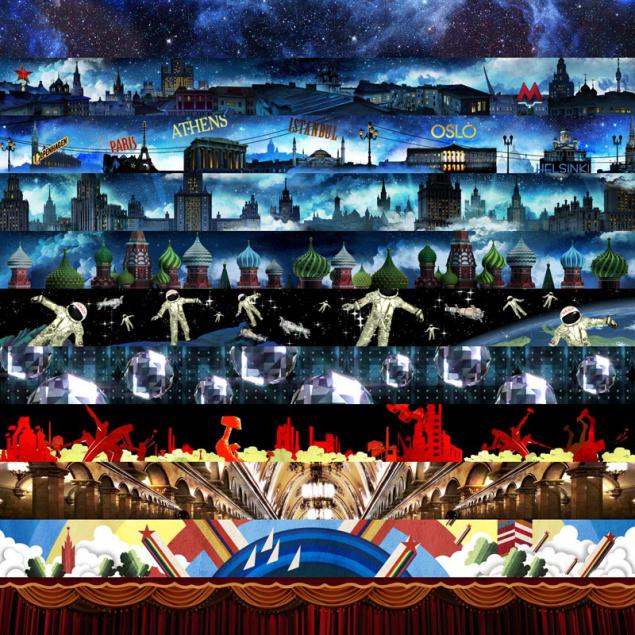 Communication with klientomOsobyh difficulties in dealing with customers, I do not feel, I love to communicate with the client. Among the designers and not only designers, have common phrase that the customer m-dak. I do not understand is, I have not had such clients. There are difficulties, it is sometimes difficult to explain what would be the output, motion design in general is difficult to explain on the fingers. There are clients who do not understand the animatics, they get scared and say, well that's the way it will be a gray? And it is useless to show them separately sketches separately animatic. But it's all working moments. Most nerds do not happen, maybe because I like to communicate with the owner or senior management, their brain is the result of sharpened rather than "I want a little more red in." Managers tend to focus more on the concept of "cover-ass" than the result, here are a little bit strange requirements. For example, a nice woman demanded that all graphic elements that appear on the screen, the screen and remained (dates, names, logos, phone) At the end of the roller there were five and four phone logos. On the proposal to remove or break the information on the major and minor, she reacted very violently: "You do not understand, we are not branded page! We need to brand every page! "But this, fortunately, very few.
Fly Fishing AcademyOmni Intermedia Award Spring 2008 Silver
Awards and parties went once at Promax-BDA in New York, where we once again received a lot of awards, I really enjoyed it. But I do not know what to do in the competition, but to win something. I know very few people from the industry, and can not hang out. All winners get in the mail. For example, I was recently at the CG-Event'e simply for the purpose of at least somewhere has to go. I do not know where to put yourself out there: people all around, they all go back and forth, I also went back and forth for two days and looked around. Perhaps this can be considered as communication with colleagues? But in fact, I am pleased to communicate on professional topics, I did not shut up. If there are any questions or suggestions - I'm happy to answer.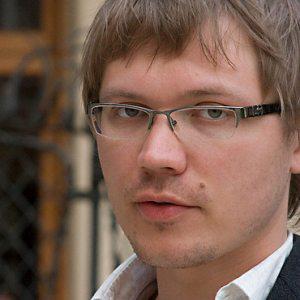 Seven Sport DaysThe Omni Intermedia awards Spring 2006 Bronze
Judo World Cup openThe Omni Intermedia awards SPRING 2005 Silver
Dr. T shows on MTV
Muz TV Advertising
Muz-tv Pro-Obzor
Muz-tv Interstitial Night
Stars Burn
Photosexia
23 in stock! 46 Comments
August 13, 2009
46
18012

207 484


12 cool pictures of how to be a cat



224 504

"Present" - video that made our hearts shrink



81956

25 Soul Plane phrases from favorite cartoons our kids



1,005,631

As we meet



218 994

27 short tips



117 262

15 wisdoms Estee Lauder - a woman who knew a lot about the beauty

need more interesting articles!