One can endlessly talk about how we all love nature, in the meantime, rivers, lakes and forests of our country continue to suffer from pollution and construction of ... 1. Dvina-Pinega forest (Arkhangelsk region) 35,487,791
This forest is one of the largest lowland spruce forests in Europe, but today it is actively harvested. Since 1990, the territory of the Dvina-Pinega forests decreased by almost 30%.
2. Island Starichkov (Kamchatka Krai) 65,508,580
Fishing on a commercial scale destroys the unique species of fish and crabs in Avacha Gulf, which is located near the Kamchatka island Starichkov that affects the number of birds.
3. Southern Baikal (Irkutsk region, Buryatia Republic) 77,997,216
The infamous Baikal pulp and paper mill waste products dumped into the world's largest fresh water source for tens of years. Today, the lake is still in need of cleaning.
4. Virgin Komi Forests (Komi Republic)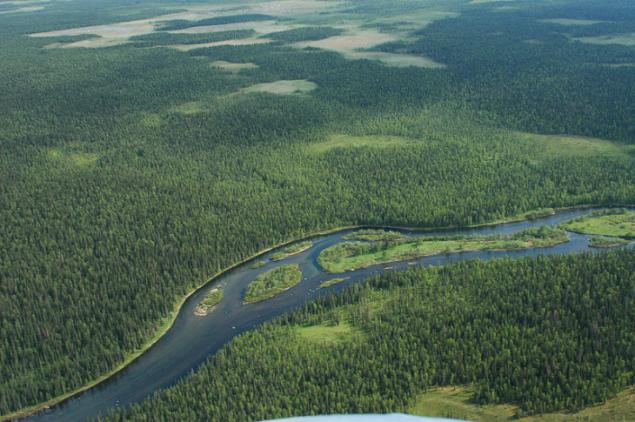 Komi Forests continue to suffer from the drilling and blasting operations, ongoing gold miners.
5. Nenets reserve in the Pechora Sea (Nenets Autonomous District) 54,620,455
The unique ecosystem of the reserve, according to forecasts by WWF and "Greenpeace", can destroy the projects of the company "Gazprom Neft Shelf," which launches here a platform for the development of the oil field.
6. River Mzymta (Krasnodar region) 72,731,520
Olympic construction in the area of ​​the river had on the ecosystem of the place of toxic effects: Mzymta contaminated with arsenic, phenol and oil products.
7. River Zhupanova (Kamchatka Krai) 85,654,069
Environmentalists are sounding the alarm, because the planned construction of a cascade of small hydropower plants will lead to the fact that part of the river basin Zhupanova fall under flooding and hydroelectric infrastructure will destroy not only the part of the valley, but also its unique inhabitants, including reindeer.
8. The wetlands of the delta of Kuban (Krasnodar region) 48,323,231
On the one hand, the wetlands of the delta of the Kuban suffer from industrial progress (exploration and production of oil and gas, sewage, pesticides) on the other - from the negligence of the population, poaching and dumping.
9. Angara River (Krasnoyarsk Territory, Irkutsk Region) 86,729,630
This famous river, alas, can be completely lost for posterity. Angara is suffering from stage located here hydroelectric and industrial waste business.
10. Forest near Moscow (Moscow region) 62,716,938
Due to the expansion of the boundaries of Moscow suffers forest. Important role in the destruction of his play, and forest and peat fires. There is a danger that the present descendants of Muscovites will have nowhere to go to the country.
via factroom.ru