One of the most refreshing and delicious food of summer is watermelon. Its like almost everything from small to large. But most likely he ate only raw. And there are so many interesting recipes that can be implemented. Such dishes of watermelon as a cake, sorbets, salads, jellies, ice cream and many others, not only please the eye, but also the stomach. We suggest you learn 7 original recipes watermelon.
1. Watermelon sorbet
Ingredients:

1 tbsp. sugar; 1 tbsp. water; Article 8. watermelon flesh seeded; 2 tbsp. l. lemon juice.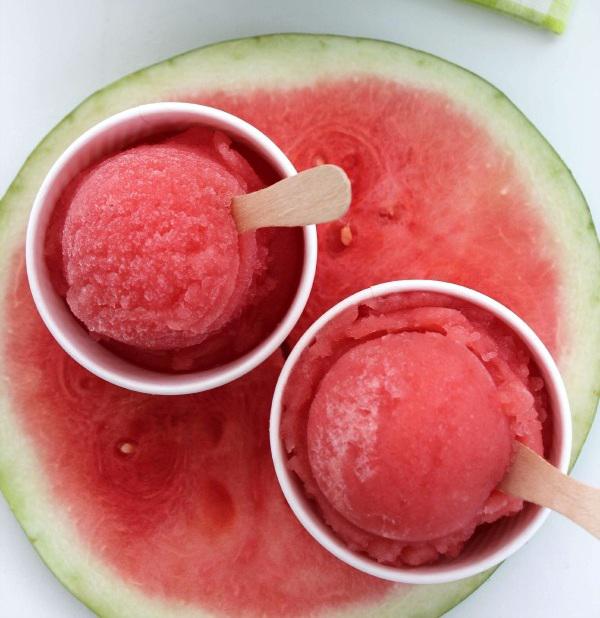 In a small saucepan add sugar and water, bring to a boil. Cook until the sugar dissolves. Then put aside to cool down.

Vzbey watermelon and lemon juice in a blender. Strain through a large sieve weight. So you can get rid of the seeds. Add to the watermelon mixture cooled sugar syrup and vzbey else. Cover and place in refrigerator until solidification. Stir the mixture before serving.

2. Cocktail "Watermelon happiness»
Ingredients:


watermelon pulp - 400 g; honey - 300 g; juice of 2 lemons.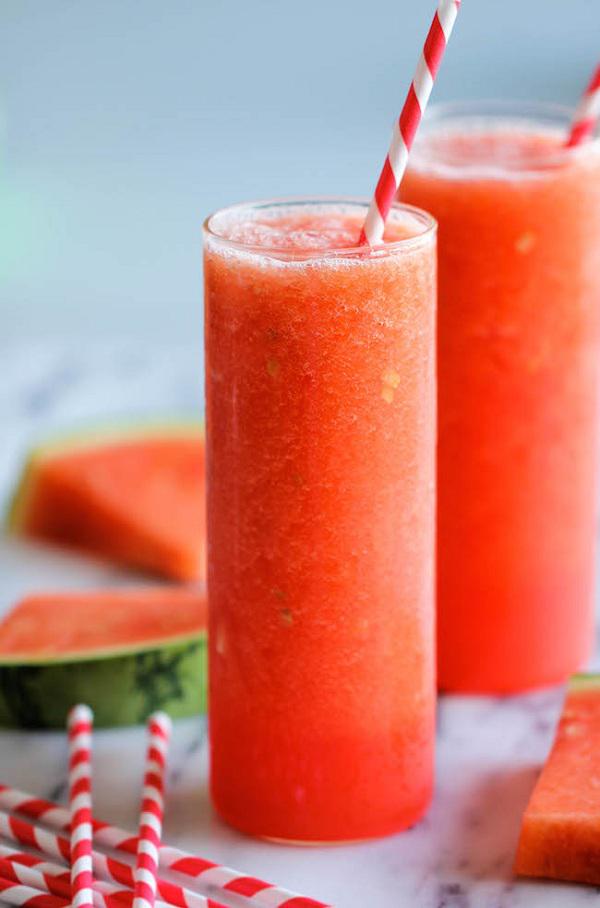 Vzbey watermelon flesh in a blender without seeds, honey and lemon juice. Fill tall glasses with crushed ice 3/4. Pour watermelon mixture. Can be served!

3. Salad appetizer with grilled watermelon
Ingredients:


8 slices of seedless watermelons, a thickness of about 2 cm; 2 tbsp. l. olive oil; 5 h. liter. lemon juice; 5 slices of feta cheese (a little more than 100 grams); fresh mint leaves; 3 bunches herbs to taste (arugula, lettuce); salt and pepper (to taste).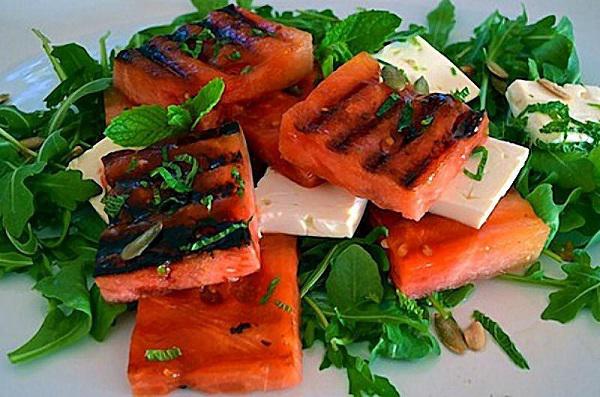 Rascal grill. Use the paper towels to dry the pieces of watermelon and put them on the grill. Fry each side for 2 minutes.

Mix up the greens with 2 ch. L. lemon juice, olive oil and a pinch of salt. Lay greens on a plate, put a slice of watermelon grilled toasted side up. Add cheese and a few slices of watermelon. Fields of top 3 h. Liter. lemon juice and a little salt prisyp and pepper to taste.

Decorate with mint if desired.

4. Watermelon ice cream
Ingredients:


700 g watermelon flesh, peeled and pitted; 2 tbsp. l. sugar; 4 tbsp. l. chopped fresh mint leaves; 2 hours. l. grated lemon peel; a pinch of salt.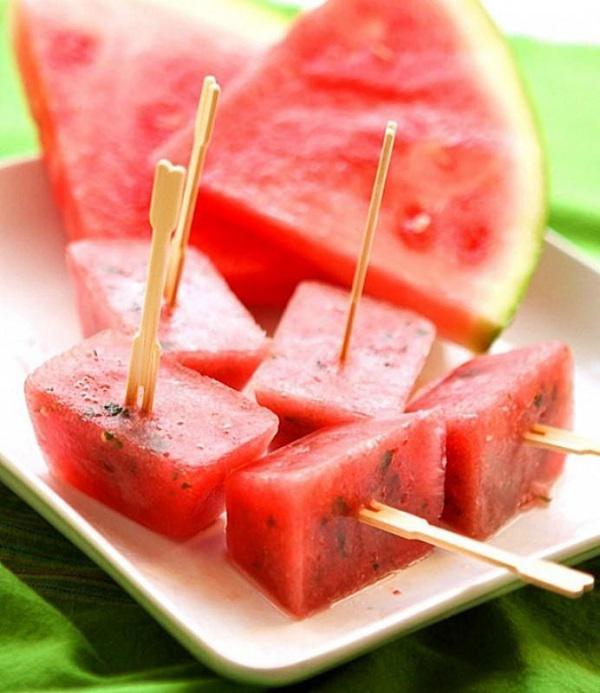 Using the blender to crush the flesh of watermelon with sugar. After add the mint, lemon zest and salt.

Watermelon pour the mixture forms for ice cream and refrigerate. After an hour and a half in the form of rods can be inserted. Leave the ice cream in the freezer for another 3-4 hours.

5. Watermelon Jelly
Ingredients:


3-pound watermelon with rind; 20 g of gelatin; 1/2 Art. sugar; 1/4 Art. lemon juice; vegetable oil.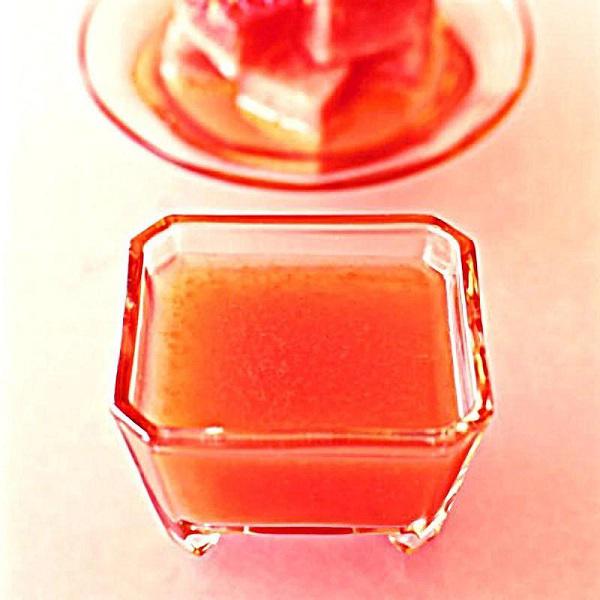 Cut the watermelon into chunks and peel. Vzbey pulp in a blender to puree. Strain through a sieve weight. Get about 3 cups of juice.

Mix gelatin with 1 tbsp. watermelon juice in a bowl. Let it brew for 3-5 minutes.

Heated in a saucepan over low heat the remaining watermelon juice with sugar. Gently stir until the sugar has dissolved completely. Then add to the mix a prepared gelatin, lemon juice and turn off the burner.

Rift watermelon mixture into molds. Before that, they need to be oiled. Cover and refrigerate for 8-10 hours.

6. Candied watermelon peels
Ingredients:


2-pound watermelon; 700 g sugar; 1 liter of water; 100 g of powdered sugar. < /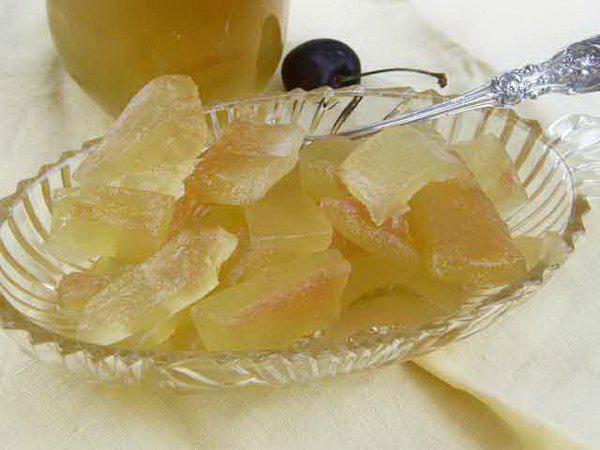 Cleanse watermelon rind of thick peel and cut myself to pieces. Then wash them in cold water. Put sugar in the syrup prepared from a liter of water and 700 grams of sugar and to boil until they are well impregnated and become transparent. Then Throw them in a sieve. Give syrup to drain. After decomposable peel on paper towels.

Dry at room temperature or in an oven at 35-40 ° C for 12-24 hours.

Then peel Pour some sugar, stir, otsey surplus sugar, a little dry and put in a jar. Cover the jars with cellophane or parchment. Candied melon is used as a dessert for tea.

7. Delicious salad
Ingredients (to taste):


seedless watermelon; blueberries; strawberry.





Mix all ingredients, beautifully pre-cut them. Can sour cream if desired. Done!

We hope that the idea occurred to you like and you want to bring them to life. The dishes are so good that I want to do them right now.

Share with your friends the amazing recipes from watermelon!

via takprosto cc