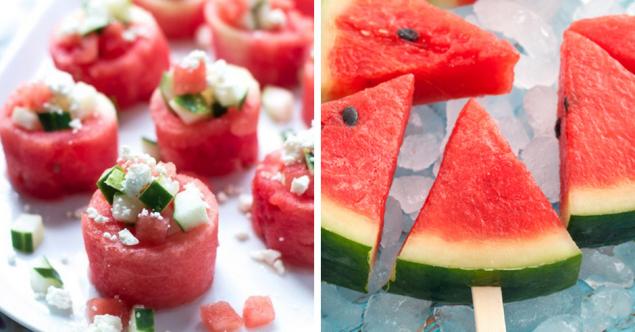 Everyone knows that watermelon is a berry. Very useful berry, which has the most favorable effect on the human body and strengthens health. Watermelon contains large amounts of vitamins, minerals, fiber and antioxidants that cleanse the body, eliminate toxins, improve the digestive system and elevate mood.
And watermelon can be served and consumed very original and unusual.
The website
advises 15 delicious ways to eat watermelon.
Pizza of watermelon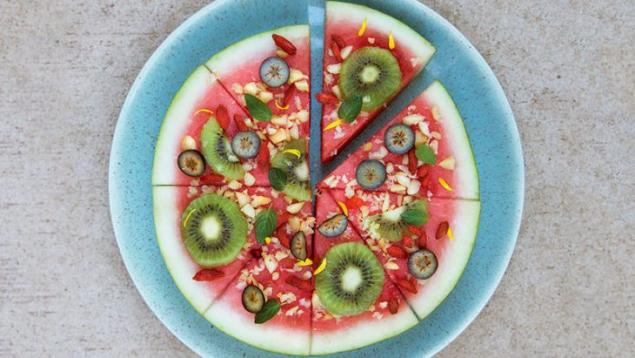 Photo source: Kitchenmag.gillom need to replace your favorite pizza to a cool alternative of watermelon. Maximum vitamins, minerals, fiber and antioxidants. Add your favorite fruits and berries to taste, to create their unique and unrepeatable combination.
You can sprinkle this gastronomic delight feta cheese, herbs or chopped nuts (or all together). Will be even better!
Ice cream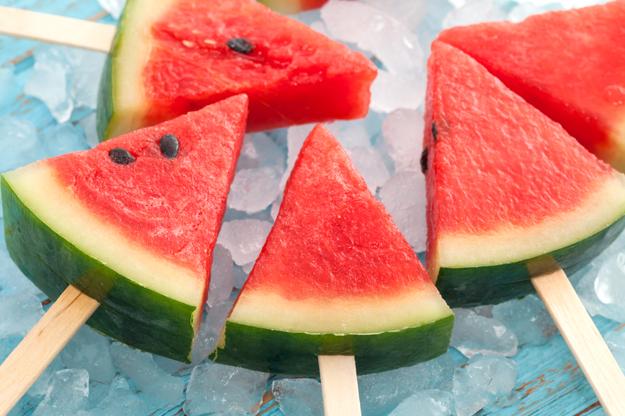 Here is the original ice cream can be done in a few moments of juicy watermelon. You only need wooden sticks. You can chill the watermelon in the freezer before use.
Snacks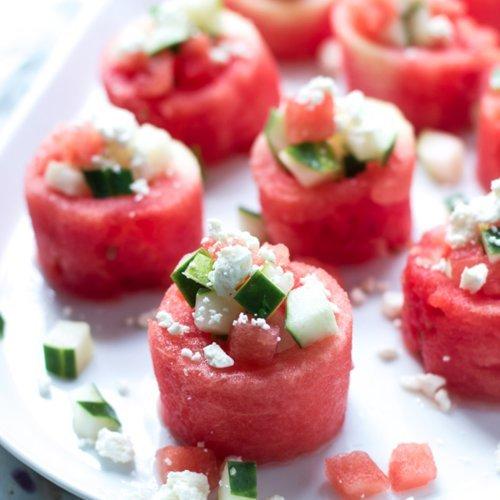 Are you expecting anyone? From watermelon can build delicious snacks for the holiday table. Create your favorite combinations and experiment with ingredients. Tip: watermelon goes well with other berries, fruits, some green vegetables, for example cucumber, greens and cheese.
Decoration for drinks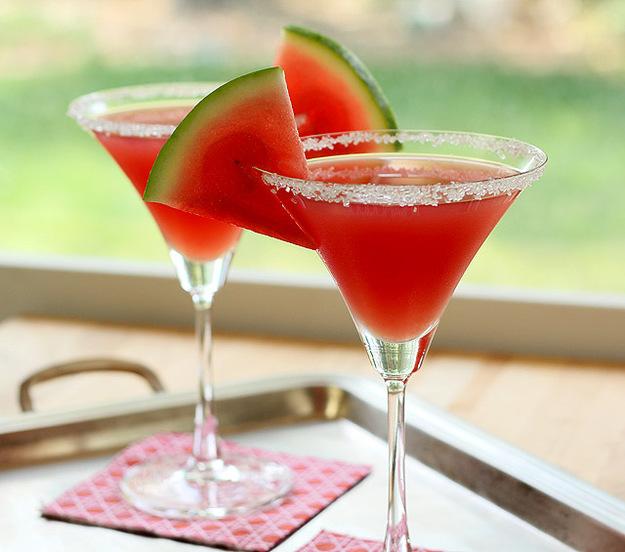 Usually drink decorated with a slice of lemon or lime. Be original! Decorate drinks and slices of watermelon. Get summer cool and appetizing.
Canapés on skewers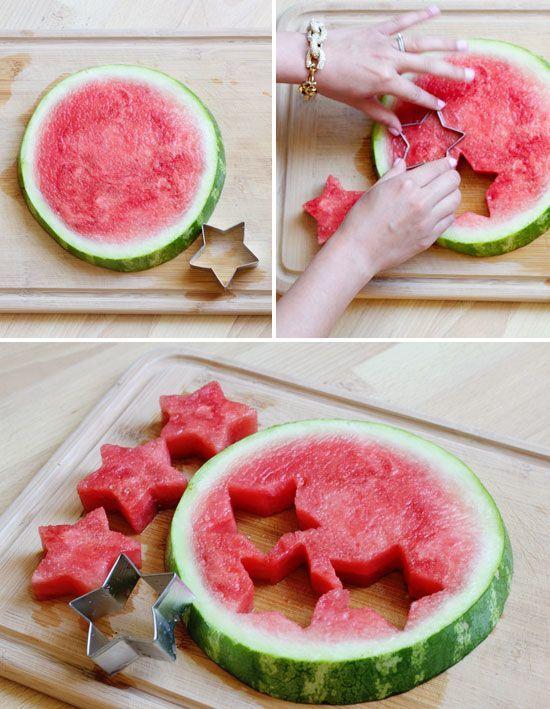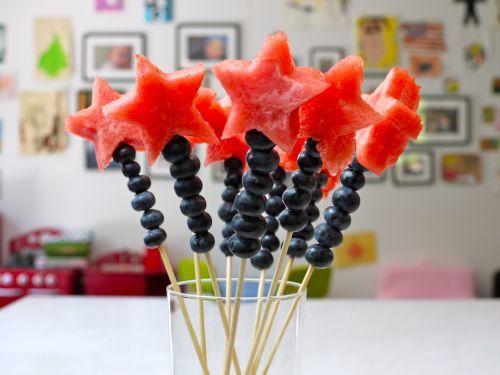 Of watermelon is an excellent canapés. Cut the berries into small cubes and together with the other ingredients put on wooden skewers. And can and does use the molds for cookies in the shape of stars or hearts. It's a very impressive and festive!
Instead of salad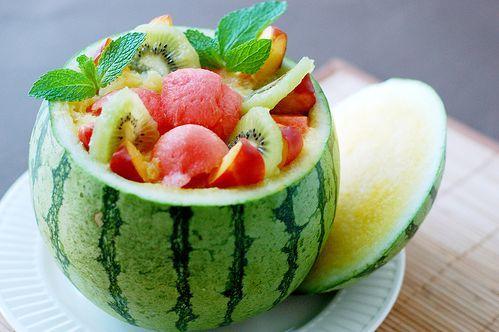 Fruit salad can be served not only in the bowls. That's so cool and very original option. The food in this dish gets even tastier.
Instead of glass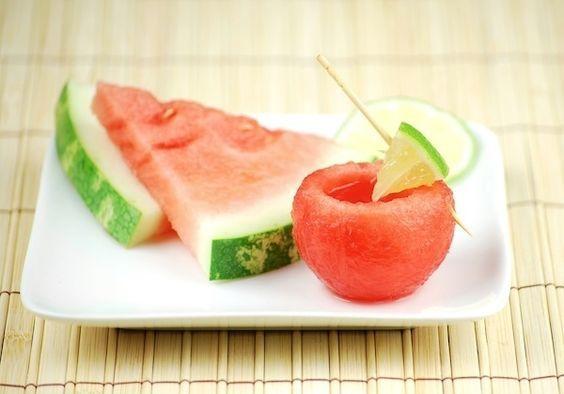 Cocktails for a summer party can be served not only in glasses but also in the pulp of the fruits. Watermelon for this purpose is ideal. To build such a neat edible cups is not so easy, so arm yourself with patience.
Cake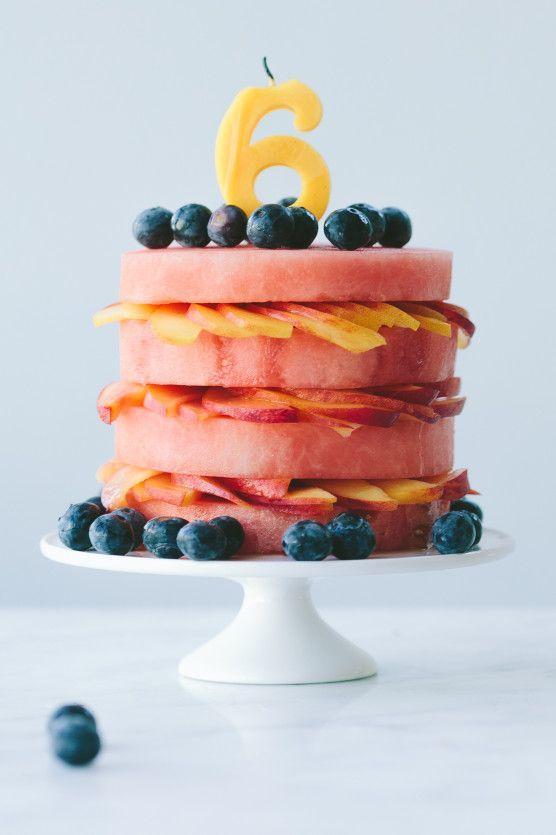 Watermelon cake is a hit of the summer season. A lot of options. You can even coat the watermelon cream cheese or cream. Will work very nicely. The lazy can just cut the watermelon into slices and decorate the top of the watermelon balls.
Pitcher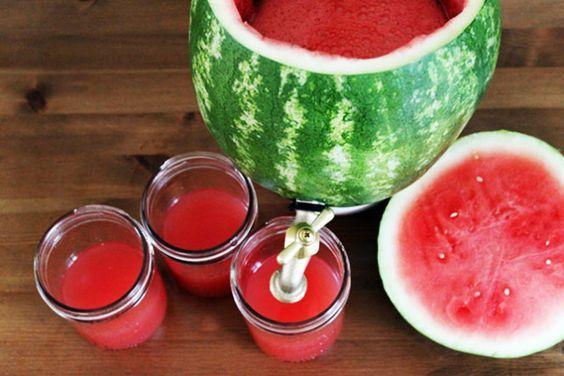 Great idea for summer get-togethers on the Villa terrace or party in the city. In the hot season everything is constantly thirsty and drinks disappear quickly.
Pitch here is a pitcher of watermelon. You'll need a small tap and sleight of hand. As for water-melon it is better to remove it and give it a liquid consistency, then pour back. Otherwise there is a risk that watermelon juice does not flow.
Instead of a water-melon it is possible in principle to use any drink. So cut the watermelon has the maximum crust remained solid and can be used in place of the pitcher.
Rubik's Cube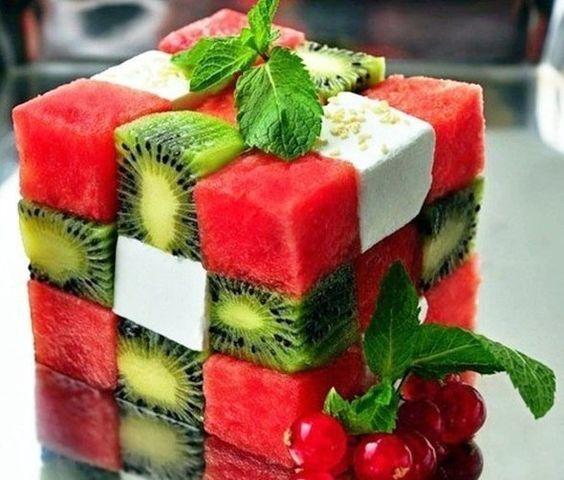 Try to build an edible Rubik's cube. To make it very simple. It does not need to make any effort. You'll need a fork or spoon. Suggest to add to arupusu kiwi and feta. Will and tasty, and appetizing.
Ice cubes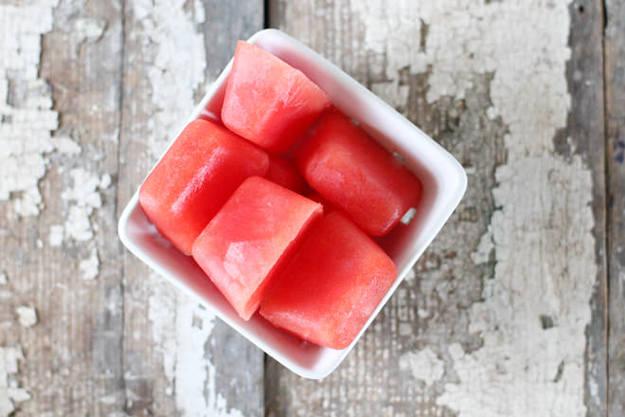 You have probably heard that you can freeze olive oil with herbs. But you can watermelon juice. These cubes can be added to smoothies, water and other beverages.
Shark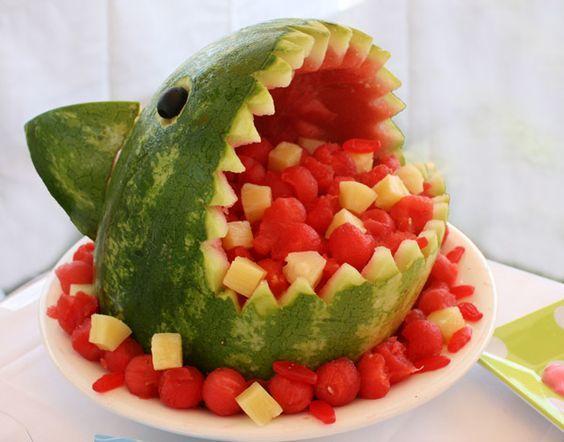 Based on the movie "Jaws". Only in our case, the shark is quite harmless, and one bite is not going to. So that you can safely get out of his mouth a watermelon slice. This idea is a perfect fit with a theme party.
Grill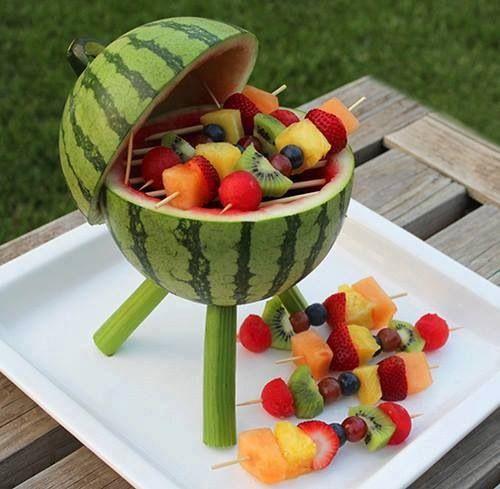 From watermelon, you can build a decorative grill. Skewers with fruit and berries will replace the kebabs. Beautiful, stylish and original!
Carving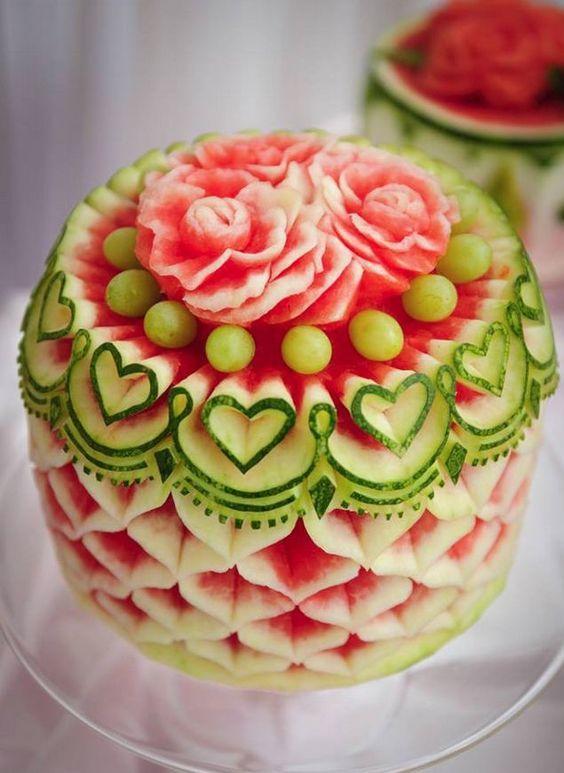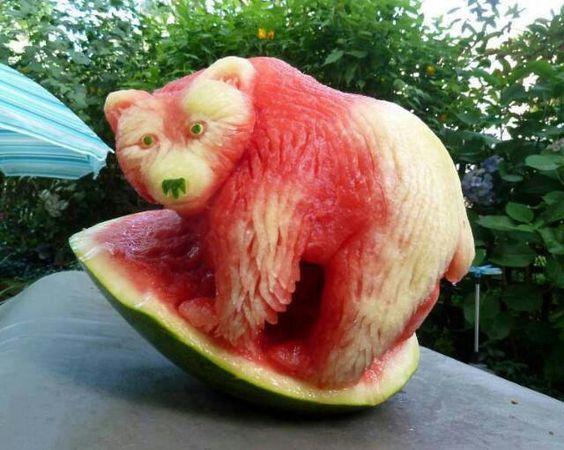 Watermelon is an ideal fruit for carving. If you still don't know what carving is an art of artistic cutting of vegetables and fruits. However, it is better to see once. Beauty!
Basket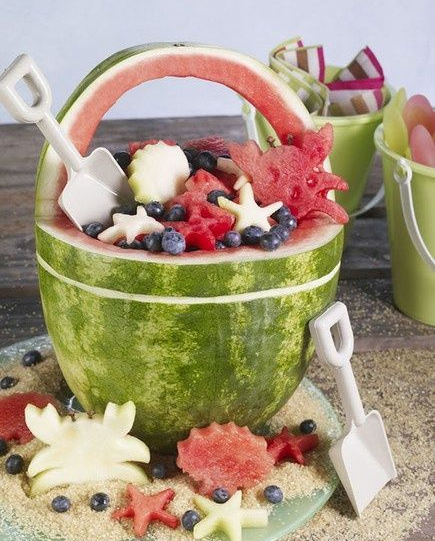 From watermelon you can make a cool basket. In the role of treasure can be different fruits and berries. But instead of sand you can use any cereal or cane sugar.
via kitchenmag.ru/posts/8536-tak-arbuz-vy-eshche-ne-eli-krutye-idei-i-lajfhaki