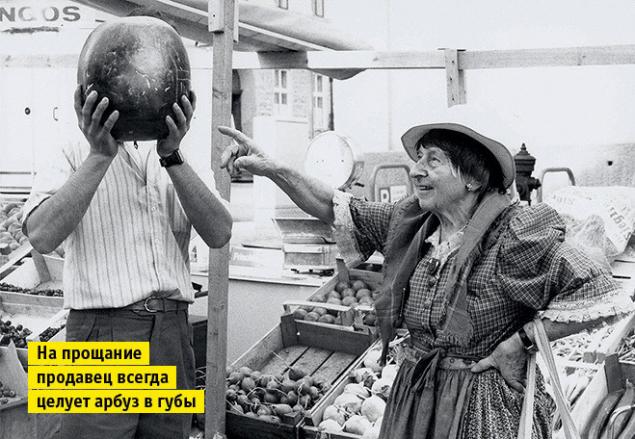 The late varieties of watermelons ripen in late September, so you have plenty of time to hold the watermelon season. Unless, of course, carefully read our advice.
Micropropagation
Choose watermelon exclusively on external qualities, not allowing the seller to cut the watermelon pyramids, circles and hearts. Its not too sterile knife he can bring him unwanted microorganisms, and because the flesh of watermelon is a great medium for the rapid multiplication of microbes. Watermelon, of course, doesn't make them harder, but the health risk will appear.
Oncoming lane
Peel a ripe juicy watermelon, just like good TV, sometimes contrasting. Light green stripes on it must alternate with dark green, at least — on the contrary. Such color diversity suggests that watermelon grew a good boy and full of nutrients. Also, every self-respecting watermelon should have a white birthmark on the side. It is lighter, the longer the watermelon was on the vine, gaining strength.
The main thing — the tail
All watermelons have a tail, which does not allow them to just roll with melons, taking the savings of the parents. When cotton aphid athlete Matures, the tail dries out and cracks. The drier and bezzhiznennaja the tail of your choice of watermelon, the more confidence that he matured in the garden and not in a container on the way to the market.
Click
To check the maturity of the watermelon attracted to you, not necessarily to stamp it as snow. A good watermelon should be dull to respond even schelbany for the formed during the ripening process of microposts. If resonance is zero, can sagely give it to the seller, "AI-Yai-Yai, the microcavity is not formed", and then proudly go to a nearby dealer.
source:http://dgficc.com
Source: /users/1080