You may seem that the Derby - not quite a full-fledged dog. But that's only because you have not seen this in the life of Daisy.
«He was always the brightest and most cheerful dog, one of those that I know», i> - says the current Derby hostess, Sherry Portanova. But before the Derby met Sherry, the case had been very bad.

Derby was born with underdeveloped forelegs. Although on the whole it was a healthy dog ​​this small difference is not allowed him to live a full life. Its previous owners decided to get rid of the dog and gave it to one of the local shelters. But, fortunately, he was not there tired of waiting new owners. Derby met a man who not only showed him compassion and saved his life, and one who knew how to make his life better.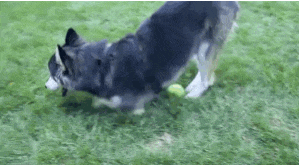 This man was Tara Anderson. Tara - the director of a big company engaged in 3D-printing. When she heard the story of the Derby, she realized that she simply obliged to contribute to his recovery and give the dog a second chance at life.

Once Tara sheltered Derby, she immediately bought a wheelchair for a dog to dog can move freely. And then it occurred to me that the employees of its companies can do for Derby something more perfect.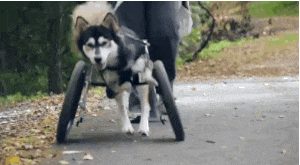 The company's staff, composed of professionals began to develop a set of dentures, which can replace the dog broken leg. The designers opted for prostheses oval, which will fully comply with the constitution of this dog.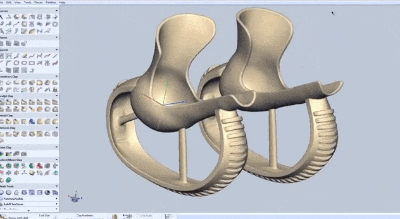 But beyond that, Derby got another happy news that he wanted to lodge a new loving family. Now he will be the happiest dog in the world!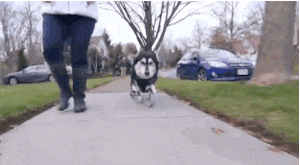 Finally the day came when Derby had the opportunity to try out their new artificial limbs for the first time in my life to experience the incomparable joy of running.

«It is impossible to convey in words the feelings that we experienced when we first saw him running on his new legs. The dog was happy, because she can run, and we are happy with it », i> - says Sherry.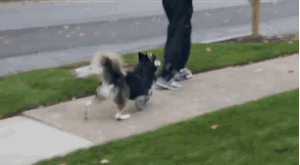 Since then, as Derby found freedom of movement, it can hardly be stopped! Just look at this the happiest dog in the world! B>

Even in the head does not fit, as past owners could throw it a miracle! Fortunately, there were people who were not indifferent to the fate of this cute dog. All is well that ends well. Tell us about this inspiring story to your friends.

www.youtube.com/watch?v=uRmoowIN8aY