It seems that the guys from The Verge discovered the secret of "smart watches» Chronowing, announced last month by Hewlett Packard. It turns out that the production of this stylish "toys for big boys" is not engaged in HP, but less well-known company Meta, founded by former employees of Fossil.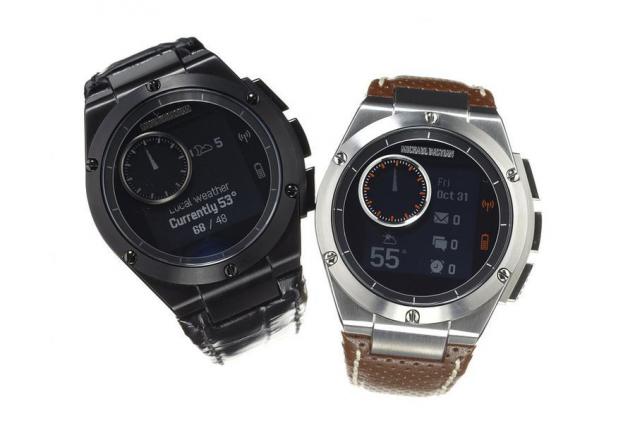 Not so long ago Meta released their own "smart watches» M1, designed by former designer Vertu - Frank Nuovo. Frankly, the "smart" in these hours by today's standards quite a bit Yes, they keep in touch with your smartphone via Bluetooth, to alert their owners of incoming messages vibration and allow you to view scheduled appointments in the calendar. But a multifunctional gadget, like Asus ZenWatch, Moto 360 or SmartWatch 3 running on Android Wear, they will not name. They do not play music, do not perform relaying calls are not equipped with a spy camera and do not respond to the classic "Okey, Google». M1 targeted at lovers of classic watches, seeking to keep pace with the times, but do not want to permanently mutate into a gadget geek.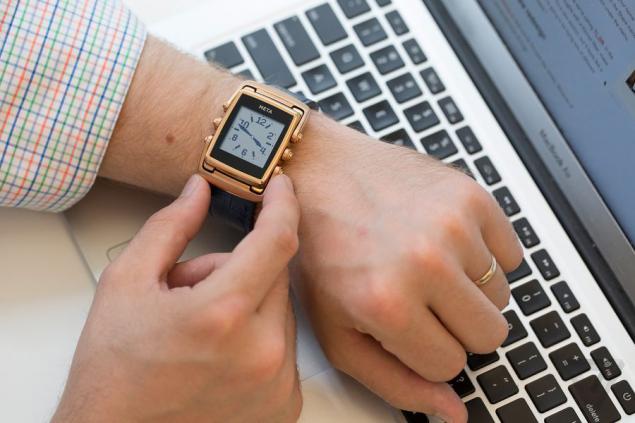 The same concept underlies the project Chronowing. Outwardly, they more closely resemble the classic sports watch high-end segment, such as models of the brand Tag Heuer, rather than tiny "computer on his hand." As in the case of M1, design Chronowing developed a real master class VIP - American Michael Bastian, recognized as the best designer of luxury accessories for men in 2011 according to CFDA (Council of Fashion Designers of America).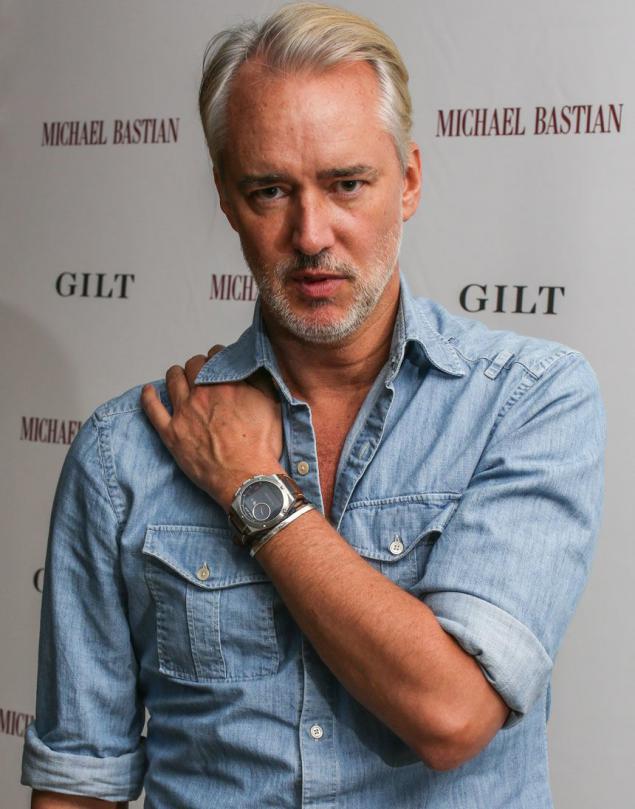 Creators obviously did not try to make a high-tech device "Swiss Army knife", limiting electronic dial in a metal ring, notification of incoming emails and messages, user-friendly calendar, weather information and vibrobudilnikom. Watches do not support touch input, displaying all the data on a monochrome LCD display resolution of 128x128 pixels. Instead, the device looks impressive even in combination with an expensive suit, complete with stylish straps made of genuine leather (including crocodile) and is on the dorsum of beautiful designer logo.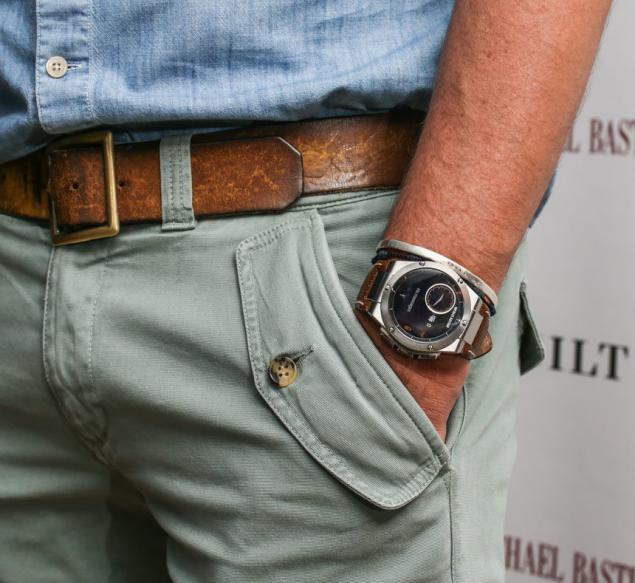 By the way, it is the back of the watch contains important evidence that M1 and Chronowing were created in a laboratory. Firstly, this indicates a semicircular shape chetyrёhpinovogo connector intended for charging. Second, the clock is identical FCC ID - identification number that the device receives the Federal Agency for Communications. The latter circumstance leaves no doubt that the manufacturer both hours the same.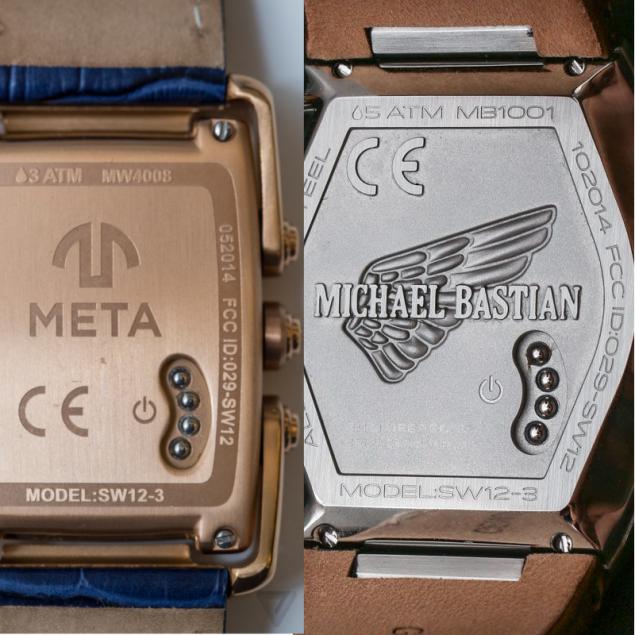 In the case of Hewlett Packard is a "high-profile revelations" (which has long been an open secret) does not matter. Chronowing and so does not claim to be the best-selling book, as wanting to spend hard-earned $ 350 in "smart watch" with very limited capacity, albeit beautiful in appearance, is not so much. But Meta has with this "stuffing" obvious gesheft. Young brand is not so easy to get out of the shadow of giant Fossil, securely occupied a luxury watch segment of the market and making hundreds of millions of dollars by selling its products under the brand names Michael Kors, Diesel, Burberry and Armani Exchange. However, diluting respectability classic new-fangled "chips", like ligaments smartphone and relaying alerts, Meta explicitly sets in the watchmaking world fresh trend. Will the "Meta" to secure a lead in this new segment, time will tell.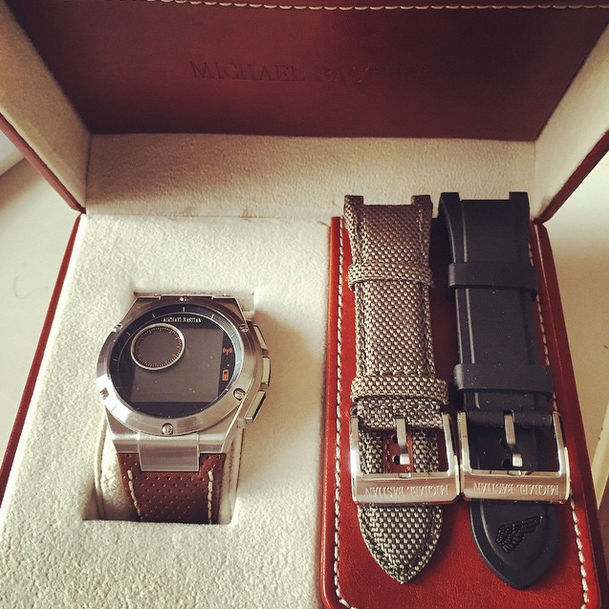 To us in Madrobots already arrived first Chronowing, so soon expect more from us a detailed account of the very novelty, and after, and the possibility to order a watch from us.
Author:
Andrew Gasilin
Source:
The Verge
Source:
geektimes.ru/company/madrobots/blog/242354/