We took the 10 publications, including «PCmag», «Wearable», «Techradar», and seeing what smart watches are considered the best. For our selection we have chosen only those models that have been in each ranking.

2015

Anticipating this brief history, we can say that the surprise, we found even under the headings "Best Smart Watch 2015" models produced in the past, and the year before, and they say we, too short in the final. From the "current" model ratings in all, we found the following.

LG Urbane

Year 2015 Cost 18 990 rubles
 



Despite what has been actively promoted by the second version of the watch, model Urbane win a place in the rankings, speaking as the most stylish in the year. Works model on Android Wear, of fitness options is all that gives an optical accelerometer and heart rate monitor, and inside: Qualcomm Snapdragon 400 with a frequency of 1.2GHz.

All notifications you get to the 1, 3-inch OLED display with a resolution of 320x320 and a density of 245 pixels per inch, and keeping them alive during the day on the 410 mAh battery. The watch is available in silver or gold color and gold limited edition of this model is approx. $ 1 200.

LG Urbane 2nd Edition announced by the manufacturer as the first device on Android Wear with a cellular connection.


The official website LG Urbane Buy LG Urbane
Asus Zenwatch 2


Year: 2015 Cost: approx. $ 300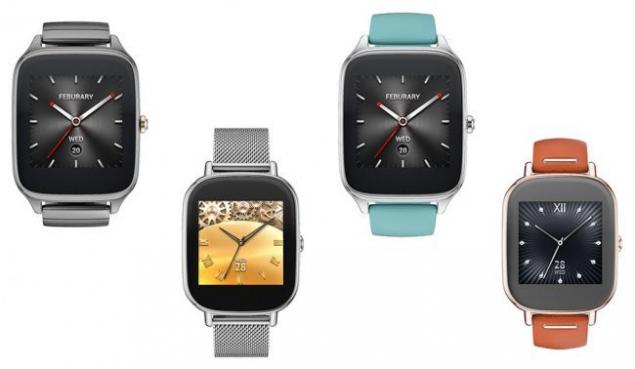 It looks strange, considering that the model was just shown at IFA 2015, but they had already tipped as the best, but Asus has already drops prices for the first model .

Second ZenWatch were announced earlier this year and shows the autumn, after which they immediately began to oppose Apple, as revealed here and the different display sizes:


49 x 41 mm and comes with a 22-mm belt 45 x 37 mm and comes with a 18-mm belt
 Despite such obvious "copy" design inherits more than the first version, and the clock will have a rectangular slightly curved glass. Haraktersitiki:


OS: Android Wear Processor: Qualcomm Snapdragon 400 1.2GHz Memory: 4 GB, 512 MB RAM, expansion slots there Display: AMOLED, 1, 63 ", 320x320 pixels, 278 ppi Battery: 369 mAh Wireless: Bluetooth 4.0 Heart Rate Monitor
 The official Russian version of the first store hours costs 16 990 rubles .

Moto 360-2


Year: 2015 Cost: 299 99
 



Similar story with the Moto 360, second version which barely represented. The clock operates on Android Wear and receive notifications from your phone for incoming calls, sms, letters to the LCD-display. Inside the 4-core Qualcomm Snapdragon 400 with a frequency of 1 to 2 GHz.

Round the clock, as the first version, have set "zdorovesberegajushchih" functions, including heart rate sensor, as well as the ability to monitor the physical activity of its owner. Currently, the cost of hours - $ 299, 99 on the official website .

Alcatel One Touch

Year: 2015
Cost: 9 990 rubles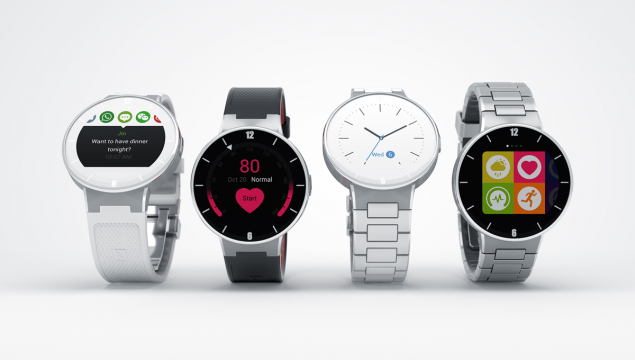 The clock is from 2 to 5 days, according to the developers, the battery of 210 mAh. From sensors:


The accelerometer Gyro Altimeter Heart Rate Monitor Electronic compass NFC
 They are little more than "poor" in terms of saturation of LCD-display 1, 22 '', but work on the basis of its own operating system in tandem with the application for IOS and Android. Inside the processor STM429.

Model practical, stylish in every sense good , and the only drawback many have called display resolution - 240 * 204. Hours are taking notice, fix physical activity, heart rate monitor using an optical sensor.

Pebble Time


Year: 2015 Cost: 19 990 rubles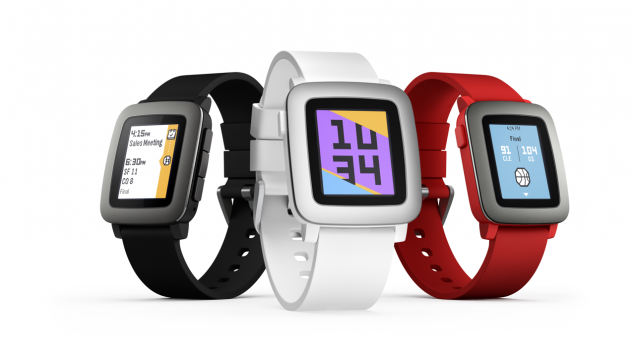 Another model that is present in all the ratings - Time of the Pebble. It also runs on its own operating system and is compatible with IOS and Android devices.

Hours deprived heart rate and the possibility of touch controls, and sensors from them:


3D accelerometer Compass Light sensor Microphone
 Work up to 7 days in stand-alone mode, based on the Cortex M4 processor with a frequency of 100MHz. All notifications are displayed on 1, 25 '' - m display "electronic paper." Extremely light, pleasant to the touch, thin. Overall - a positive impression, though, and do not give the notice read in Russian.

Top 2

Models and this year and past years, the issue has also been shown in some publications as the best of them manufacturers that have already been mentioned:


Pebble Smartwatch, 2013 < Moto 360, 2014 LG G Watch R, 2014 year
 



Also, a minimum of two references to the ratings received models Samsung Gear 2 and 2Neo.

To this day, it remains in the top of the second version of the watch Sony, despite the relative success of the 3-tey models and the announcement SMW4. Thrice watch catches the eye in a variety of editions, so I propose briefly recall them:

Sony Smartwatch2


Year: 2013 Cost: 8 500 rubles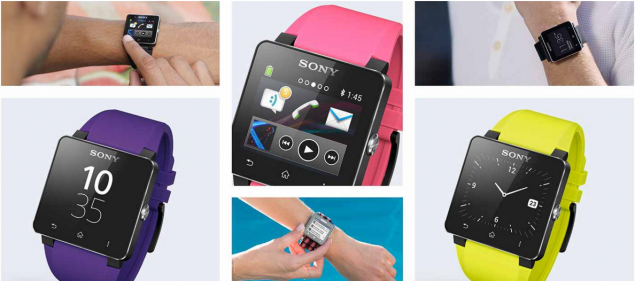 Hours worked with Android smartphones and can receive all notices, which come to the phone, in Russian. For many of them offer templates answers. They worked up to 7 days in stand-alone mode.

All information is displayed on the 1, 6 '' - inch OLED-display with a resolution of 220 × 176 (a type of matrix TFT), and it was touch control. The watch was watertight, very primitive able to count steps and had an entire ecosystem of gaming applications. To date, it remains one of the best hours for Android without any author's operating system.

On nominations

In the ranking as the most anticipated was, of course, Apple Watch, though, I'm more inclined to believe that's the recent post on their benefits . As best analog clock called smart products Martian, which we wrote about in recent compilation . Best smart watch sports - Garmin Vivoactive . Best smart watch premium class - Gucci.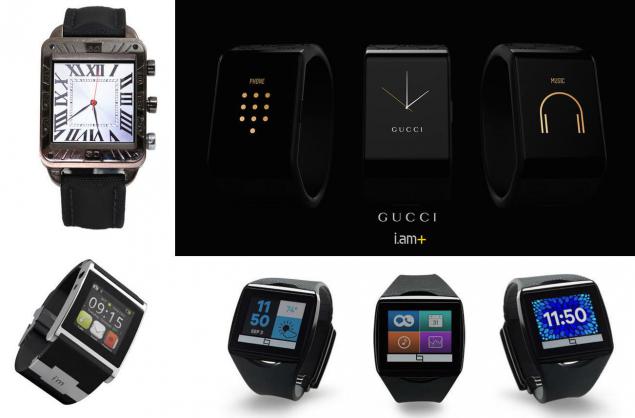 Surprisingly, some ratings are likely to want to include in general all the evidence to date smart watches ever produced, and dug up at all, it seemed, forgotten model - Toq, I'm Watch , which announced the closure, Neptune Pine , Won Rhee Vachen and other models .

Source: geektimes.ru/company/medgadgets/blog/265138/